Our Clients Speak For Us
Customers' Reviews And Feedbacks
We keep collecting praises and happy feedbacks from our customers, which motivate us to keep running in the marijuana paper packaging industry.

At the beginning of 2021, one of our teammates came up with an idea of collecting reviews from our happy customers. We were unanimous in this idea. Here are a few statements we would like to make.
All the customer reviews are real. All the screenshots are based on the email threads with our customers. To protect our customers' privacy, we hide their email addresses, full names, phone numbers, and company names.
These glowing reviews are collected: (i) To motivate us to maintain a good track record as a cannabis-specific paper packaging manufacturer; and (ii) To assure new customers of our trustworthiness.
Collecting only glowing reviews here doesn't mean there are no complaints at all. Working on a customized packaging project requires great attention to details. Occasionally, we did make some mistakes due to miscommunication with our customers. In this case, we accepted responsibility for the mistakes by reprinting the whole job. We always try our best to ensure our customers receive what they paid for. Thankfully, we won all such customers' trust again and we keep our businesses going.
---
I didn't know the whole order got produced already! Thank you for working with us here, it is an immense help.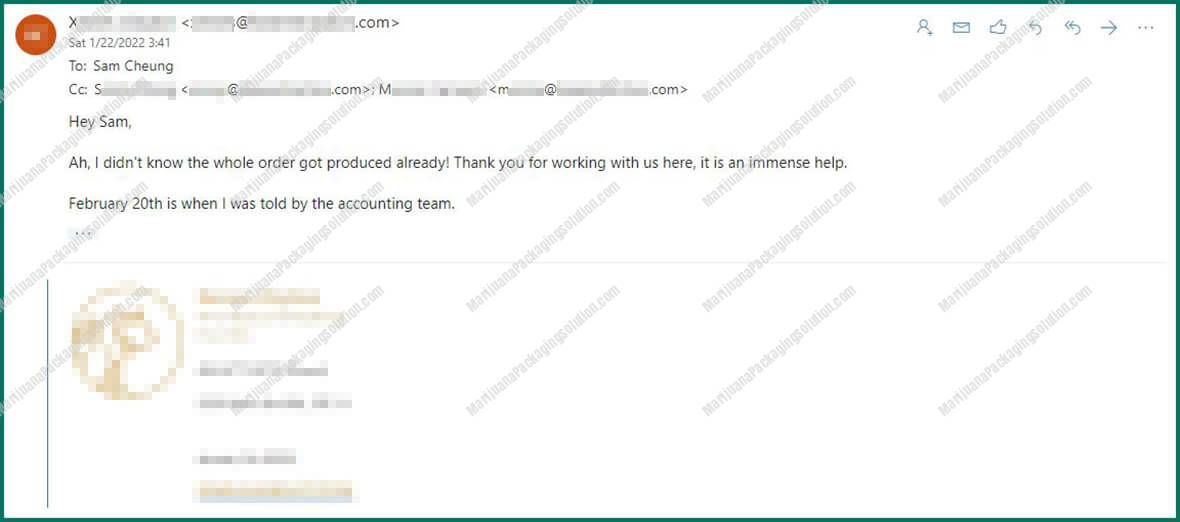 We received those two boxes today! Thanks for following up on them.

Just wanted to let you know we got everything today. Thank you again for the great customer service. We'll be reaching out soon for the next order.
I just saw these bags and tubes and the quality is excellent. Thank you!! The gradients turned out very nice.

We received our boxes they are absolutely perfect. We will definitely be ordering more soon.

Sounds great. Send me payment info. I really appreciate it, Sam you're a good man.

Found your website, and was really impressed with some of the solutions I saw.

You're amazing, Sam! Thank you.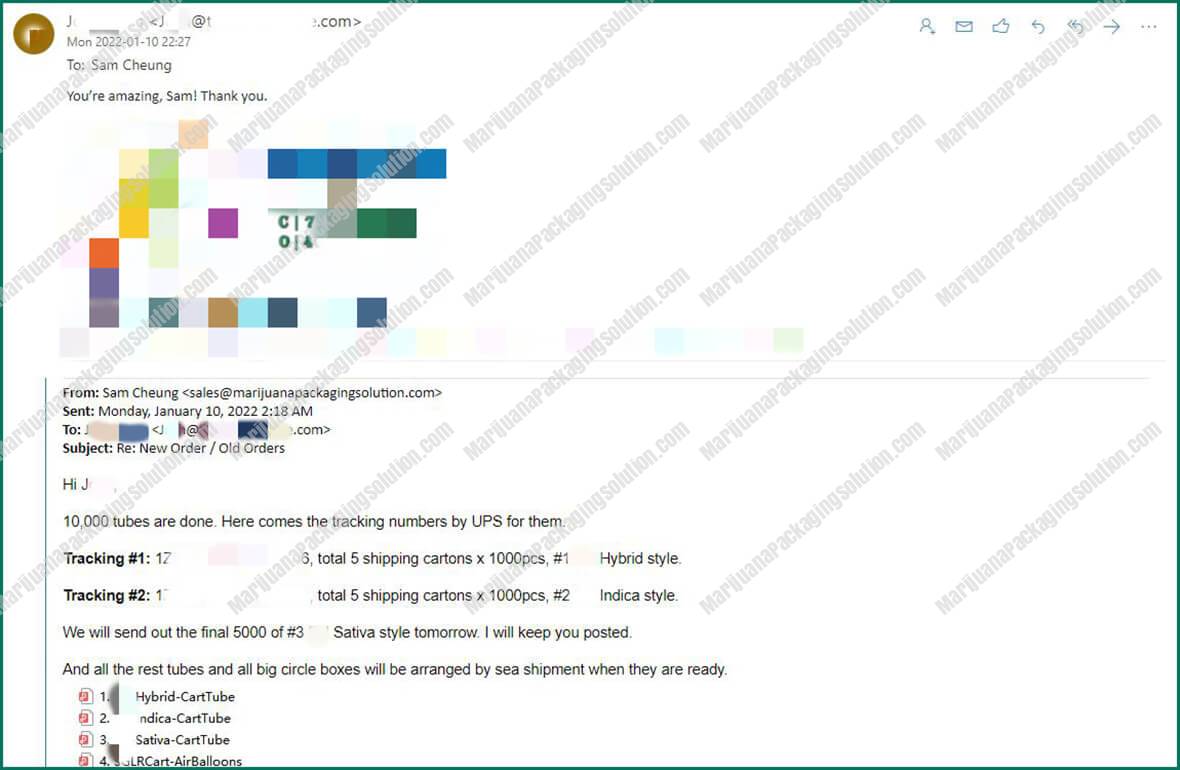 That's great Sam, I appreciate the rapid progress. Have a great night!

I received all the cartons of the boxes and sleeves(they look great!!)except one.

The boxes look great, and I appreciate all of your help throughout this process.

The creativity behind your child-resistant paper packaging is inspiring.

Thank you again for all your help, we greatly appreciate you!
It's okay mistakes happen!! We still love all your products you have made us this far!

Great job everyone! Thanks guys.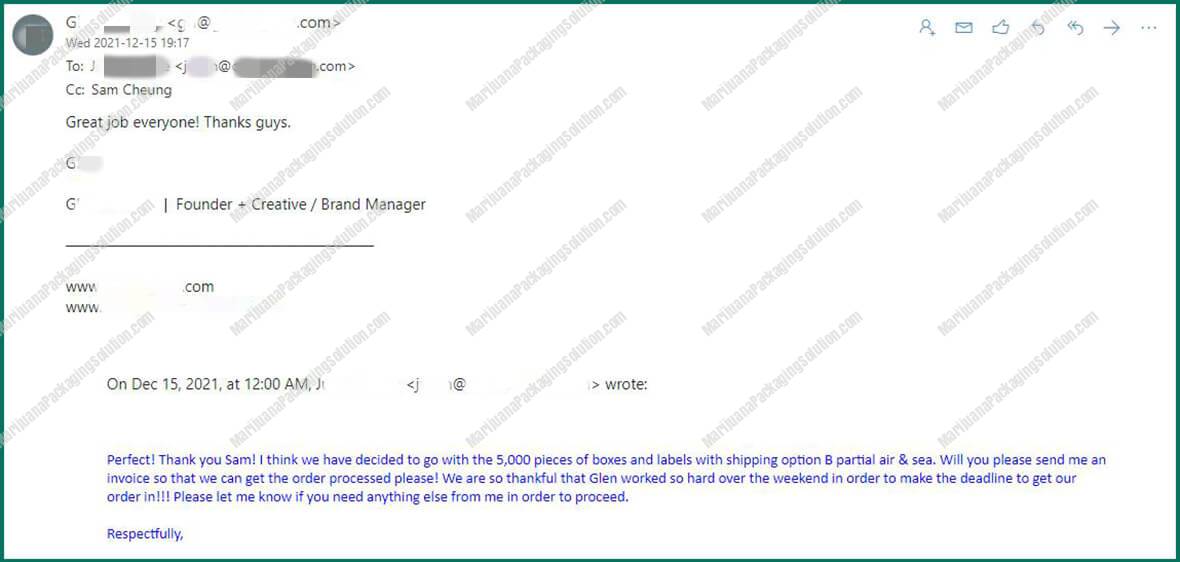 Thank you for fixing/catching that. Yes the way your designer fixed it is perfect.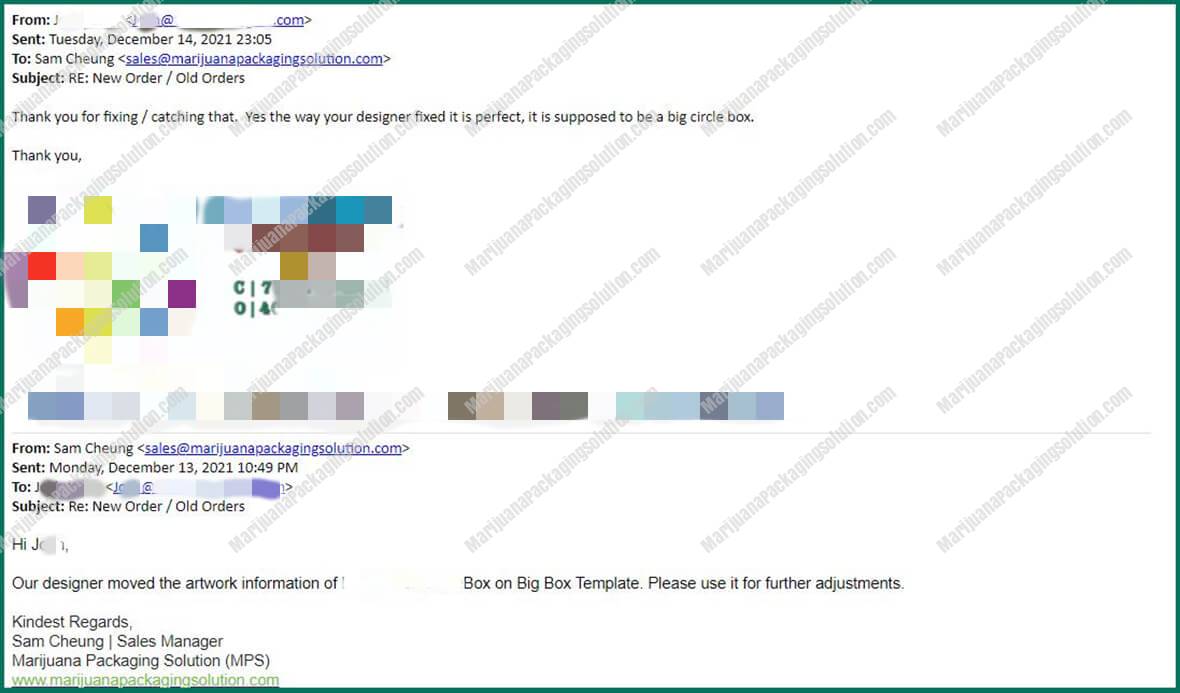 Thank you! We are very grateful to you and your entire team!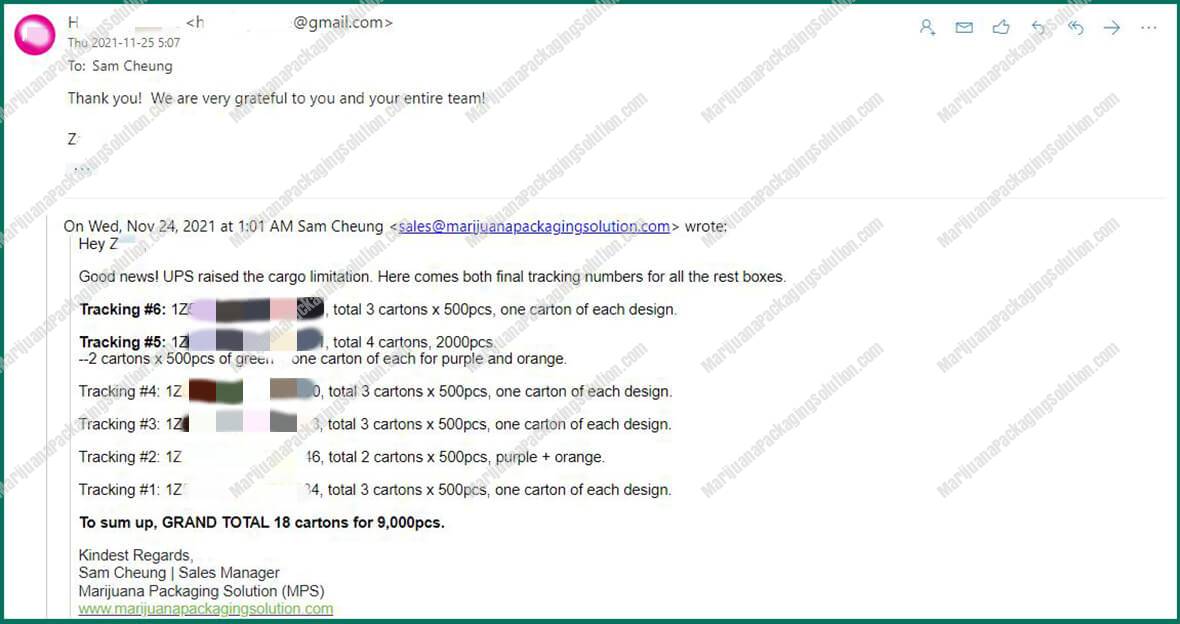 We got the first of a few boxes in today and the packaging looks great! Excellent quality.

YES. Thank you for catching this! Comma should be after the word ALL.

The boxes we got in look amazing! So happy we found you to work with.

Everyone here is very excited to see the boxes in person! They will help us save so much time on packaging here especially because you leave them open a little bit.

I also received the boxes. They look great. Thank you!

Yes, we received the shipment. They look beautiful, thank you.

Thank you for catching that! I'll have my designer correct it.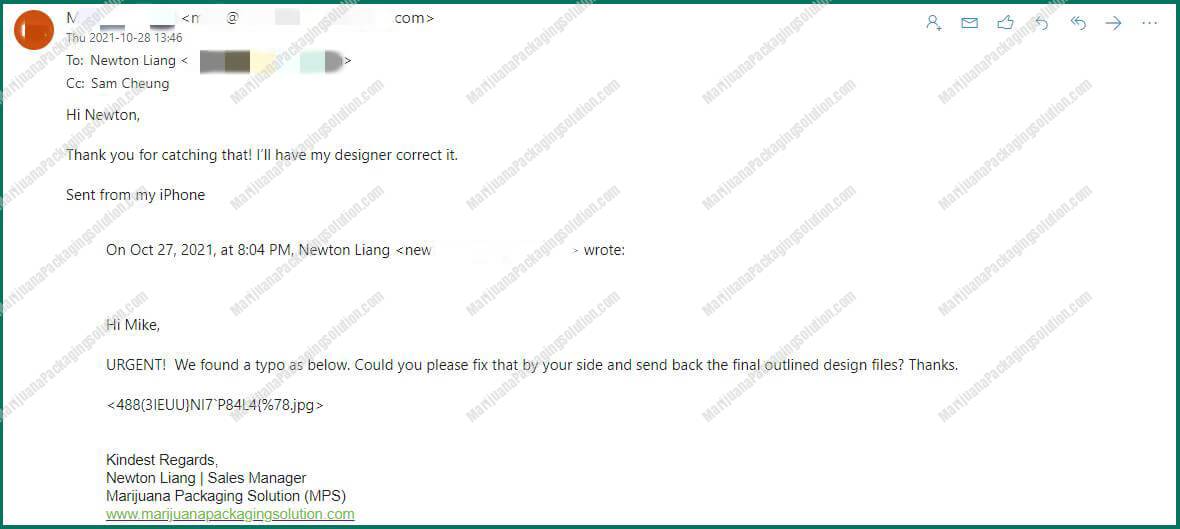 Perfect! Custom was so impressed by the bags that they want to redesign everything to match - including lables. Nice work!

I was able to speak to a few of the folks who's contact you sent. Everyone had very glowing reviews and good things to say bout you all. That is good enough for me so I'll get that wire processed.

We appreciate that greatly!

Perfect! You are the best. Thank you.
I did receive all the boxes and everything looks great. I will be in touch in the near future for another order.

Thanks for the detailed quotation, this is helpful.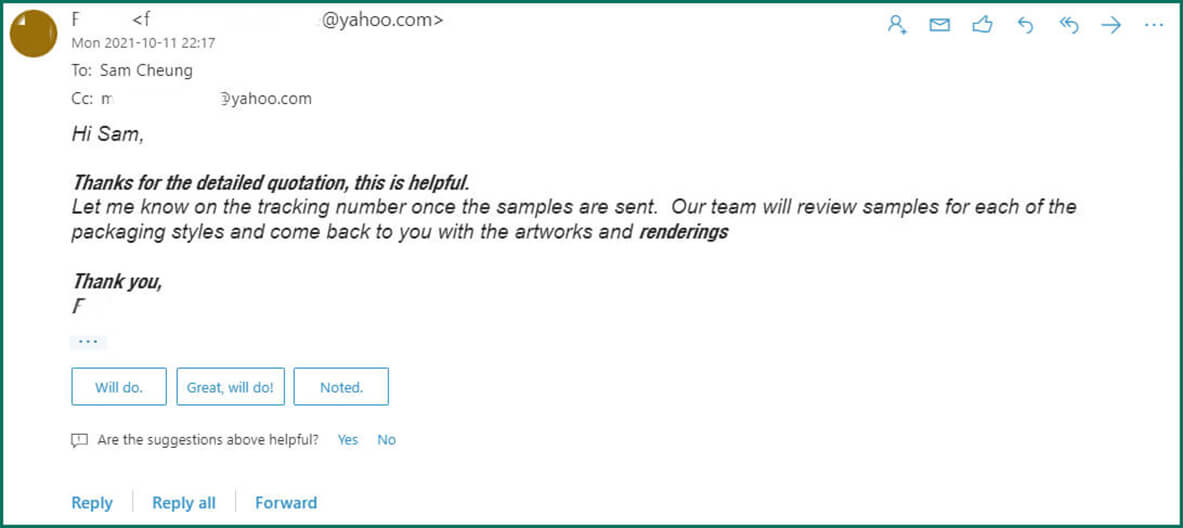 Thank you for all you do. Thank you so much for catching that.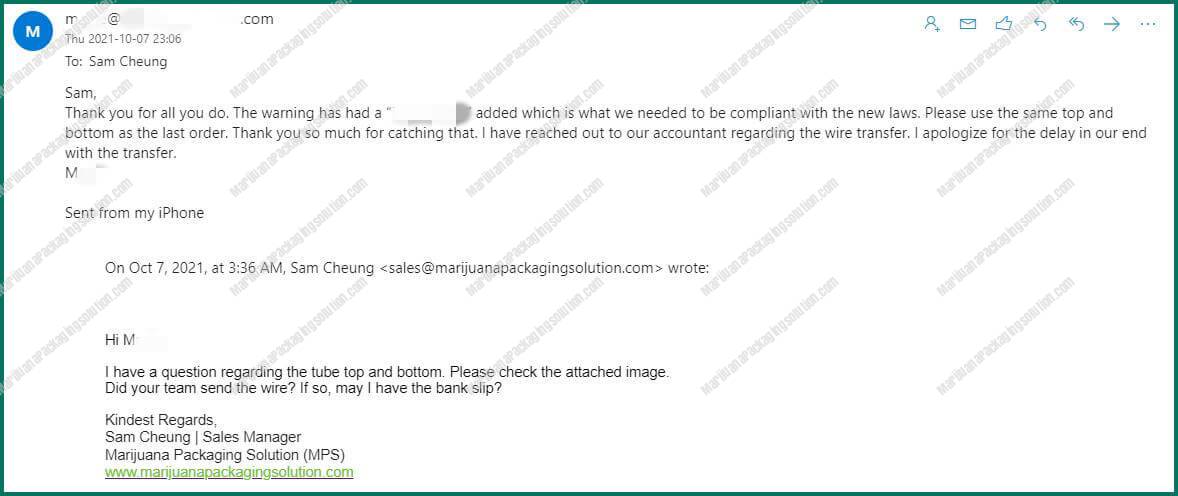 We received the cartridge boxes and they look fantastic. Thank you so much.

Just received these. Thanks for getting them out so fast!

Thank you so much for all your help with this order, Sam. I will like have 2-3 more orders right before CNY hits so that we will be taken care of while you guys party and relax.

Thank you for following up. I will have a look at our forecast and work on a new order if necessary for the holiday/new year timing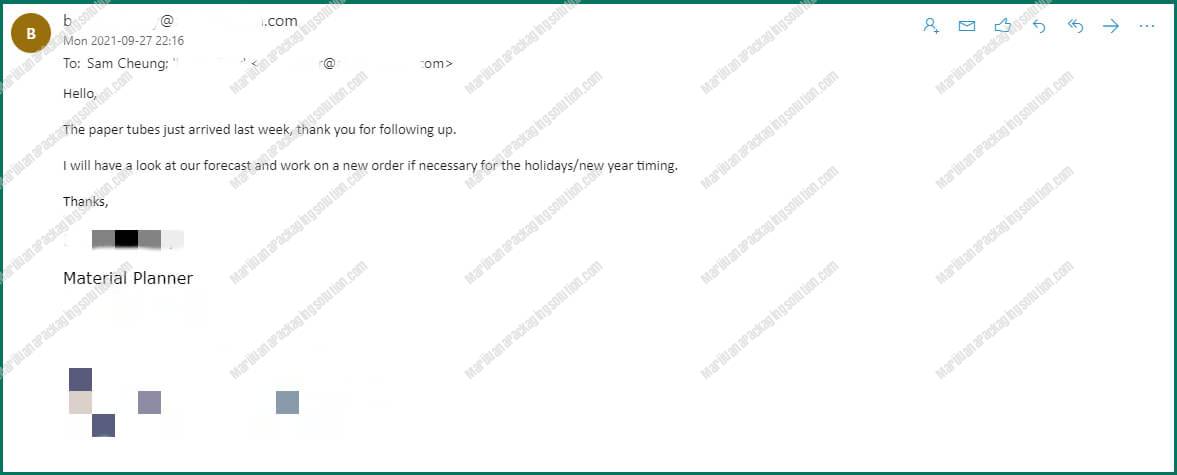 Thank you Sam for the information! We really appreciate your efforts and communication!

Awesome! I really appreciate you sending the first 3600 so quickly.

We received the boxes. They look great! Thank you.

Good thinking, you are really good at your job!

We received part of the first shipment and they look good.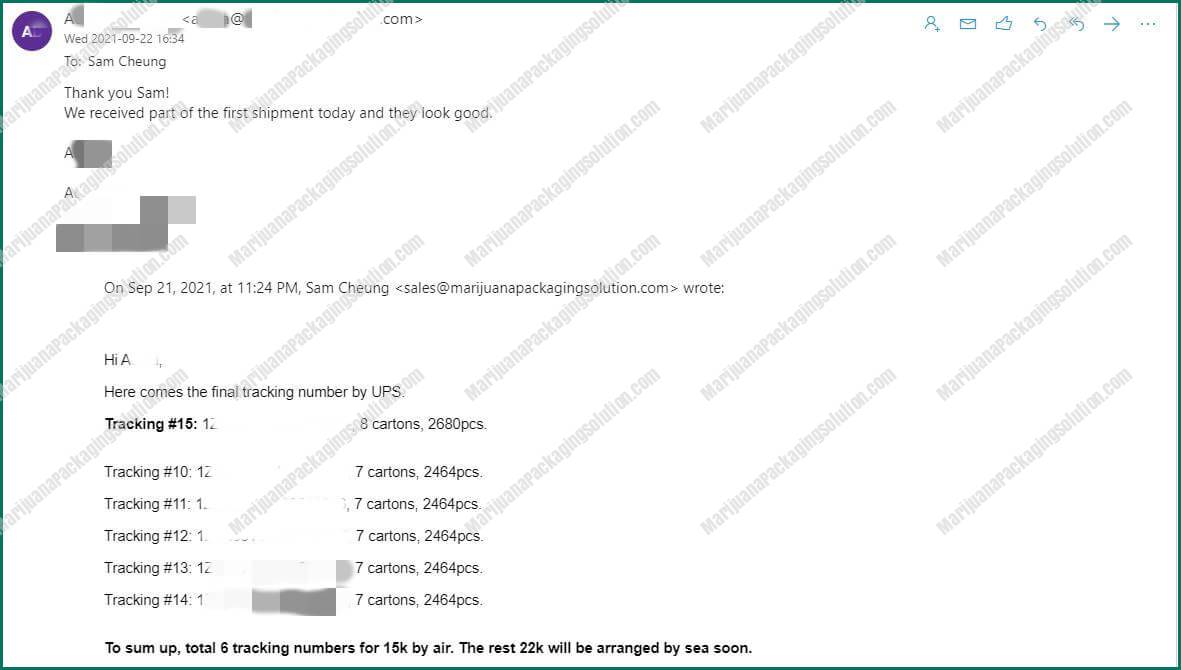 Everything looks great, thanks.

I produce these with another supplier but would like to have you do them.
Good catch! Thank you for your sharp attention to detail.

I appreciate the speedy progress!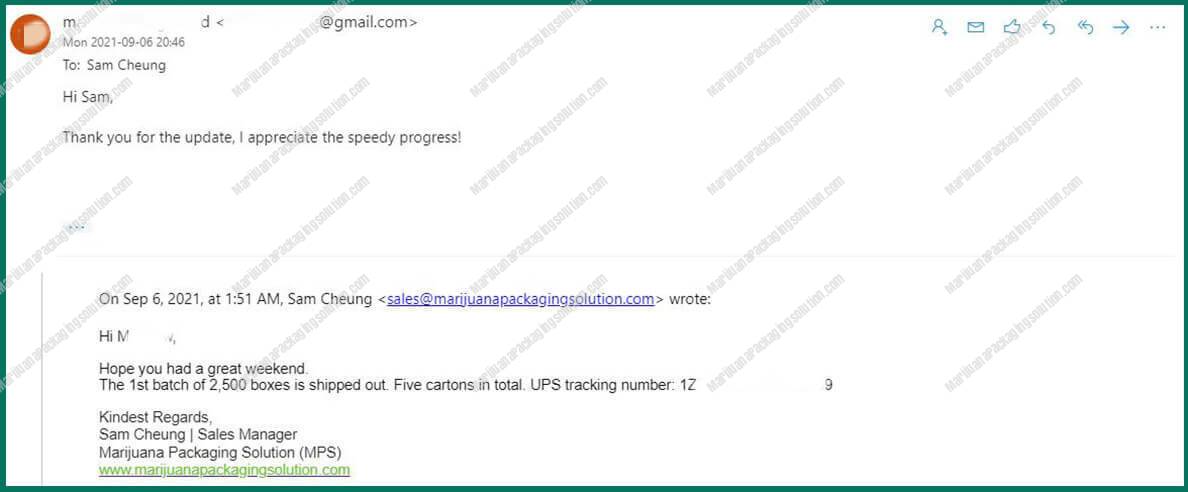 Thank you for honoring your mistake. We will continue to do work with you.

Thank you so much for being prompt and easy to work with.

Order another 5000pcs the same as last order. (just received)

Thanks for catching this.

Great to be working with you.

We received some of the packages yesterday! They look great!

We are getting a lot of compliments on your beautiful packaging. Thank you!

WOW!!I wanted to let you know that our shipment of boxes arrived today. They look amazing. I am really happy with how they turned out!! I cannot believe how fast the shipment arrived! Thank you so much for all of your help, we greatly appreciate you!!!

You are a huge help as always!