A Paper Packaging Manufacturer Specializing In Cannabis Packaging Solutions.
We try to answer two questions:
Q1: How to make better marijuana packaging paperboard boxes for the cannabis industry?
Q2: How to be a respectable cardboard packaging provider to defend the "Made in China" label?
Gratefully, we get self-motivated each time we watch this video clip, which records our trial production run back in 2014.
Since then, we and our machines never stop running.
Packaging By Products
Fully customizable packaging solutions for all cannabis-related products. Continually explore and extend into new product ranges and ideas to provide to our current customer base. Ensures our offering is always fresh and relevant to your cannabis business.
Packaging By Category
Full spectrum of custom printing tuck end boxes, rigid boxes, paper tubes, mylar bags and child-resistant packaging.
Curious About How Your Packaging Is Made?
At MarijuanaPackagingSolution.com, each and every box is made with love.
Packaging Solutions Tailored To Your Business
Industry-specific custom packaging options cater to different child-resistant packaging regulations and requirements. Keep pace with the most updated, trendy, and law-compliant cannabis packaging.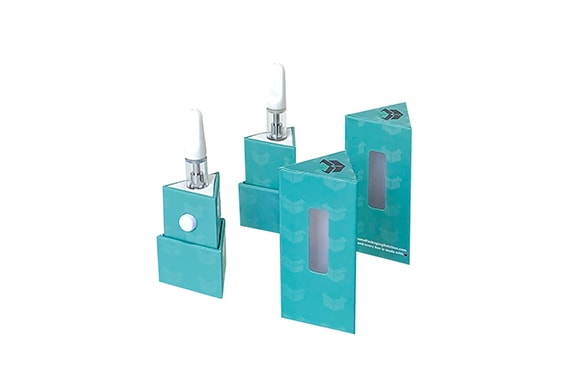 Child-Resistant Triangle Cartridge Box
This triangle cartridge box, another packaging option specially for CBD cartridges, is just the latest example.
Viewing window available
For wholesale triangle carts boxes, we as a packaging factory are confident to beat your quote.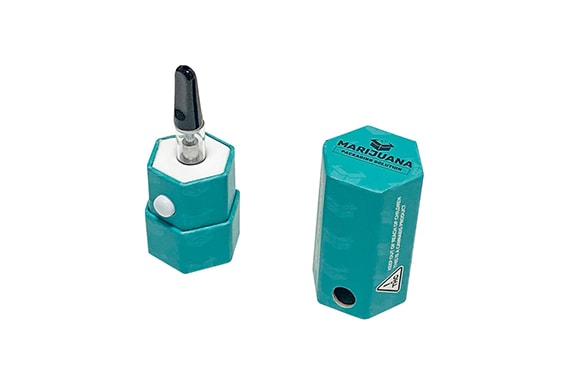 Child-proof Hexagon Cartridge Box
An innovative odd-shaped packaging, this hexagonal rigid box is created to add extra life to your vape cartridge business.
Comes with a child-proof closure
Made of thick chipboard and recycled paper substrate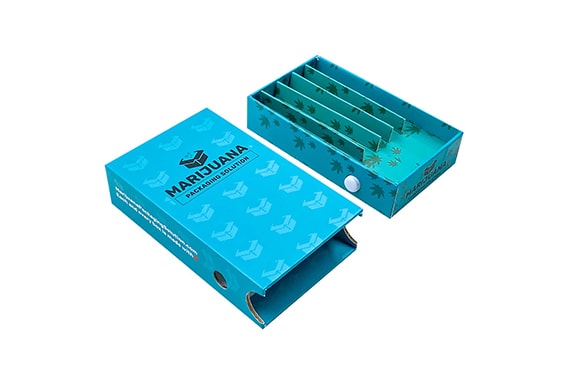 SafeJointPack Child-Resistant Cardboard Pre-Rolls Box
A childproof pre-rolls box inspired by our CR certified slider box.
Made of recyclable cardboard; Specially designed for multiple pre-rolls packaging
A pre-made folding paper insert to accommodate multiple pre rolls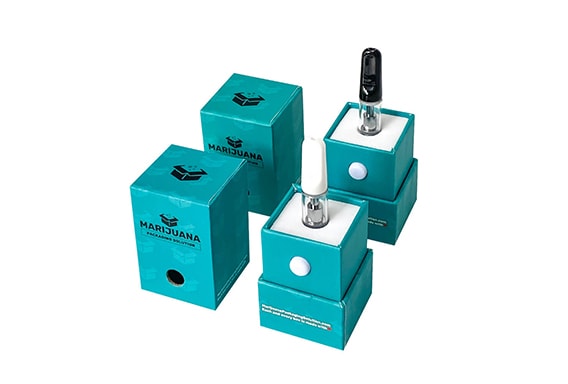 Childproof Vape Cart Cuboid Rigid Box
Many cannabis companies are looking for new-style packaging options to set their cannabis vaping brands apart from competitors. Now we are proudly introducing this childproof vape cart cuboid rigid box.
Cuboid-shaped rigid paper box with a luxury look to elevate your vape brand
Come with childproof button-locking closure to secure your vape carts
Foam cut-out specially customized for vape carts of various sizes and capacities
Endless customization in terms of full-color printing and special surface treatments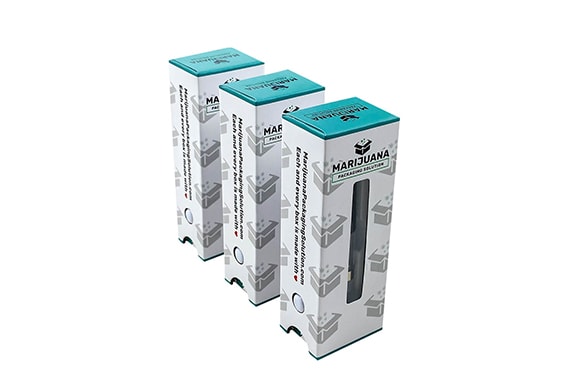 CannaDefender CR Certified Slider Box
Despite meeting 16 CFR 1700.20 child-resistance standards, it is easy for adults to release the tray from the shell. This makes the slide box a child-resistant and senior-friendly vaping carts packaging option. Contact us for the CR testing report for your review.
Eco-friendly
Designed with our little ones in mind
Customizable foam cavity to hold 0.3/0.5/0.7/1.0ml carts
Custom printing and surface finishes available to make your artwork stand out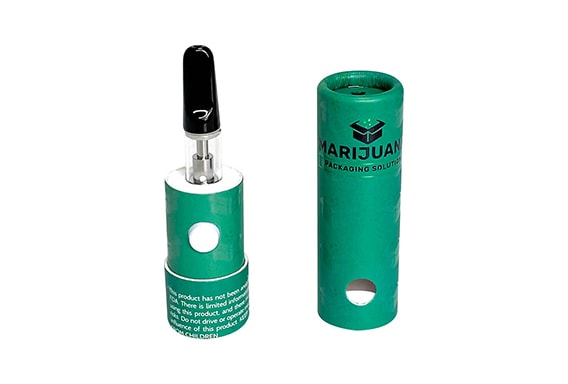 Patented SafeCylinder Child-Resistant Cardboard Cylinder
CR Certified according to US 16 CFR 1700.20 child-resistance standards. This is a 2-piece paper tube with simple but effective child resistance locking mechanism. We add a button on the tube top. A specially cut EVA foam is used to fix the button. On the tube body, we cut a hole to accommodate the locking button.
0.98 inch (25mm) in outside diameter and 3.7 inches (95mm) in height
Functionality and aesthetics combined
Perfect to manage vape cartridges of all sizes
Made of recyclable cardboard
---
To Request A Quote, A Dieline Template Or A Sample?
---
Or Any Other Questions? Email Us At: [email protected]
---
100% Customizable & Printable

Customized Die-Cut Templates

Low Order Minimum

10-12 Days Turnaround

3-4 Days Air Shipping

Soy Ink Printing
1How do we work?
Step 1: Tell us the packaging you are looking for and the order quantity;

Step 2: We quote you our best price;

Step 3: Tell us the dimensions of your product-to-be-packed. If possible, ship your product to us, helping us make the packaging a perfect fit for your product;

Step 4: We send you the dieline/template on which you add your artwork and product information, for custom printing purposes;

Step 5: We make physical samples for your review;

Step 6: Place an order for mass production;

Step 7: Door-to-door shipping.

2How do I put what I would like designed on the box/template?
To properly place your designed artwork on the template we provided you, we recommend referring to our general
Design & Artwork Guideline
.
If you still need assistance after going through our guidelines, you can alternatively contact our sales representatives to request some additional support.
3Can I get some samples for free?
For standard packagings, the samples are free of charge. However, we need to charge a shipping fee of $30 since we are shipping from China by air.

For customized packagings, we need to charge a sample fee of $30-$100 (depending on the packaging type and custom printing requirement). This is because it takes time and incurs manufacturing costs to custom make a sample packaging product, even a blank one. When you place a larger order, we can credit the cost of the samples towards that purchase.

4What's the relationship between our company and marijuanapackaging.com?
These are two completely different companies with domains that accidentally look similar, thus confusing.

We are marijuanapackagingsolution.com (MPS). We are a China-based paper packaging manufacturer specializing in cannabis packaging solutions.

marijuanapackaging.com is a USA-based online wholesale supplier for dispensary head shops and smoke shops.

5As a paper packaging factory, why does MPS also sell non-paper packaging, including mylar bags, blisters, and metal/tin boxes?
Yes, MPS is a paper packaging factory specializing in marijuana packaging solutions. Our most significant advantage is paper packaging.

Some clients purchase paper packaging from us at the very first beginning. With the deepening of the cooperation and trust, most of them ask us to help source non-paper packaging, including mylar bags, blisters, and metal/tin boxes.

We made rigid boxes (or, let's say, "hand-crafted boxes"), so we use add-ons and accessories a lot, like blister packs, mylar bags, tins, and so on. Therefore, we have a stable supply chain for such products.

Meanwhile, we're based in China, the world's factory. We have good connections in the packaging (paper and non-paper alike) industry. So We can get those jobs done because we are so near to so many packaging factories specializing in various sectors.

Honestly, for such sourcing jobs, we do add minimal profits for our time and efforts. Hopefully, this could help you understand why MPS lists some non-paper packaging on our website.

6Why do we disable "Right-click" on our website?
Being the first and leading marijuana paper packaging manufacturer in China, we've been going through many cases of contents & images stolen by other websites and companies.

It's intolerant to keep stealing our hard work by simply copying our contents and images or using Photoshop for adding their "LOGO."

Aiming to be your first-class and trustful paper packaging supplier, our whole team is devoting ourselves to the cannabis packaging industry.

We keep conveying articles and products that are helpful for our customers. Therefore, we have to disable "right-click" on our website. We know it's impossible to stop content & image stealing entirely.

However, we are trying to make it not easy for those thieves to steal our products while providing not professional packaging to customers.