The QUBE™ Jar has become a new hit among all marijuana concentrate jars.
Its square shape and unique opaque glass structure make it stand out from the crowd.
As for cannabis concentrate packaging, keeping yourself updated with the most current packaging solutions will surely put your business in a more competitive position. This post will introduce eight paper packaging solutions for your Qube concentrate jar and provide a step-by-step guide.
Chapter 1: What is Qube Concentrate Jar and What Options Do They Offer?
The QUBE™ child-resistant glass concentrate jar is designed and produced by MMC Depot family. This jar is made of premium glass. There is an option for up to four color printing available for the child-resistant caps as well.
For sizes, they provide two variations: 5ml and 9ml.
For colors, they provide four options:
black glass jar with white inner
clear glass jar with black CR lid
white glass jar
black glass jar with black inner
Chapter 2: Seven Paper Packaging Solutions For Qube Concentrate Jars
Since the QUBE jar is built and designed with a child-resistant cap that meets all states' required regulations, you don't need a child-resistant secondary packaging for them.
Here we've listed seven standard packaging solutions that are not childproof.
Let's dive right in.
1 Custom Printing Tuck In Boxes
A square tuck-in box can be the most basic and classic packaging option for QUBE glass concentrate jars.
Thanks to the full-square shape of the jar, you don't even need a paper insert to center the jars it packed. In other words, you can use a simple, mini-size, and pocketable packaging box for your QUBE jar.
2 Windowed Concentrate Box
If you are using the transparent version of the QUBE glass jar, you might want to display the lovely color of your concentrates through a crystal clear display window on the box.
This tuck-end paper box combines the best part of a folding paper and a PVC window. Furthermore, you don't need any extra insert to center your QUBE jar, and the box can hold it upright and safely.
3 Mini Cardboard Telescopic Boxes
A mini-size telescopic box is a fascinating idea for Qube Jar packaging. You don't need an extra insert to hold the jar due to Qube Jar and the box's square shape. Telescopic tubes are ideal for the retailing market.
4 Slide Box For Qube
Cardboard drawer box is probably the most used packaging solution for QUBE jars. It has thumb notches that are for user-friendly purposes. You could either choose a soft foam to protect your containers better or leave it empty as the box is rigid itself.
5 Magnetic Flip-top Box
A magnetic flip-top box is like a mini gift box for your concentrate Jars. When the cover is open, you could use this tiny little box as a display box. It's a box style used majorly in the jewelry industry, but now let's bring it to your well-made concentrate!
6 Custom Printing Paper Sleeves And Wraps
Sleeves and paper wraps are cost-effective solutions for QUBE jars. Due to the full-square cap & base design, a QUBE jar can be quickly and correctly wrapped by printed paper sleeves or wraps if you have a very tight budget and are looking for a cheap secondary packaging option.
7 Telescope Box For QUBE Concentrate Jar Packaging 
This telescopic box comes with a lid and a base, equipping with soft foam with square size cut-out that can center and protect your Qube jar safely and well.
When the lid is open, the whole box can act as a retailed displaying box.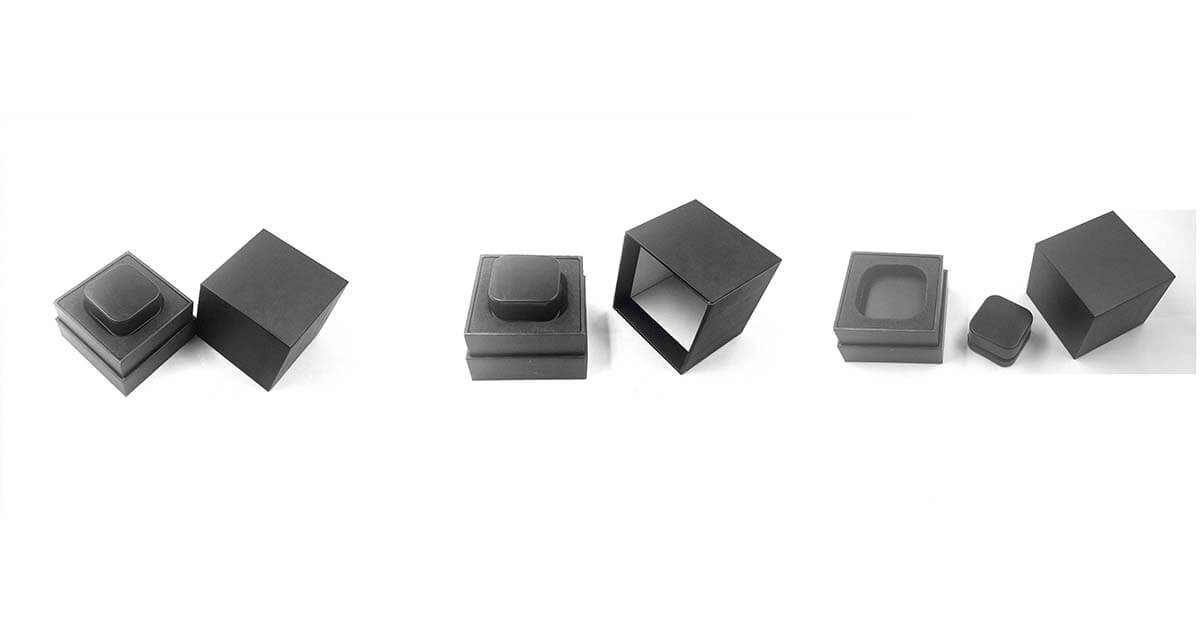 Chapter 3: Two Child-resistant Packaging Solutions For Qube Concentrate Jars.
Even though the Qube jar has its child-resistant cap designs, some brands would still need secondary childproof packaging.
Here we've listed two attractive childproof solutions.
1 Child-resistant Drawer Box For QUBE
This cardboard slide box has a child-resistant mechanism and a soft foam insert with a custom cut-out to accommodate your Qube jars. The foam can be customed with a square size cut-out to safely and competently stabilize and protect your Qube Jars.
You can also print your designed artwork on both the outer box and the inner box of this packaging.
2 Child-resistant Square Box For QUBE Glass Jar
If you are looking for a full-square cardboard box for your Qube jar, this solution is the one you need to consider. The container is made with a rigid cardboard box structure, with a customized foam cut-out to center and protect your jars. When the lid is open, the box's base can be a retailed display container.
Chapter 4: How To Start A Secondary Paper Packaging Solution For Your Qube Jar
Now that we've explored eight paper packaging options. Let's guide you through step-by-step to start your packaging project.
Step One: Decide On A Paper Packaging Material
First of all, you need to decide which material to go with: paperboard or cardboard.
Paperboard: lightweight, foldable, cheap, flexible in shapes
Cardboard: rigid, steady, not foldable, handcrafted
Step Two: Decide On A Box Structure
For paper boxes: 1 Tuck-in boxes; 2 Sleeves and wraps
For cardboard boxes: 1 Drawer box (Slide box); 2 Lid & Base Box (Telescopic box); 3 Flip box
Step Three: Decide On An Add-on
For paper boxes: 1 Paper Insert; 2 Foam insert; 3 Window Patching.
For cardboard boxes: 1 Paper Insert; 2 Foam insert; 3 Window Patching.
Step Four: Decide On A Printing & Finishing Method
Printing: 1 Blank; 2 CMYK (Full-color offset printing); 3 Pantone Colors (PMS)
Coating: 1 Glossy 2 Matte 3 Soft-touch, etc
Finishing: 1 Spot UV; 2 Gold Foil; 3 Emboss/Deboss; 4 Holographic…etc
Last but not least, do not forget to tell your supplier which jar you are using. 5ml or 9ml?
That's simple.
Contact For Details: