In this post, we are going to introduce major and popular marijuana concentrate packaging solutions.
This guide includes:
General introduction of marijuana concentrates.
The most used primary packaging for concentrates
A full guide for secondary packaging for concentrates
Child-resistant concentrate packaging solutions
Chapter 1: What's Marijuana Concentrate and What We Can Sort It Out When It Comes to Packaging?
When we said, "A little body often harbors a great soul," it seems like this saying is created for marijuana concentrate in the cannabis world. Why would more people want to try concentrates? – They are stronger than your average pre-roll.
There was a time; our whole sales team thought marijuana concentrate refers to concentrate wax only. And when a customer is looking for concentrate packaging, the first mind pop out is: He/She's looking for paper boxes for concentrate glass jar.
Though, the more time we are in the marijuana packaging industry, the more knowledge we've gained. Concentrate products are far complicated than we thought.
If we spend some time and explore some professional articles in Weedmap or Leafy, we will find this cannabis category so sophisticated and charming.
From shatter, scrumble, budder, sauce, live resin. These products can be confusing, and it's a lot of new vocabulary to learn.
However, this is not what we are trying to sort out today; In this article, we will summarize the concentrate products in the sight of a marijuana paper packaging manufacturer and glance through the major packaging solutions for concentrate products.
We will focus on introducing the main composition for concentrate: waxes and shatters.
If we vary concentrate into different categories, We can simply divide them into 3 forms:
Solid form: Hash, Shatter, Diamonds, badder and crumble
Semi-solid form: wax, Sauce, budder, rosin, live resin
Liquid form: extract oil
We will focus on the first 2 forms in this post. The cartridge is another category that is so strong to own its full guide.
Chapter 2: Primary Packaging Solutions for Solid Concentrate – Shatter
1 Custom Printing Shatter Envelopes
Shatter envelopes are chemical-free and perfect for packaging concentrate. They are the most used packaging solution for shatter.
Pros:
Cheapest custom packaging solution for shatter
All-paper material that is chemical-free, biodegradable, and 100% recyclable
Pre gummed seal, tuck-in closure methods optional, easy to secure, and stay shut.
Easy to custom printing with quantity, strain type, strain name, and all kinds of artwork
Flat envelopes can be stored anywhere.
Cons:
Not airtight, compared to jars and plastic containers
2 Plastic Shatter Container
Plastic containers are another popular shatter packaging solution.
Pros:
Lock in the freshness of your shatter while protecting your concentrates in transit from dispensary to home
Can apply custom printing stickers and labels onto the container surface
Steady as a shatter container compared to thin shatter envelopes
Cons:
The plastic container requires a relatively larger order minimum
3 Shatter Blister Packaging
A clamshell container with a custom printed paper card is like the best combination of paper and blister packaging.
Pros:
The blister pack accommodates your shatter well.
The printable blister card can design with your artwork and shows your branding ideas.
The sturdily made blister pack assures safe transportation.
A punch hole can be added for retailing purposes.
The clear and transparent blister pack displays your shatter best at dispensaries.
Chapter 3: Secondary Packaging Solutions for Shatter
1 Mini Shatter Packaging Paper Boxes
Paper boxes are always the most popular secondary packaging for all cannabis-related products. With custom printing shatter paper boxes, you can store your shattered envelopes, plastic containers into this foldable box and display them in dispensaries.
Pros:
Most cost-effective packaging for shatter
100% biodegradable, compostable, recyclable
Full area for adding your branding artwork
Flexibility for customization: sizes, shapes, paper material, printing & finishing.
Folding design that could save a lot of transportation fee if you source them abroad
2 Kraft Mailer Boxes For Shatter Packaging
Mailer boxes are widely accepted as shipping packaging for all products. This shatter mailer box will allow you to ship your concentrate products in small batches without an extra shipping carton.
Pros:
Eco-friendly corrugated paper material
Rigid, steady, and strong enough to protect the product it carries and can be used as a shipping box
Printable, can be added artwork with your brand Logo, designs, etc.
Foldable: Stay flat in your warehouse without occupying too much space and simply fold them when you need to ship out your concentrate products.
Chapter 4: Primary Packaging Solutions For Concentrate Wax And Extracts
1 Glass Concentrate Jars
Concentrate glass jars are the most popular and widely accepted primary packaging solution for marijuana concentrates packaging for the below reasons,
Transparent container that displays your concentrate nicely and clearly
All sizes available in the market, from 1gram, 5ml, 7ml to 9ml
Branded custom caps for branding and marketing purposes
The lid with a smooth surface that can be branded with a custom printing sticker
Durable and reusable
2 No Neck Glass Container with Optional Cap
The concentrate glass jar without a neck has become another hit due to its spacious spaces: Without the neck, the jar walls are smooth, and no dead angle that will waste some of the concentrates. Concentrate customers won't worry about getting stuck and difficult to get the most of their shatter or wax.
Moreover, due to the no-neck structure, there are more lids options, like silicone drippy lid.
3 Custom Silicone Concentrate Containers
Pros:
Insulation and vital non-stick properties for zero waste
Virtually unbreakable
It can be customized with your logo and design
Multiple colors for options; you can always find one color to match your brand.
Cons:
The silicone is difficult to add a custom printing sticker
4 Plastic Screw Top Concentrate Containers With Silicone
Pros:
Cheap and works well; it can be considered if you have a tight budget.
It can be added with a custom printing sticker.
Transparent container for displaying concentrate packed
5 Custom Glass Syringe
Glass syringes are normally packaged with a medical-grade Luhr lock closure to assure a leakproof seal and a full displacement plunger to get every last drop of extract oil out of the syringe.
Pros:
Chemical-free glass, a perfect container for extracts and medicines
Can add your logo onto the syringe surface
Can apply custom printing stickers on it
Crystal clear glass for displaying your concentrate
Cons:
Normally can be printed with only one color
6 Custom Printed Mylar Bags
Custom zipper bag is a universal packaging solution in the cannabis industry. You can use a smell-proof bag to store and pack almost all kinds of marijuana products, from dry flowers, edibles, pre-rolls to concentrates.
Pros:
Vacuum and smell-proof, acting perfectly as primary packaging.
Freezer friendly and re-usable
The food-grade interior surface that can keep your concentrate fresh and safe
Flexible customization options for a full range of sizes, printing methods, and finishing
Cons:
Custom printing mylar pouches are more expensive than bags without printing.
Chapter 5: 13 Weed Concentrate Secondary Packaging Solutions You Need to Know About
As a printing and packaging manufacturer for marijuana products, the most asked packaging solution is custom printing packaging for concentrate glass jars.
In our opinion, jars are still the major primary packaging option for most of our customers.
In this post, you're going to explore 13 packaging solutions for concentrate glass jars. These 13 packaging solutions help to build up the brand for most of our customers.
So let's take some time and dive into this post, and when you finally see it, an actual packaging product came out beautifully, you would be in love with this post!
1 Paper Concentrate Box
This small little thing has brought lots of inquiries and love from our customers. A nicely designed concentrate paper box is always the easiest and cost-effective solution for both start-up and known brands. We've summarized its pros and cons as below,
Pros:
Cheap – This word speaks for itself
Easy to customize in terms of sizes, printing method, finishing method, and add-on
Staying flat when it's new and easy to reassemble when you want to pack your concentrate
All-paper if there is not window patching. 100% recyclable
Cons:
Not rigid, too "simple" for brands that seek more luxury packaging materials
2 Windowed Concentrate Box
This windowed concentrate box has a clear PVC window on the bottom that could display your concentrate clearly and nicely.
And if you have a concentrate jar with a wider lid than the base, we could also make a side window on this box to display your concentrate from the side:
3 Magnetic Packaging For Wax Containers (Ring Boxes)
This packaging solution has become a new hit. This magnetic concentrate ring box is like a mini jewelry box that has a very nice shape and structure.
Pros:
The magnetic closure can be a packaging box and display box both
Rigid cardboard material that could store and protect your concentrate jar safely and steadily
Custom size foam insert with a cut-out to center and protect your jar
Full printing and finishing options for adding your design artwork to it
4 Windowed Magnetic Closure Box for Concentrate
This windowed magnetic closure box is designed with a magnetic closure and a display window on the bottom that shows your concentrate's color nicely and clearly. It's a perfect solution for square concentrate jars; you don't even need a foam insert to center it. The cardboard box itself can be very protective for your jars.
5 Magnetic Folding Box
This concept is from luxury jewelry packaging boxes. It's a folding cardboard box that can be used as a mini gift box as well. When it's opened, the box can be used as a small display box for your concentrates.
The strong magnet will make sure the box be closed tightly without worrying about concentrate glass jars falling out.
6 Slide Box For Concentrate Glass Jars
Cardboard slide box is always well accepted in the cardboard packaging industry. This tiny slide box will be a very nice option for your concentrate jars. It's easy to slide out with a thumb notch. With a custom foam insert with a cut-out, you can store your jar safely in it.
A child-resistant mechanism can be added to the box.
7 Lid & Base Box For Concentrate Packaging:
For customers that are fond of lid and base box structure, this box will be your best choice. With a user-friendly thumb notch, customers can easily open the lid.
8 Windowed Slide Box
This slide box is equipped with a crystal clear PVC window that could display how nice your concentrate is. You could even custom two windows to show both sides of your concentrate jar.
9 Cardboard Tube Concentrate Packaging
If you are using round glass jars for your concentrate packaging, why not consider a round tube as secondary packaging as well? The cardboard tube is round in shape and can be customized into all sizes with different diameters and heights. You can pack a jar in a custom printing paper tube even without any inserts.
A child-resistant mechanism can be added when needed.
10 Blister Packaging
Blister packaging can be a nice secondary packaging for concentrate as well.
It normally comes with a blister container and a printed card. The container is fully custom according to your jar size. And the paper card can be printed with your designed artwork.
11 Concentrate Packaging Labels
If you have a very tight budget, using a neutral jar, and don't want to spend more on the packaging, custom printing labels for concentrate jar will be your alternative to enhance your brand still.
Custom labels and stickers are relatively cheap compare to other packaging solutions. The size and printing area are all up to you.
12 Concentrate Wrapping Paper/ Sleeves
Some customers might not be into stickers, labels and prefer a paper solution. In this case, a custom printing wrapping paper can be considered.
13 Telescope Box For Concentrate Packaging 
A well-made rigid box can surely add up value to your product and brand. This telescope box comes from rigid cardboard paper, and it's hand-crafted.
Nice solution for brands that are looking for luxury packaging for concentrates.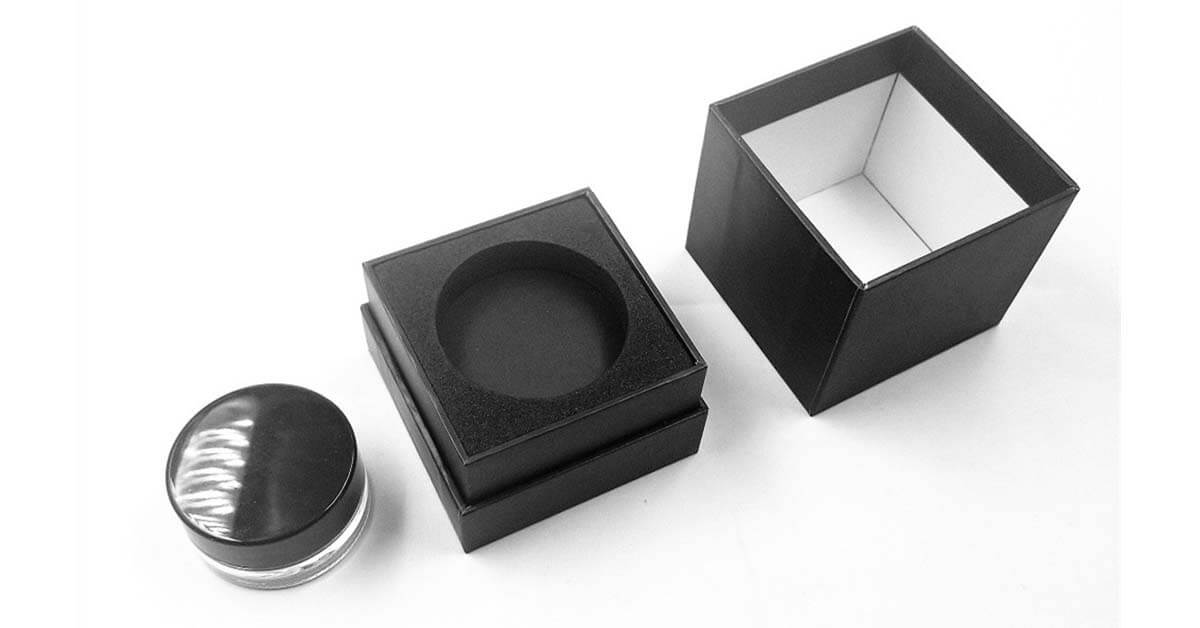 Chapter 6: Child-resistant Packaging Solutions for Cannabis Concentrate
Child-resistant packaging is required in some states. A glass jar that has a childproof cap will be the major solution for concentrate products if you are using a child-resistant jar for your concentrate products, congratulations! you are more open to all secondary packaging solutions.
However, if you are using a normal glass or silicone jar without a child-resistant cap, secondary packaging with a childproof mechanism will help you out. (The packaging for cannabis in most states only has to be child-safe if the product inside is considered for multiple uses. )
1 Child-resistant Drawer Box For Concentrate
This box comes from a classic slide cardboard box, with a self-design child-resistant button and custom foam insert; you can pack your concentrate jars in this cube shape box. The box can be fully customized into all sizes and printed artwork.
2 Child-resistant Tube Concentrate Packaging
Cardboard tubes for concentrate packaging have been a new idea for some brands. Its round shape is corresponding with most of the concentrate jars.
Above all, the packaging is art for all businesses. It deserves your time to explore different existing packaging options and create more new ideas. A trustworthy packaging supplier is key to the success of your packaging.
Contact For Details: