Among all surface finishing methods in the paper printing & packaging industry, foil stamping is usually the most popular.
It's one of the most cost-effective methods to bring your packaging onto another level.
This post will show you what's hot foil stamping and how to use it to enhance your packaging box design.
Let's dive right in,
1 What Is Foil Stamping?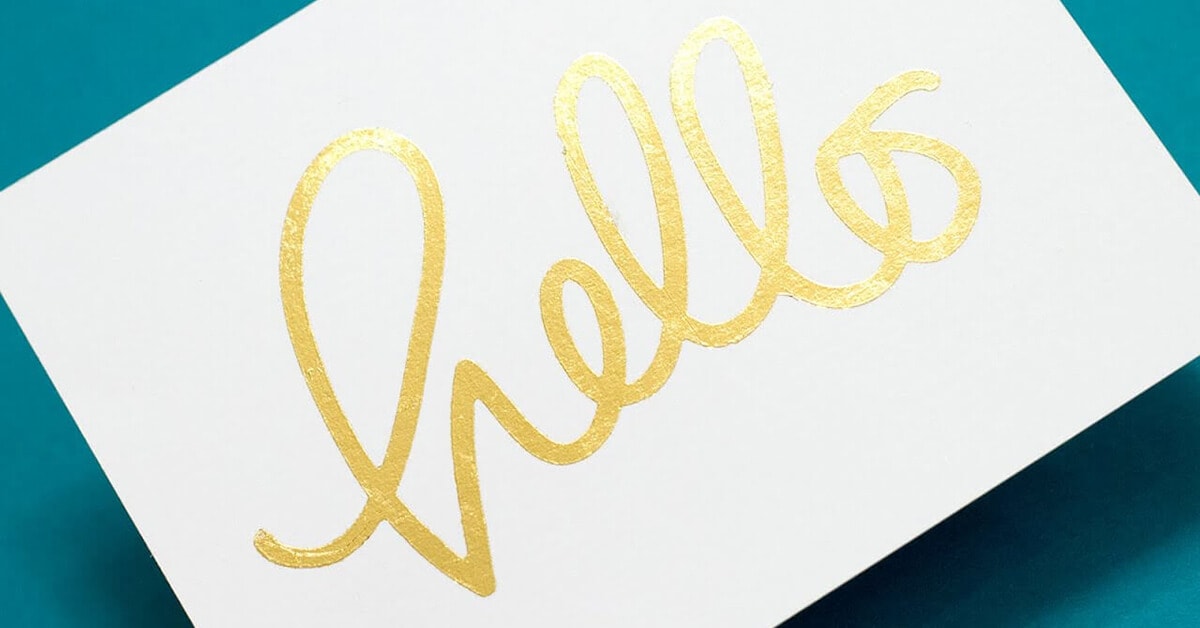 Foil stamping, also known as hot foil stamping, gold foiling, hot stamping, leaf stamping, bronzing, foil printing,
is a classic and common finishing procedure type where the use of metallic paper (foil paper), heat, and pressure to create many luxury designs and graphic texts on various materials.
It's widely used in the paper printing & packaging industry for adding metallic, solid, or textured colors onto a printed box.
Simply put, foil stamping uses hot temperature and high pressure to press the colors on a foil paper onto a paper through a mold with a certain cut-out.
We can find out how foil stamping is achieved from the below pictures.
Step One:  Once we decide the contents to be foiled onto the paper box, we will make a "metal plate" with all the contents raised and embossed.
Secondly, we will use foil paper (Also called "metalized foil paper") for the finishing process.
In short: there are three items involved: A metal plate, foil paper, and a printed paper (which will be used for the paper packaging box)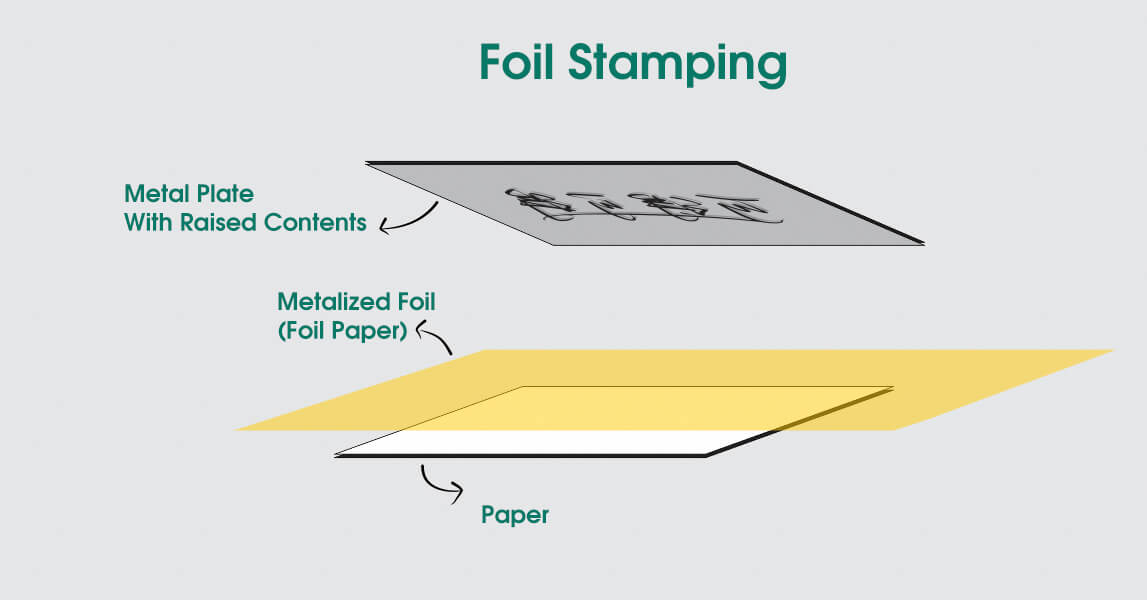 Step Two:  The foil stamping machine will generate high pressure and temperature, press the metal plate onto the foil paper.
Meanwhile, the foil paper will be pressed to the printed paper.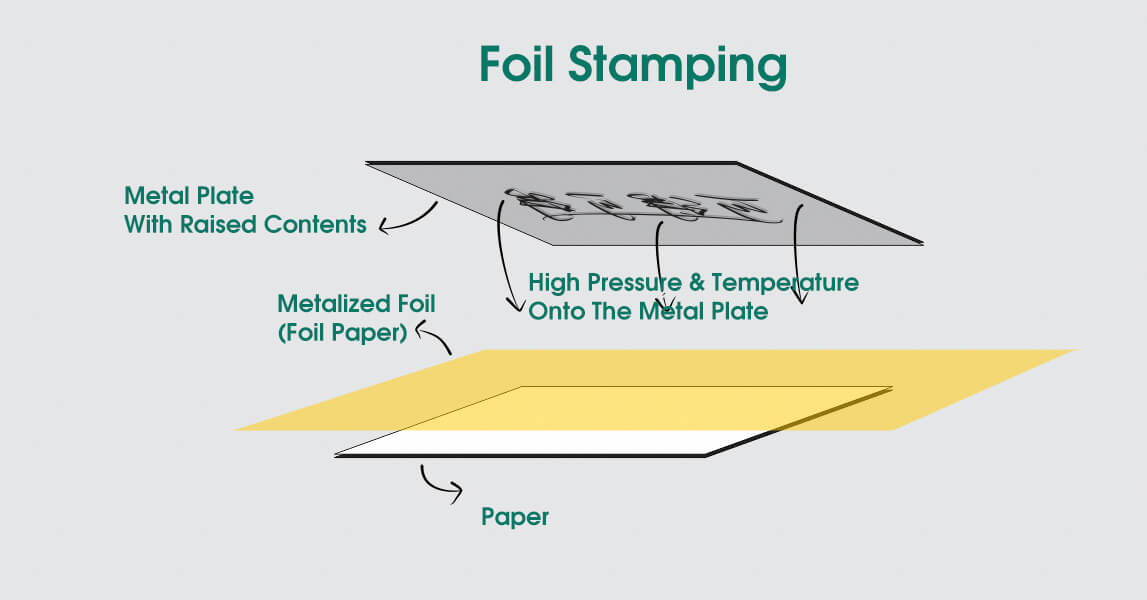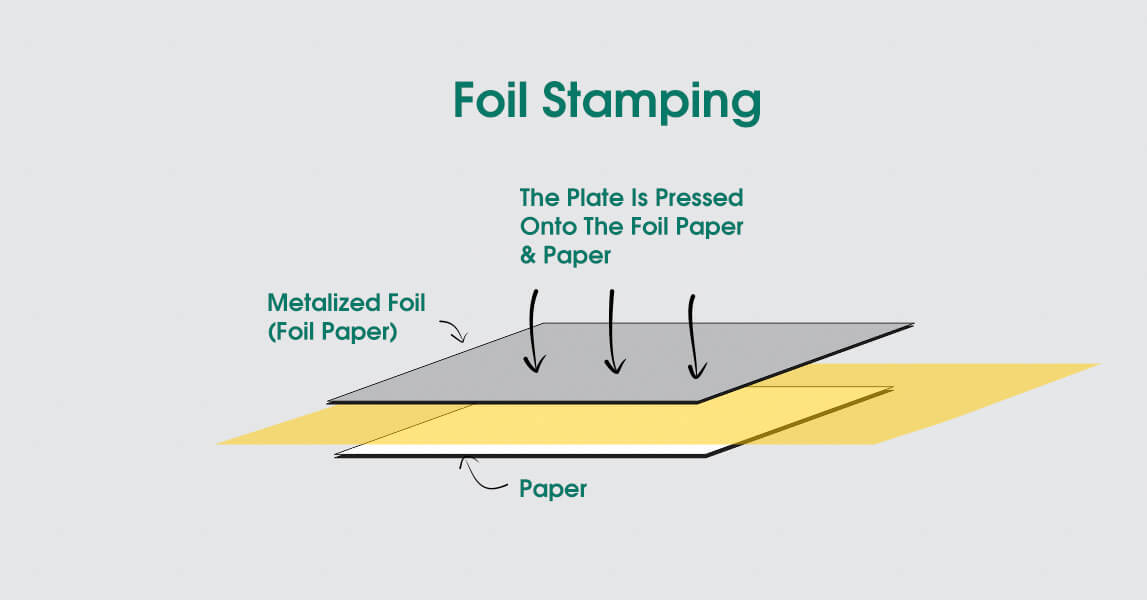 Step Three:  Once the stamping process is complete, we will remove the metal plate from the foil paper.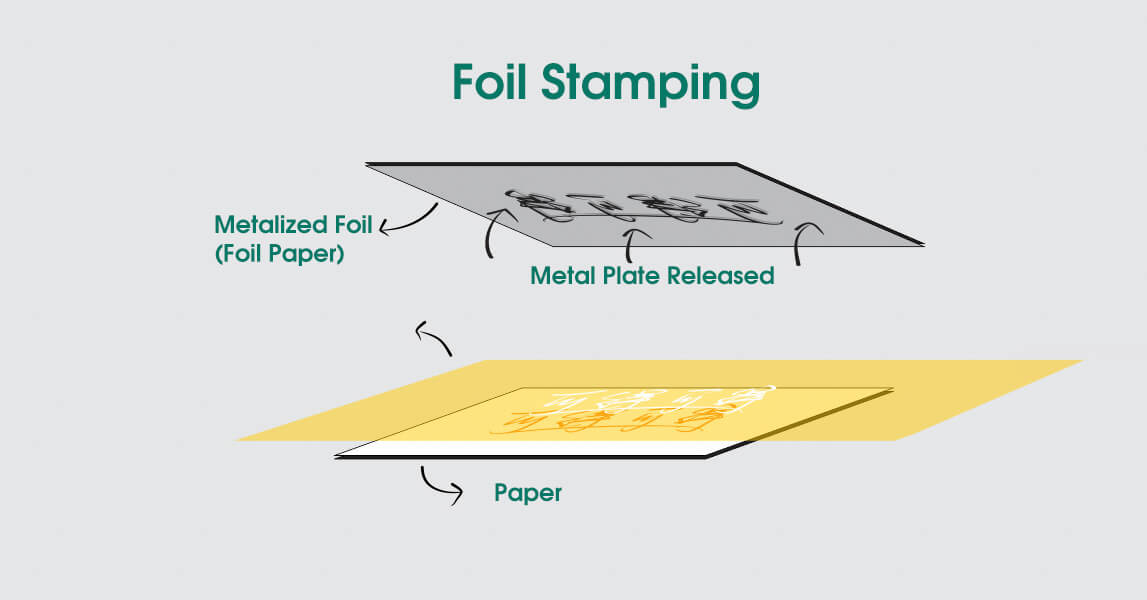 Step Four:  Since the contents on the metal plate are raised and embossed, it will peel the foil part onto the printed paper.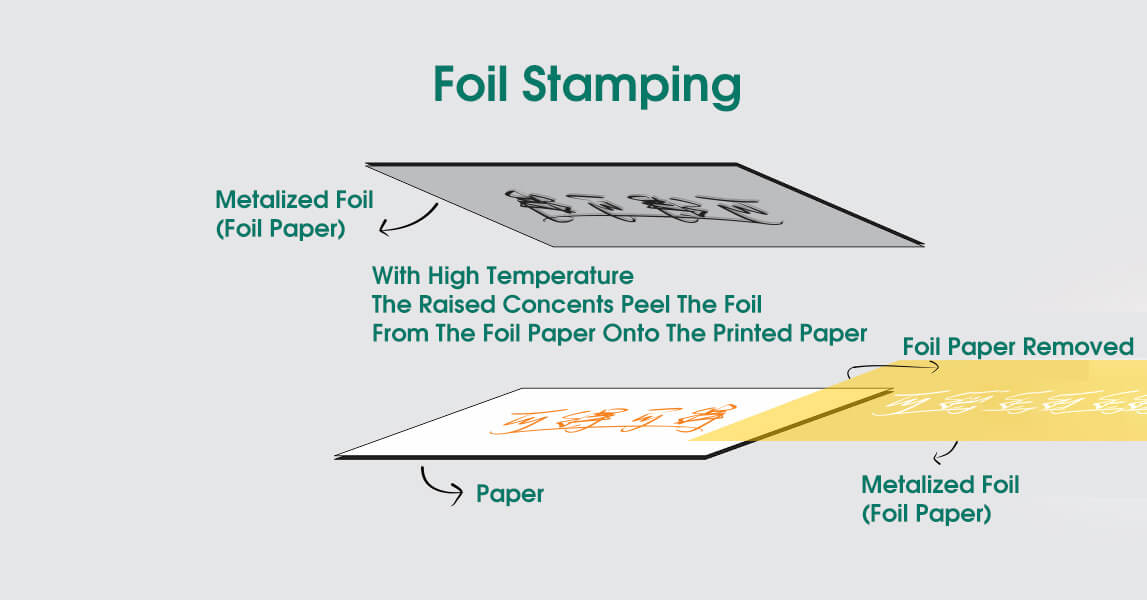 Step Five:  The foil will be "stamped" onto the printed paper.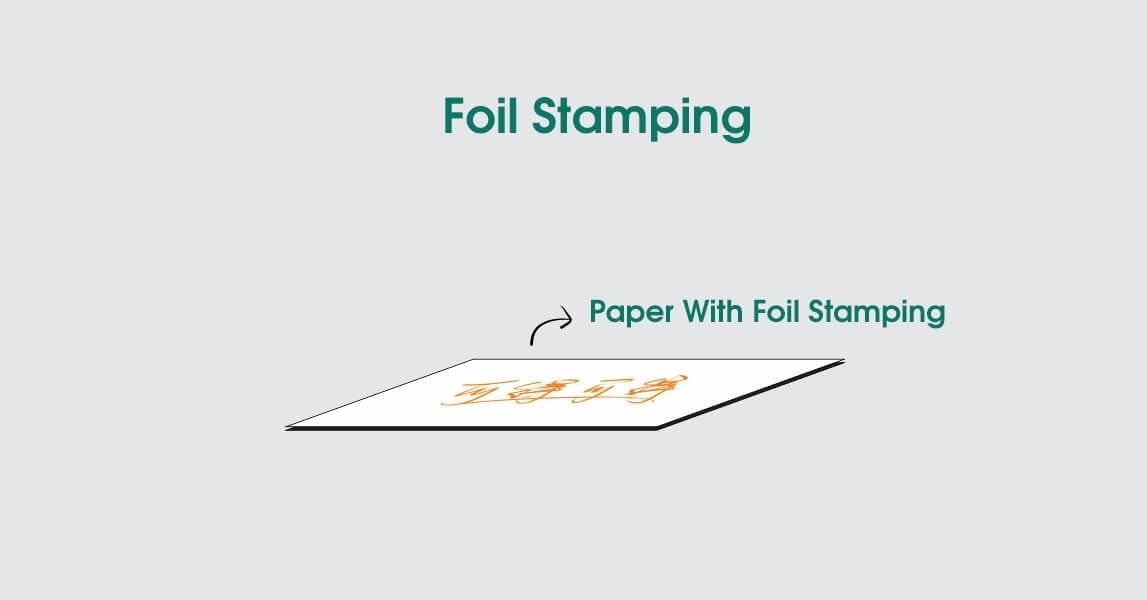 Let's see a short video so you can better understand the process:
2 What's Good About Hot Foil Stamping?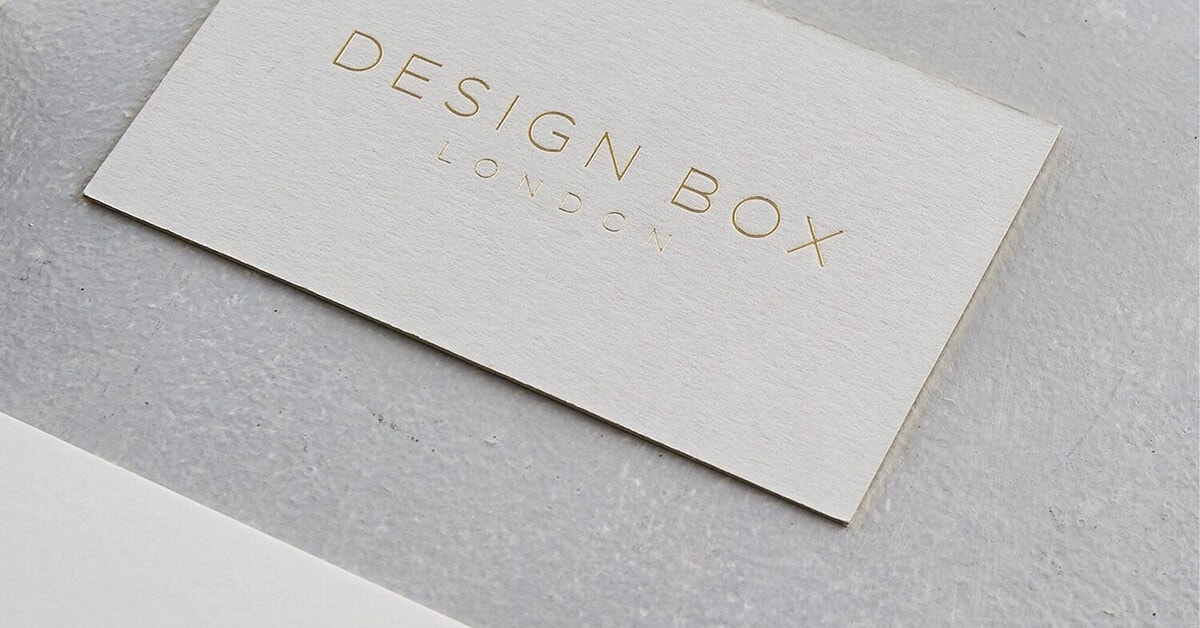 It gives a shiny and metallic look
Luxurious color and texture
Can be applied for Logo, texts, or outlines
Full ranges of colors and types to choose from based on your specific design needs
It can be combined with other finishing, like embossing
It can be applied to all kinds of paper material: uncoated paper, black art paper, fancy paper
3 What Types Of Hot Stamping Could You Use?
For the beginning, foil stamping usually stands for gold foil stamping or silver foil stamping.
Some might know about bronze foil, though; there are way too many options you can choose.
Let's take you through the colorful world of foil stamping.
1 Metalized Foil
Metallic foils duplicate the look of precious metals, such as gold, silver, or copper. These are considered the most classic and standard foil colors.
Except for these conventional colors, you could also use other metallic foil colors, like rose gold, red and blue.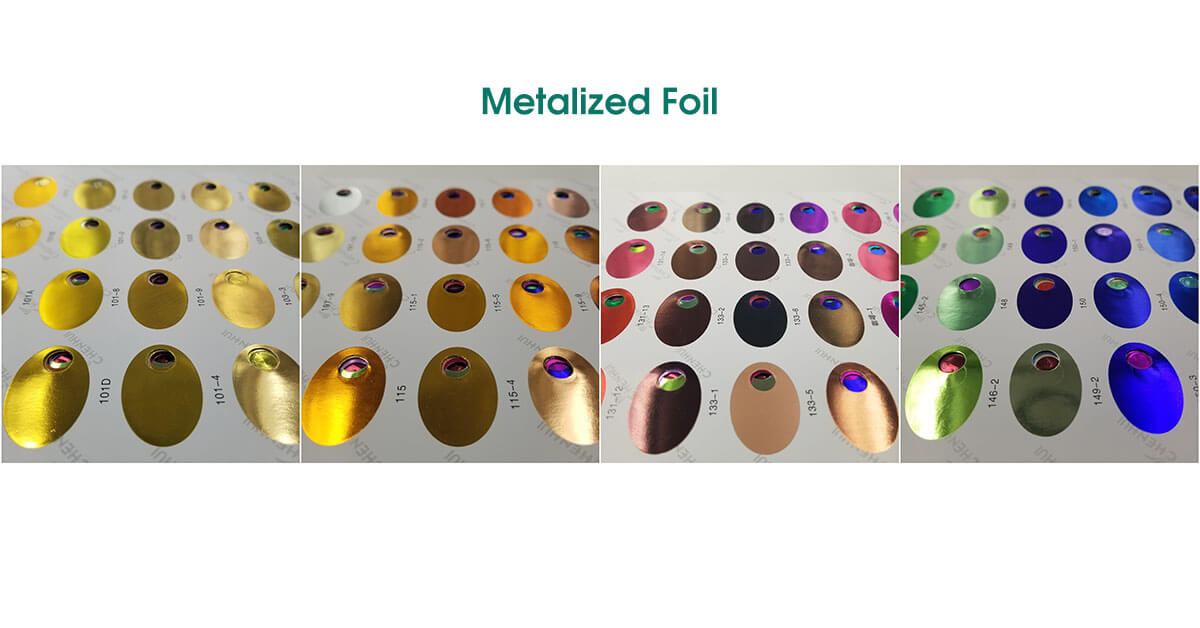 2 Pigment Foil (Solid Color)
Pigment foils can also be interpreted as solid color foil stamping. They don't have a metallic look.
However, they usually come in a full range of matte or glossy colors.
Designers can use them for pulling out texts, logos, or a complete area in an eye-catching color and texture.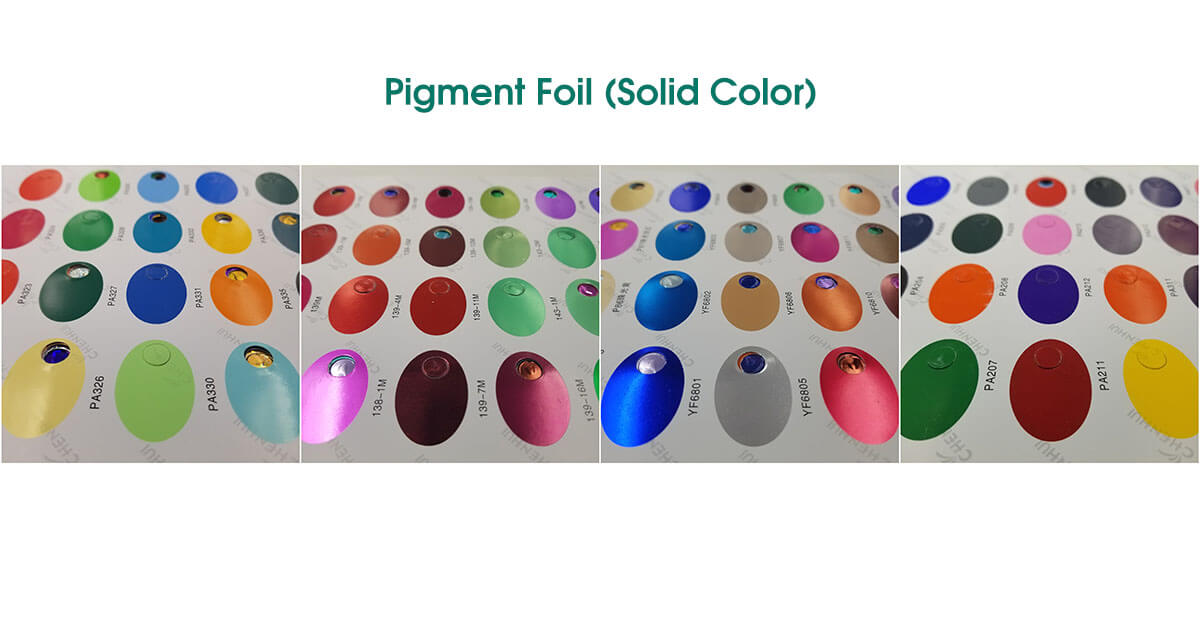 3 Holographic Foil
Holographic foils appear to be silver before application. However, when viewers look at it from different angles, they will reflect various colors and shades.
Therefore, it gives viewers an impression of a holograph or rainbow.
These are interesting and lively when it's applied in the proper contexts.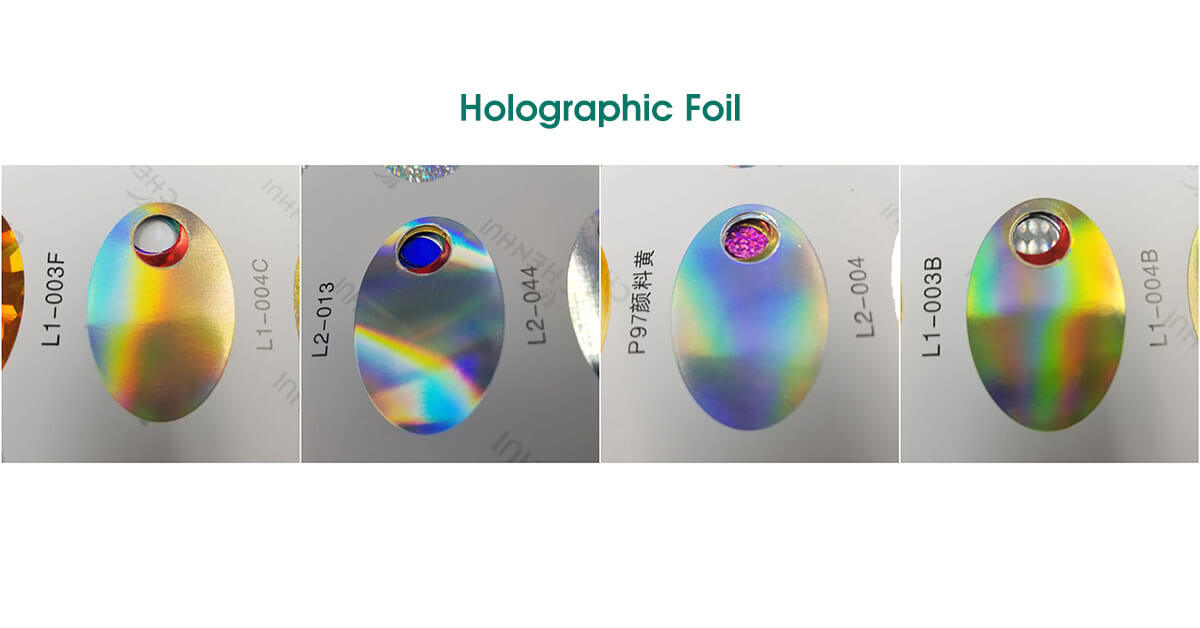 4 Pearl Foils
Pearl foils add an iridescent, heavenly sheen to otherwise primarily transparent or clear shade. They are used to provide more tactile sparkle rather than color to a layout.
Therefore, pearl foiling is a relatively refined choice for sophisticated stationery like invites and business cards.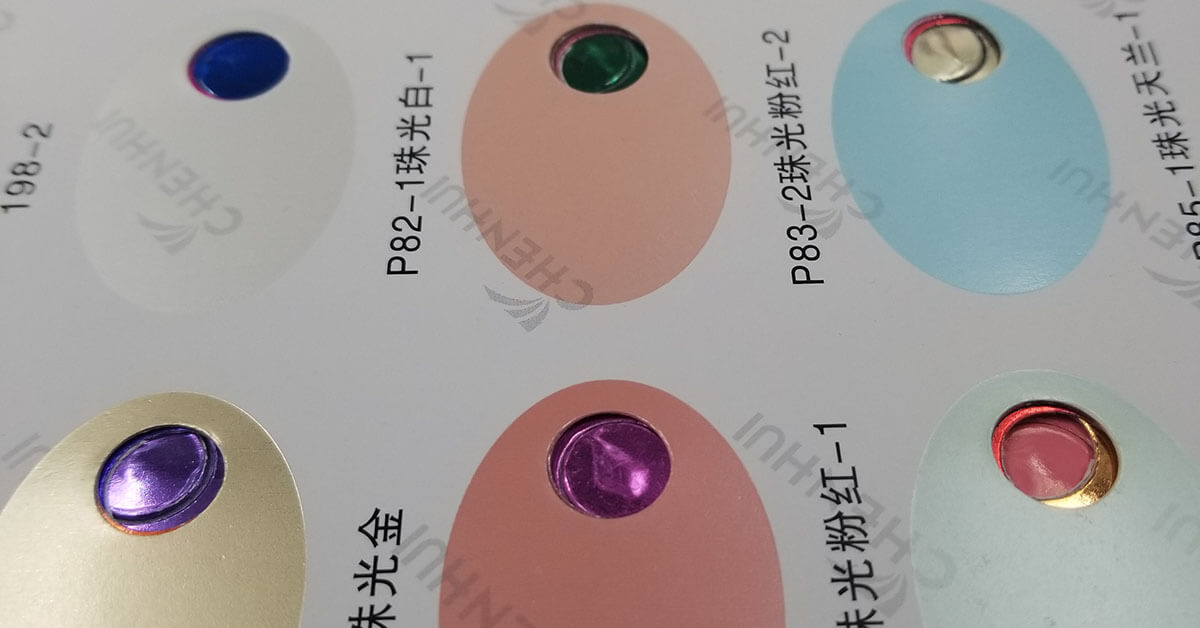 5 Effects Foil
Except for its original shining look, foil stamping also has foiling colors that have special effects.
Let's check what can we achieve different effects via Foiling.
– Stripes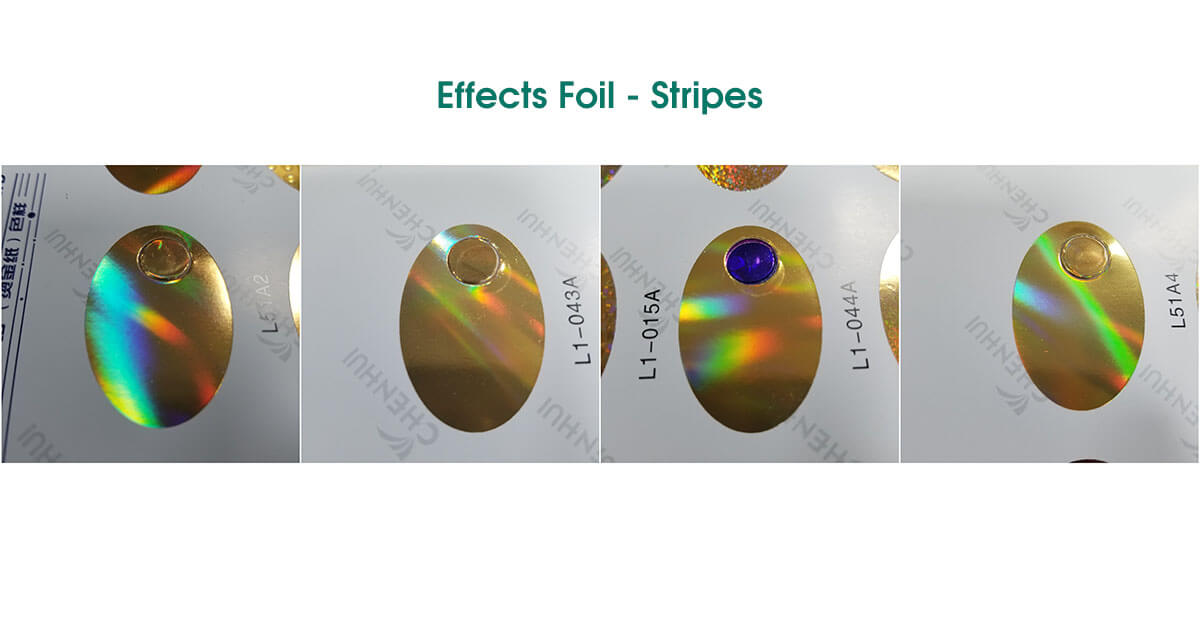 – Sparkles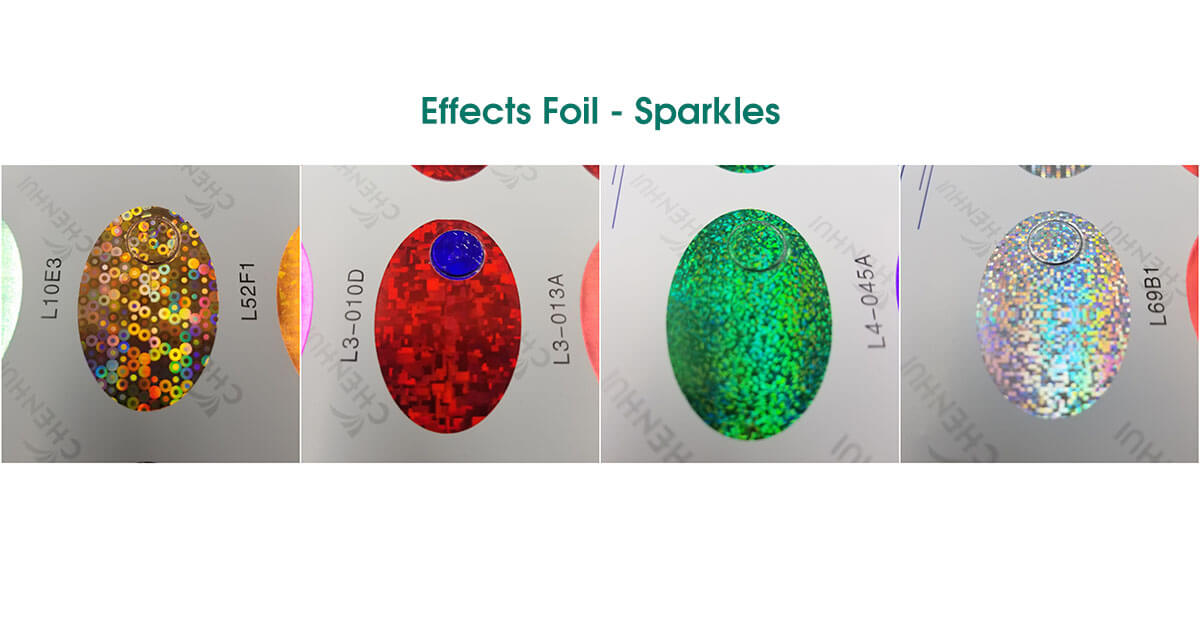 – Light Diffractions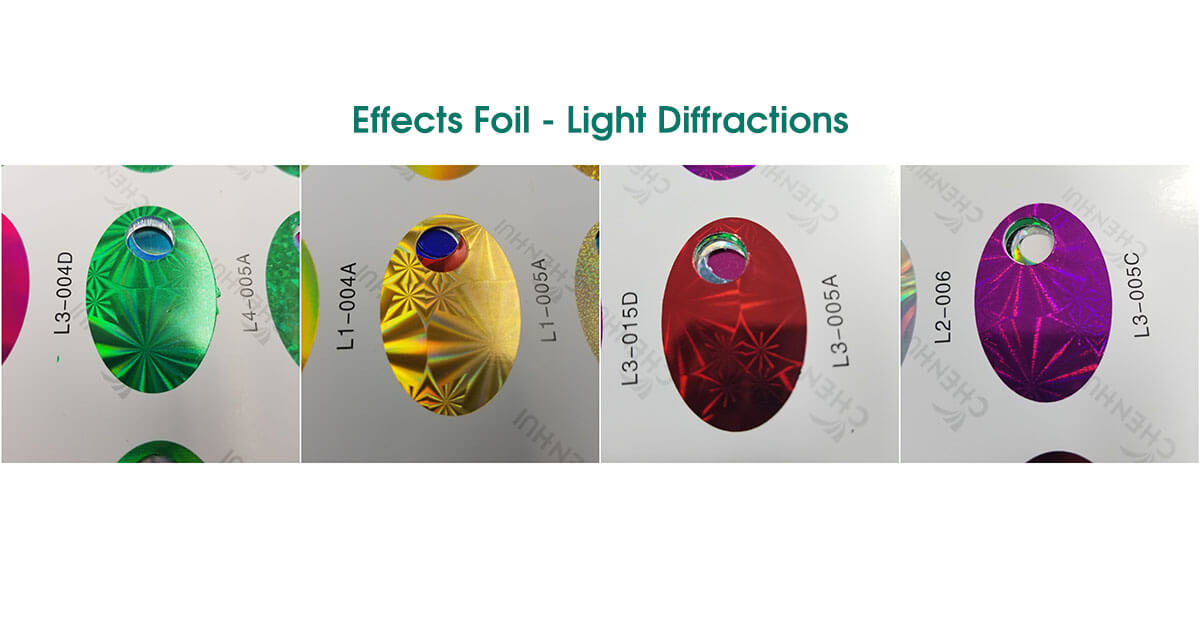 – Holographic patterns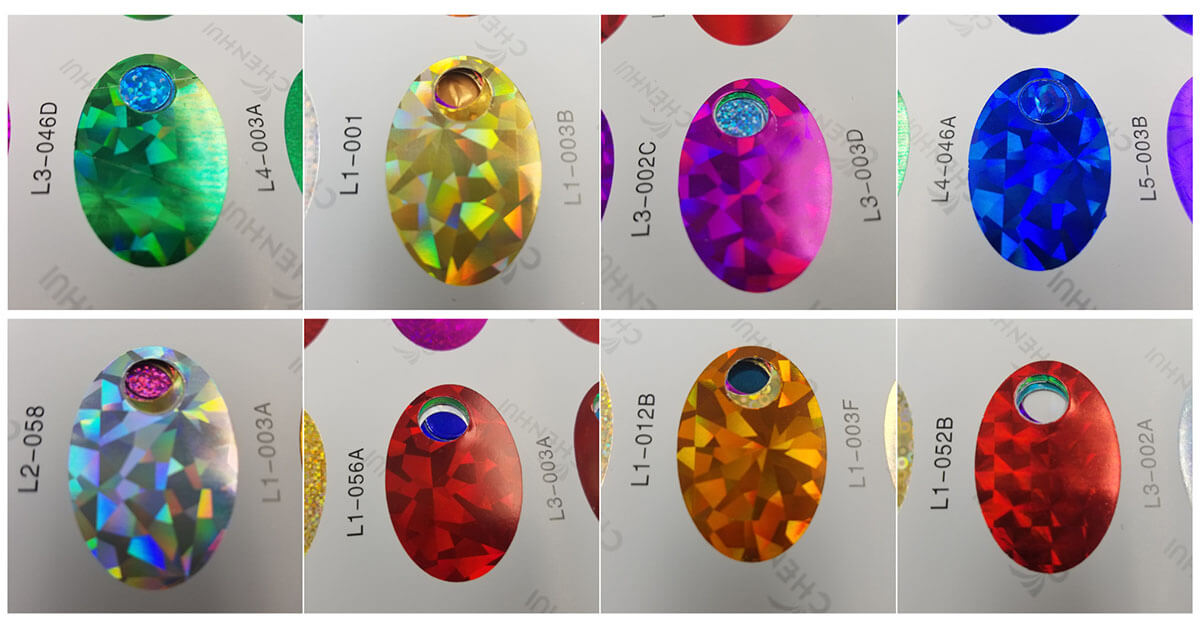 – Stone, Wood Grains, And Starlight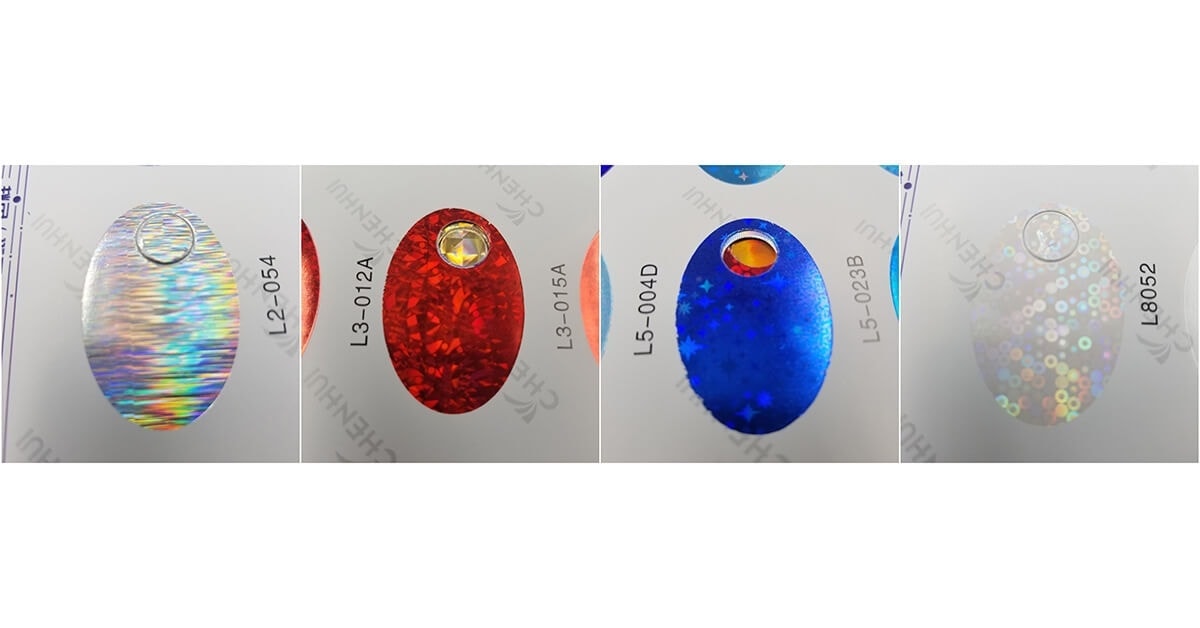 4 How To Use Hot Foil Stamping For Your Packaging Box
Knowing that foil stamping can help to upgrade our packaging. What contents can you use for foil stamping?
You won't be limited just to the logos.
1 Gold Foil For Logos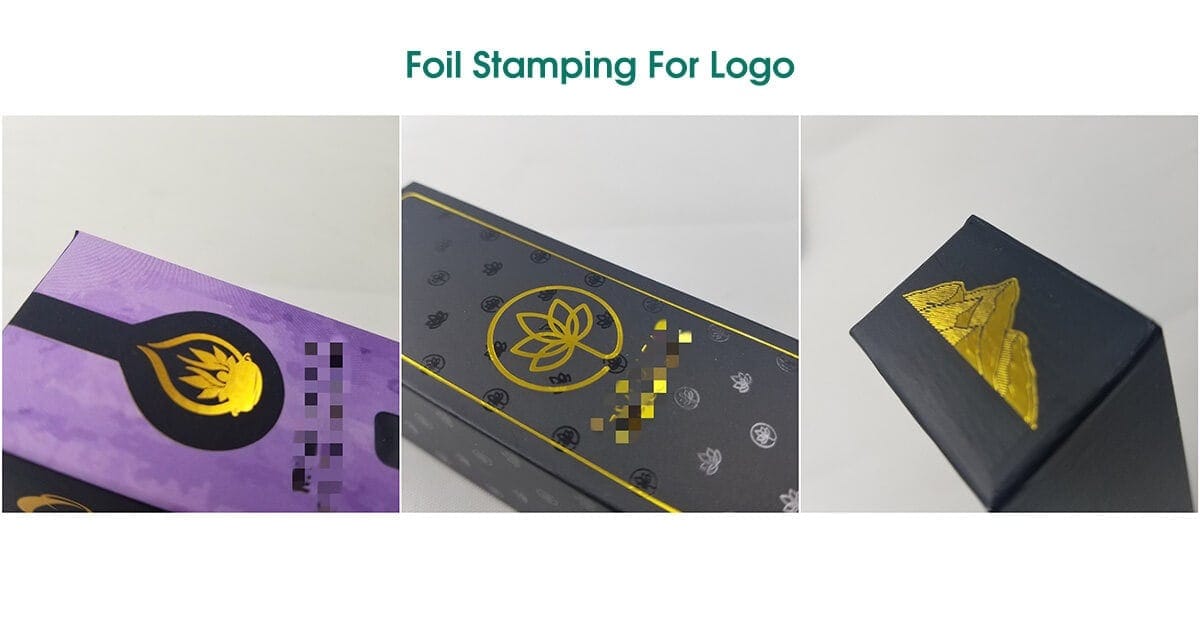 2 Texts With Gold Foiling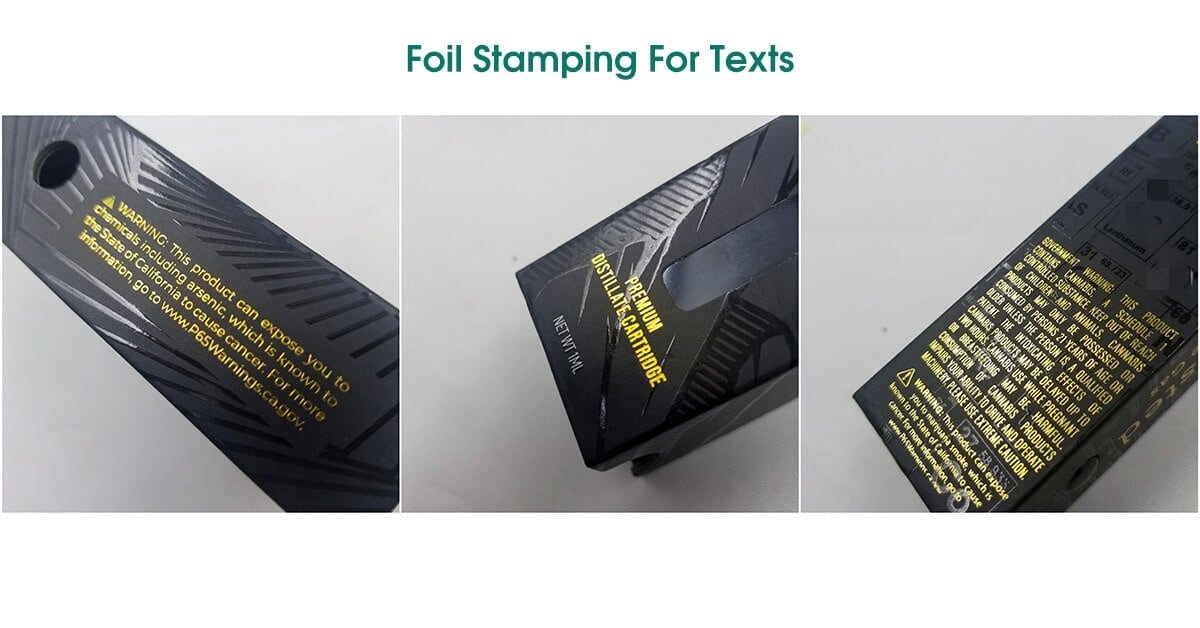 3 Patterns With Hot Oil Stamping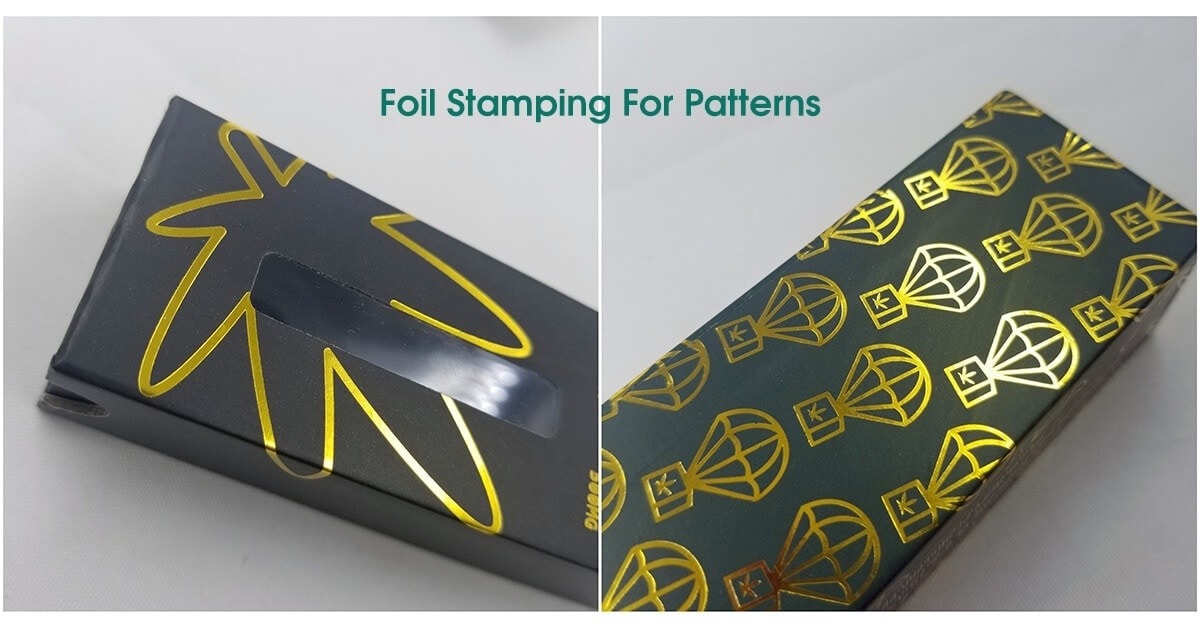 4 Foil Printing For An Entire Area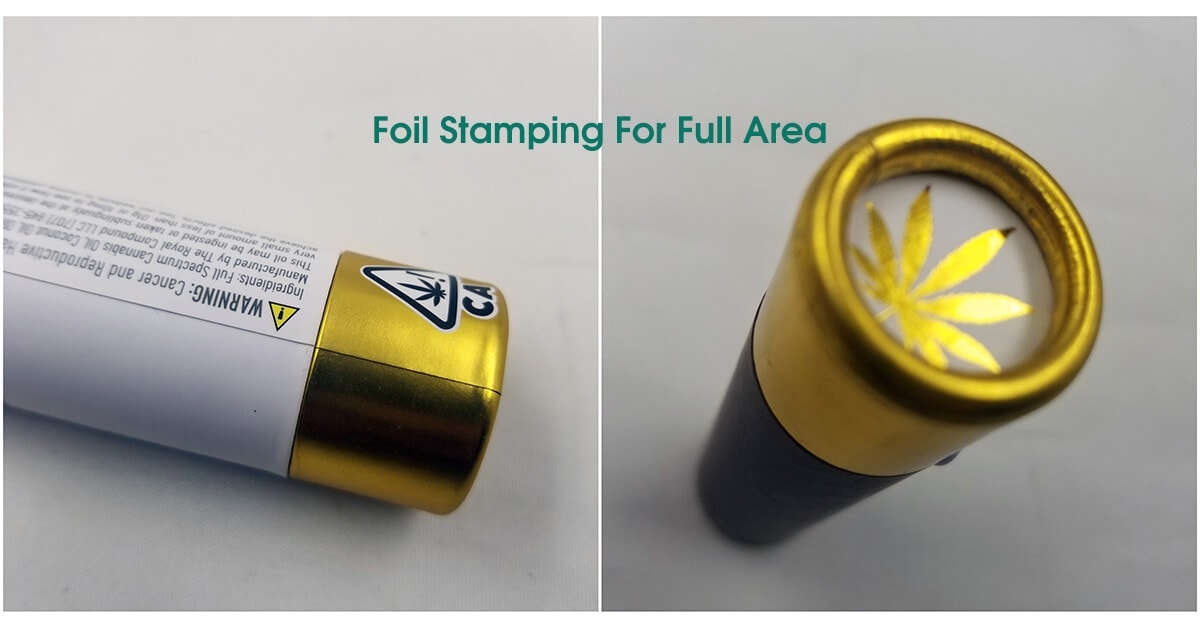 5 Tips For Box Designing If You Want To Use Hot Stamping
1 The precision of foil stamping cannot be too fine, such as font size and line, subject to process constraints, the line thickness is not less than 0.01mm, and the font size is not less than 6pt;
2 Foil stamping is not easy to adhere to the smooth surface. If there is already a glossy coating or UV effect, avoid overlapping processes at the same position;
3 Designers should consider the density of foil stamping. In the case of complex graphics and high density, foiling is prone to sticky lines;
4 Make sure all the parts for foil stamping are vectorized. It's crucial since we need the vectorized version to separate the layout and make a foiling plate.
5 Last but not least, don't overuse foil stamping for your box designs. In some cases, less is more.
To sum up. Foil stamping, aside from spot UV, embossing/debossing, if used correctly in custom printing packaging boxes, will surely bring your packaging onto another level.