Custom mylar bags are becoming popular in the cannabis industry.
Mylar bags are flexible packaging that can be applied to all kinds of cannabis-related products, from dry weed flower packaging to pre-rolls, edibles, and even CBD-infused drinks.
In this post, we will be presenting them in an understandable way. And provide a step-by-step guide for you to customize your printed mylar bags.
Now let's get started.
Chapter 1: What Are Mylar Bags
"Mylar ®" is a famous PET FILM brand name. In 1984, ICI UK and Dupont USA initially obtained polyester film(PET) patents. In 1953, BOPET was created, and BOPET bags were used in the kitchen area back then. BOPET is much hard to pronounce than mylar. More, as well as more individuals, make use of mylar bags to call the bag which is made by vacuum aluminized BOPET.
So, what is mylar, and what is it made from?
1 What Material Is Mylar Made Out Of?
"Mylar" is a trademark owned by DuPont. This firm produces and sells BOPET films at the first beginning.
BOPET (biaxially-oriented polyethylene terephthalate) is a polyester film made from stretched polyethylene terephthalate (PET) and is used for its high tensile strength, chemical and dimensional stability, transparency, reflectivity, gas and aroma barrier properties, and electrical insulation. (Wikipedia)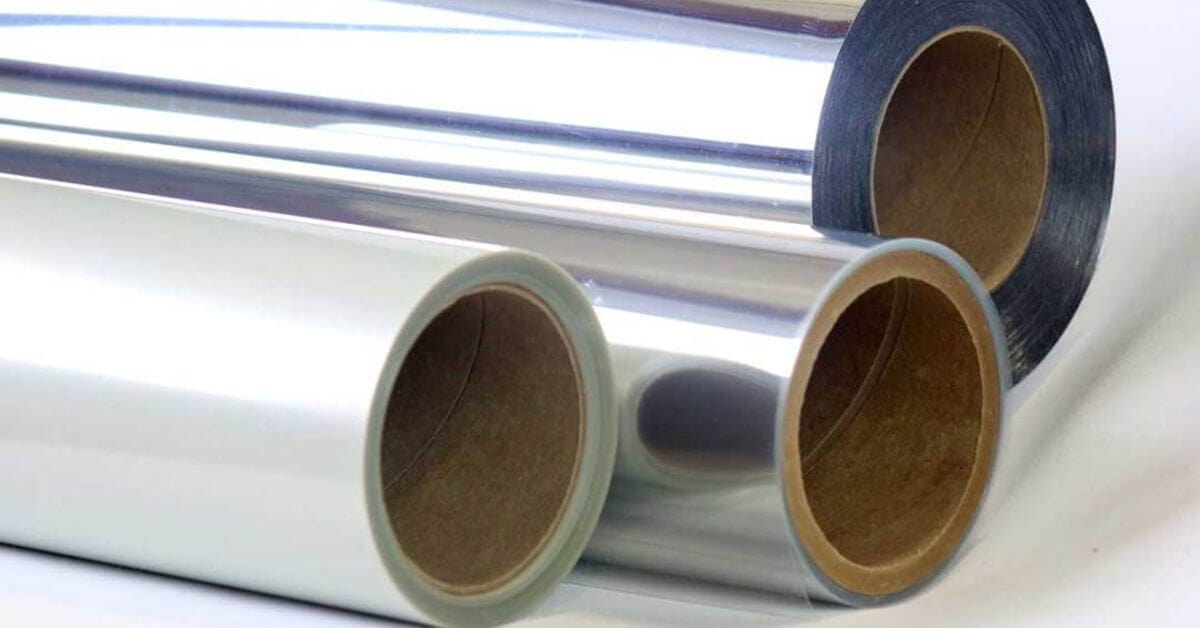 2 How Is A Mylar Bag Made?
The manufacturing procedure begins with a film of liquified polyethylene terephthalate (PET) being extruded onto a cool roll, which quenches it into the amorphous state. It is after that biaxially oriented by attracting.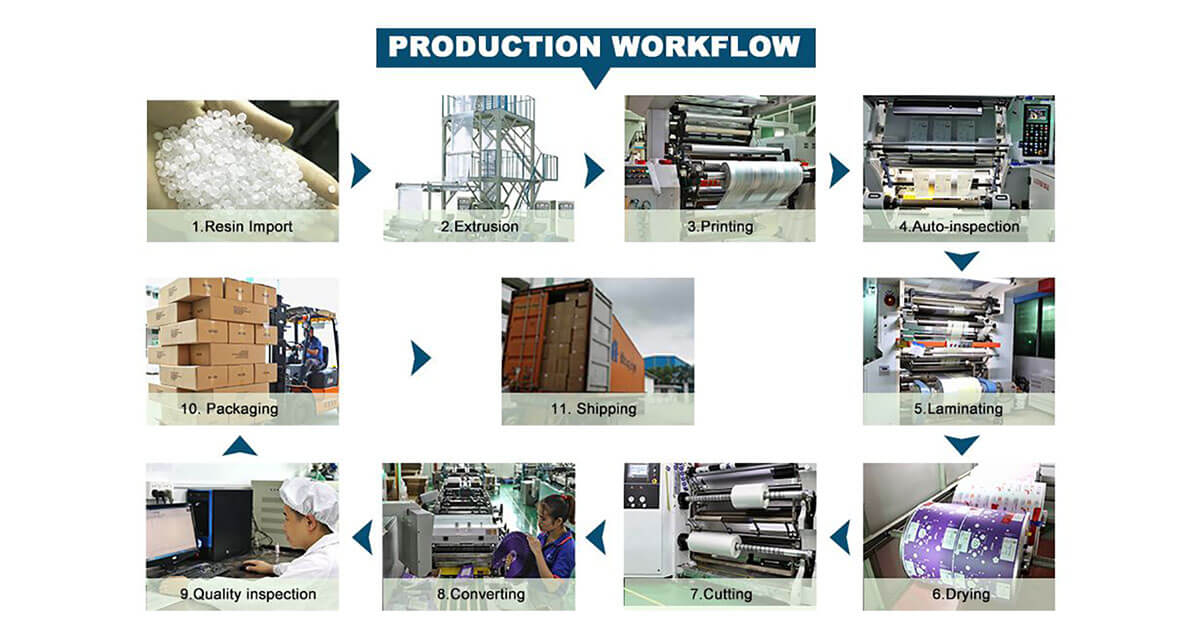 Let's take you on a production tour through this short video:
To make it easier to understand, we can separate a mylar bag into three parts.
1 A Surface Layer: The printed part of the bag. It's the layer for printing your logo, designs, ingredients, and all other information
There are majorly three types of materials that we use for the surface layer.
– PET(Polyethylene Terephthalate)
– BOPP( Biaxially-oriented Polypropylene) Both PET and BOPP come with a glossy look but can be made into a matte effect with some finishing method. PET is mostly used due to its complete flexibility and excellent quality, compared to BOPP
– MOPP(Monoaxially Oriented Polypropylene): MOPP comes in a matte look and can be coated with a soft-touch coating
2 A Middle Layer: Firms that block moisture, oxygen, and aroma from entering or exiting the package
The middle layer is built to strengthen the whole bag and provide complete protection of the products it contains. It will protect the products from moisture, gas, and light. It usually comes from two types:
VMPET: Vacuum Metallized Polyester Film (Widely Used)
Aluminum Foiling: Foil can be damaged easily by pulling
3 A Lining Layer: This layer will have direct contact with the product it contains. So it's food-grade PE material or CPP. PE is best for its long durability and stability for printing, while CPP is more robust in hardness.
Chapter 2: Why Using Mylar Bags For Your Marijuana Products?
We've summed up six significant reasons for choosing a mylar bag for your cannabis products.
1 Smell-Proof And Freezer-Friendly
The bag's high vapor barrier will block moisture, oxygen, and aroma from entering or exiting the packaging. You can help customers maintain their medical or recreational cannabis on the up-and-up by packaging each item in an odor-proof bag. These bags make it less complicated for your clients to keep from having their stashes seized;
Smell-proof bags help your clients keep their purchases discreet. Customers can store marijuana-related products without having to answer any uncomfortable questions from any housemates or neighbors.
2 Air-Tight And Vacuum
With heat-sealing mylar bags, you can protect the humidity levels in your products. In that case, your customers get what they paid for.
Moreover, it keeps out water and air to keep any dry products, like weed flowers, pre-rolls fresh, and last longer.
3 Flexible Customization In Shapes and Sizes
Printed mylar bags were mostly used for weed flower packaging. However, it's getting more and more popular since it's also suitable for all other cannabis-related products. We can custom the bags in many shapes and sizes, from pre-roll to 3.5gram to a full ounce.
You can customize different sizes of mylar bags for your different product categories, from pre-rolls, flowers, edibles, gummies to cartridges, etc.
4 Puncture-Resistant And Tear-Resistant; A Strong Material For Transportation And Storage
Mylar bag is an exciting packaging solution that could act as both primary packaging and secondary packaging. You can expect it to contain the products you sell and also use it as a shipping packaging, dispensary showcase, and also long-term storage container in the stockroom.
5 Printable With A Quality You Can Feel And See
A printed mylar bag with an excellent design will be helpful for your brands and products. It can make your customer feel that they are buying a high-quality product. The sturdy and robust bag material will enhance your brand image.
6 Food Safe
Coated with a PE interior firm, the bags can be used as edibles packaging. You can use the bags for gummies, taffies, etc.
Chapter 3: Why Use Custom Printing Mylar Bags Instead Of Neutral Bags With Printed Label
Packaging is essential to the success of your brand and products.
Whether you are a well-known brand or a small and medium business, packaging is always one of the critical factors that affect your brand image.
We don't want to settle for "We're a small business" looking packaging. Compared to applying a printed label to a blank bag, custom printing mylar bags could let you match or exceed your product quality and shelf-life while adding visual appeal and design features to your products and brands.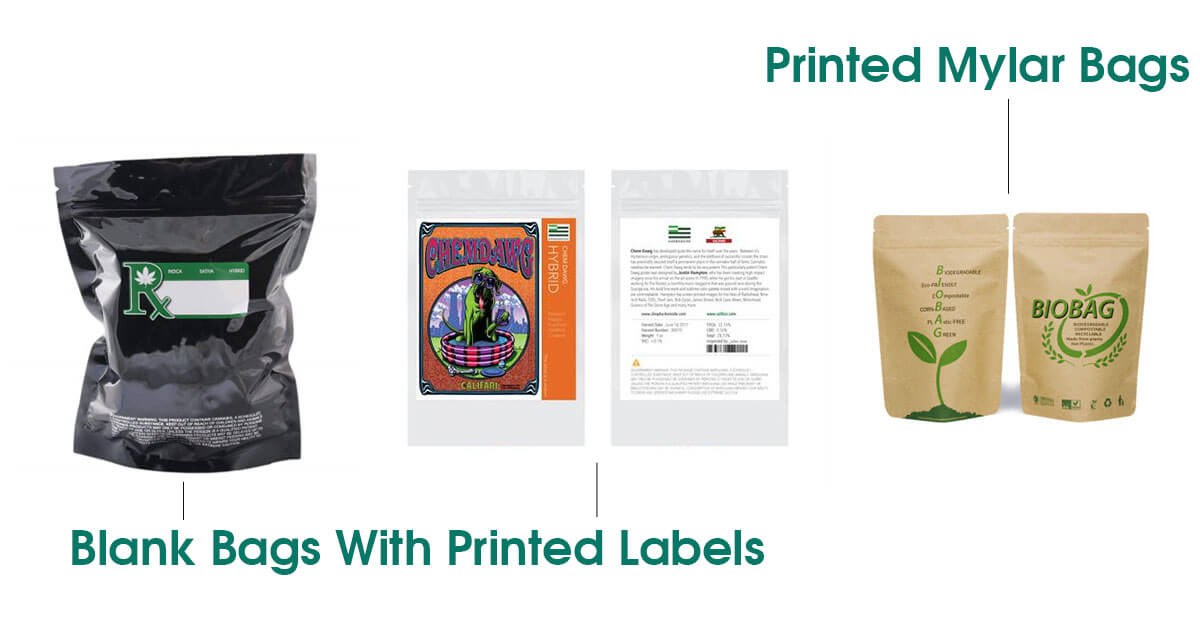 Chapter 4: How To Use Printed Mylar Bags For Marijuana Products?
Custom Mylar bags are a popular option for marijuana lovers. These bags are nontransparent, allowing them to be delivered inconspicuously and kept out of view of curious children. The mylar bags utilized today are child-resistant as well as tamper-evident. They come with a childproof zipper mechanism to make them multiple-use as well as a tear tab on top, so you'll know if someone tried to enter into your product before it reached your hands.
Some weed fanatics store their fresh bud permanently in mylar bags. The zip lock at the top develops a seal to maintain cannabis fresh and also unpolluted. Mylar blocks UV rays keep the item cool, and (unlike plastic bags) are not made from harmful chemicals. These functions help to retain the top medical qualities of marijuana for as long as feasible.
Bear in mind that because of some state laws surrounding weed, if you choose to sell your item in a container that you can see through, you will possibly end up having to package the entire thing in a mylar bag anyhow. For example, in California, all marijuana product packaging needs to be opaque, so see-through glass jars aren't sufficient for product packaging weed.
With the help of custom mylar bags, you can benefit from prolonging your products' life span. The longer they last, the much less your dispensary materials will certainly cost! Your customers also profit since their purchase remains fresher for longer.
1 Mylar Bags For Weed Edible Packaging
Edible mylar bags are manufactured in-house with an opaque design. It usually equips with zipper seal closure to meet nationwide exit packaging mandates. You can also include a perforated laser-lined tear notch above the opening to ensure these bags meet state requirements for tamper-evident packaging. Bags for edibles are optimal for storing or transporting marijuana products thanks to light-resistant and airtight quality.
2 Vape Cartridge Mylar Bags
A vape cartridge mylar bag is designed to hold up to a 1 gram size cartridge. It's made of food-grade OPP/VMPET/PE material, and it's sealable, smell-proof. You can custom the bag into any sizes you want. Moreover, you can add tear notches, clear/clouded windows, and other add-ons to the bags.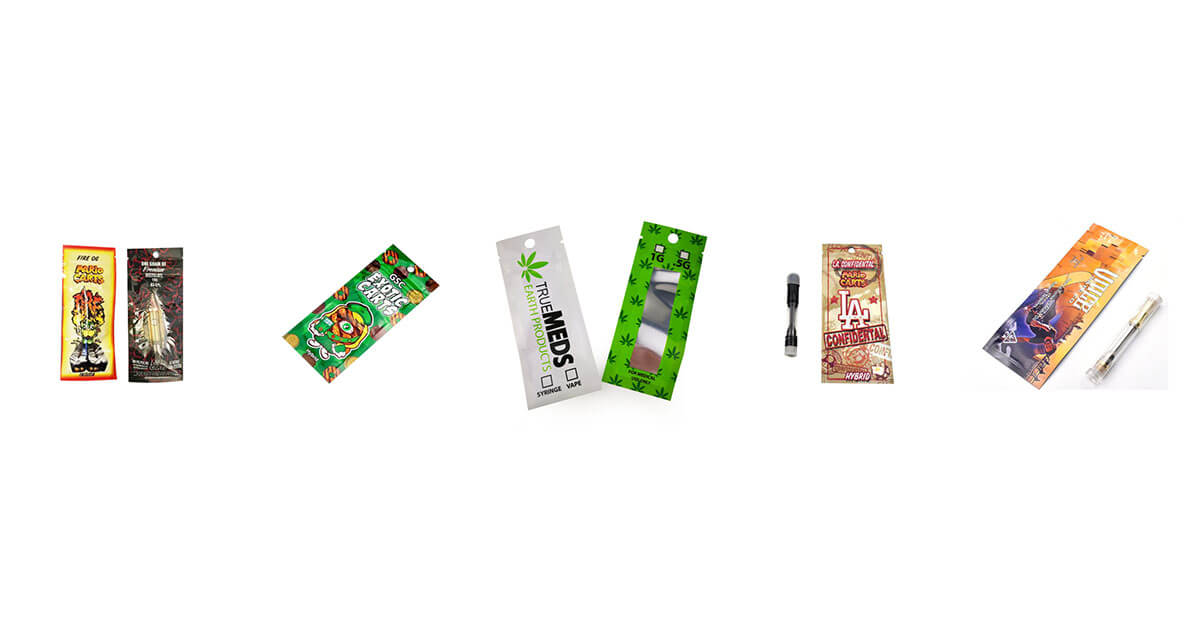 3 Hemp Flower Bags
Mylar bags for dispensaries are mostly used for hemp flower packaging. The bags can prevent the dry weed flowers from moisture, light, and air to make sure the freshness of the products.
4 Truffles Mylar Bags
Printed zipper bags with the metalized film is suitable for CBD truffles packaging. It usually comes with a bottom gusset so there is extra room for the truffles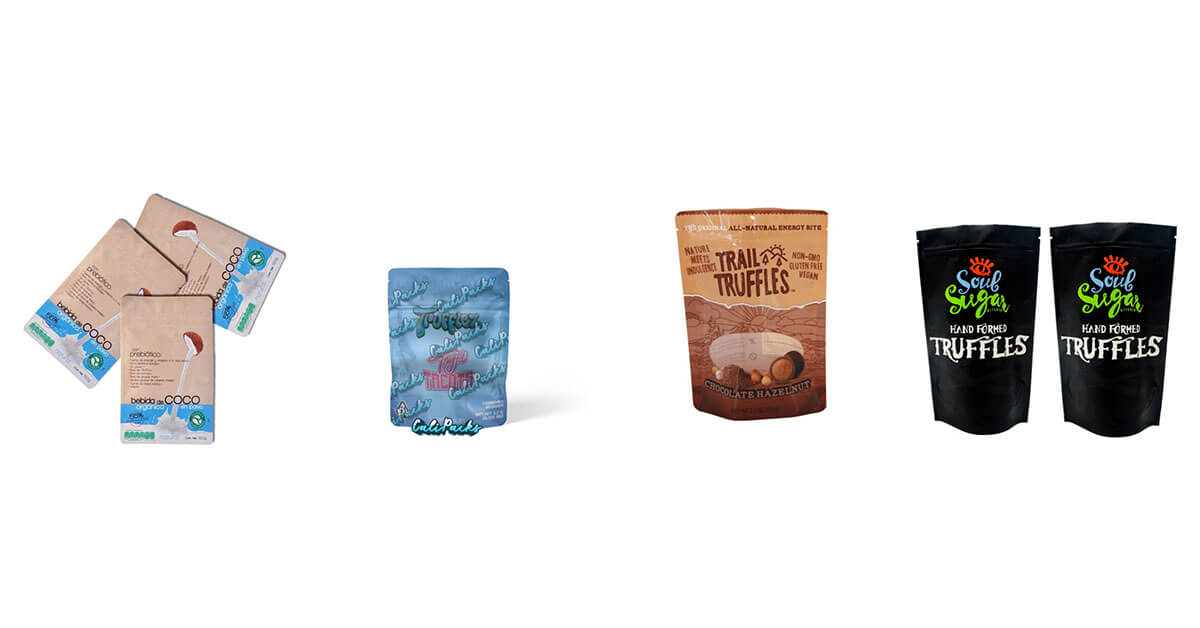 5 Brownie Mylar Bag
Probably the most accessible and also quirkiest products in the Cannabis market, edibles are rapidly becoming prominent with Cannabis consumers who like ingesting Cannabis-infused items straight compares to smoking or vaping. It must go without stating that product packaging these Cannabis-infused foodstuffs appropriately is of miraculous importance. Like getting food in a supermarket, edibles require to be in trustworthy, professional product packaging to guarantee the consumer has no bookings concerning eating your product. Custom mylar bags with a food-grade interior firm make it a perfect packaging solution for brownies, candies, and treats.
6 Pre-rolls And Joints Mylar Bags
A 3-side seal mylar bag is a lovely packaging solution for pre-roll joints and blunts.
You can also custom a slim bag for packaging a single joint. Tear notches and zippers can be added.
7 CBD Beverages & CBD-infused Drinks Mylar Bags/ Spout Pouch/Liquid Pouch
CBD beverages have become more and more popular in the cannabis business.
These food-grade mylar bags with spouts can be amazing packaging solutions for your CBD-infused drinks and oils.
8 Smell Proof Mylar Bags For Cannabis-Infused Cracker
Childproof zipper mylar bags provide a smell-proof packaging environment. With hot sealing, you can prevent the air from getting into the bag.
Lovely solutions for CBD crackers.
9 Mylar Edible Bags: Cannabis-Infused Gummies Bags
Both flat bottom bags and stand-up pouches are suitable for gummies packaging.
You can also add hang holes, tear notches to the bag so you can display it in your dispensary.
10 CBD Oil Mylar Bags: CBD, THC Infused Oil
Custom zipper bags are also good for liquid packaging, too.
11 Child-Resistant Mylar Bags
Child-resistant mylar bags are a superior selection of item packaging for weed flowers, natural medicinal herbs, cartridges, and edibles. Their scent-proof and also odor-resistant nature make them a terrific method to keep items that are recognized for their strong scent from infiltrating their surrounding setting
Chapter 5: How Much Does It Cost To Buy Custom Mylar Bags?
The price for custom mylar bags depends on three factors: quantity, designs, and size.
1 Quantity
Quantity is always the primary factor that affects the bag's price. The more quantity you order, the least production waste will generate due to the machine running.
According to our experience and production history, the price for custom printing mylar bags is the best when the quantity is over 30K pieces for each size/design.
2 Designs: Plate Fee Involved
Regarding printing on a mylar bag, we need "color plates" for combing different CMYK ink according to customers' designs. The more color variations you use in the design, the more color plates we will need.
The most frequently asked questions from our customers are: can I use the same color plates for bags in different sizes to save my cost?
The answer is no. Unlike paper printing & packaging, the mylar bags printing machine will not combine different bag molds for printing.
Moreover, even if you want to make a minor adjustment to the original design, a new plate fee will be involved.
The good thing about this is that the color plate fee is charged for once if you keep using the same designs on a same-size bag. And for more repeating orders, you could get the bags at a much lower and attractive price.
3 Size Of The Bag (Tooling Fee)
We usually don't charge customers with a tooling fee or, let's say, a bag molding fee. Since we have plenty of molds in stock, though, if you require a unique size, there will be a tooling fee involved.
Chapter 6: A Step-By-Step Guide To Custom Mylar Bags
Now that we've known how a mylar bag is made from and how could they help our marijuana business.
Let's start customizing your own mylar bags.
1 Choose A Bag Style: What Kind of Style Do Mylar Bags Have?
Speaking of bag shapes, we can divide mylar bags into the below categories.
1 Flat Bottom Bags/ Pillow Pouches
Flat bottom bags are also known as pillow pouches or 3-side seal (3SS) lay-flat bags. It's proper for infused oil packaging, gummies packaging, pre-roll joints, and blunts.
We usually recommend adding a hang hole onto the bag so you can hang it in your dispensary.
2 Stand Up Pouches/ Gusset Bags
– Pouch bottom/ gusset options including Doyen Seal, K-Seal, Plow Bottom,
A: Doyen Seal: also called round bottom or Doypack – For light-weight products less than 0.45KG
B: K-Seal – For products from 0.45KG to 2.25KG (Reference)
C: Plow Bottom/ Corner Bottom/ Plough Bottom/ Folded Bottom – For products over 2.3KG or more (reference)
3 Odd Shape Bags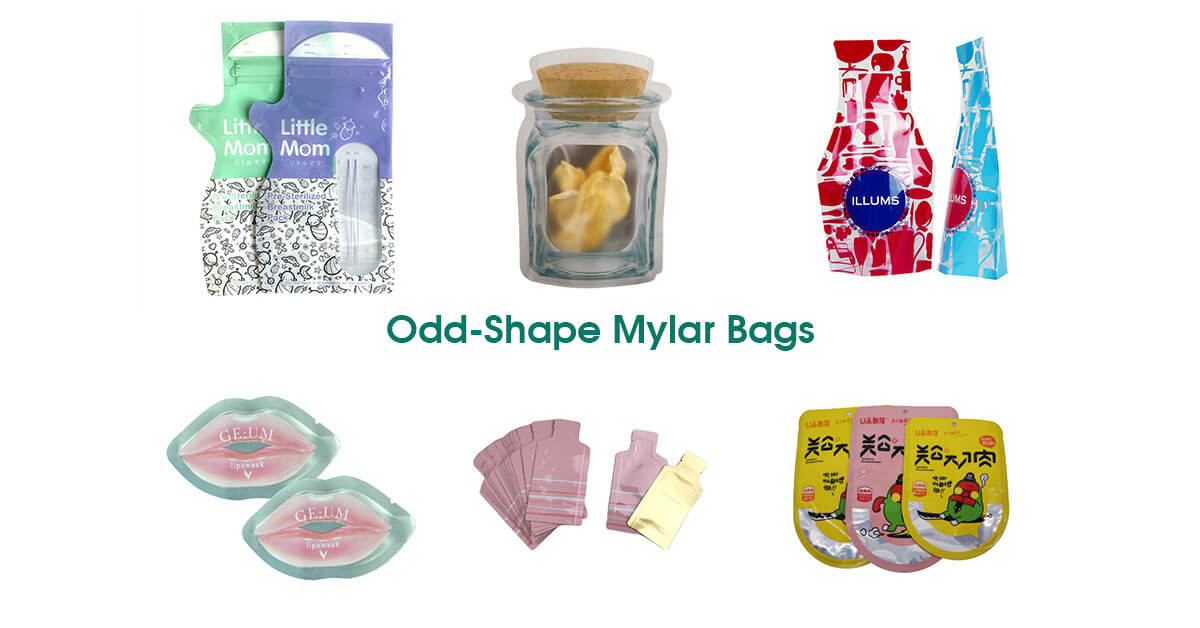 2 Decide The Size Of The Bag
Deciding the size of a bag can be very tricky. The bag sizes differ a lot for different product-to-be-packed.
The best and easy way is to talk to your mylar bags supplier and let them help to decide the bags for you: [email protected]
3 Starting Designing: What Printing Methods Do We Provide
CMYK printing
Pantone Colors Printing
4 Choose A Finishing Method
Glossy/Matte finish
Soft-touch coating
Gold Foiling
Spot UV
5 Decide Add-Ons If Needed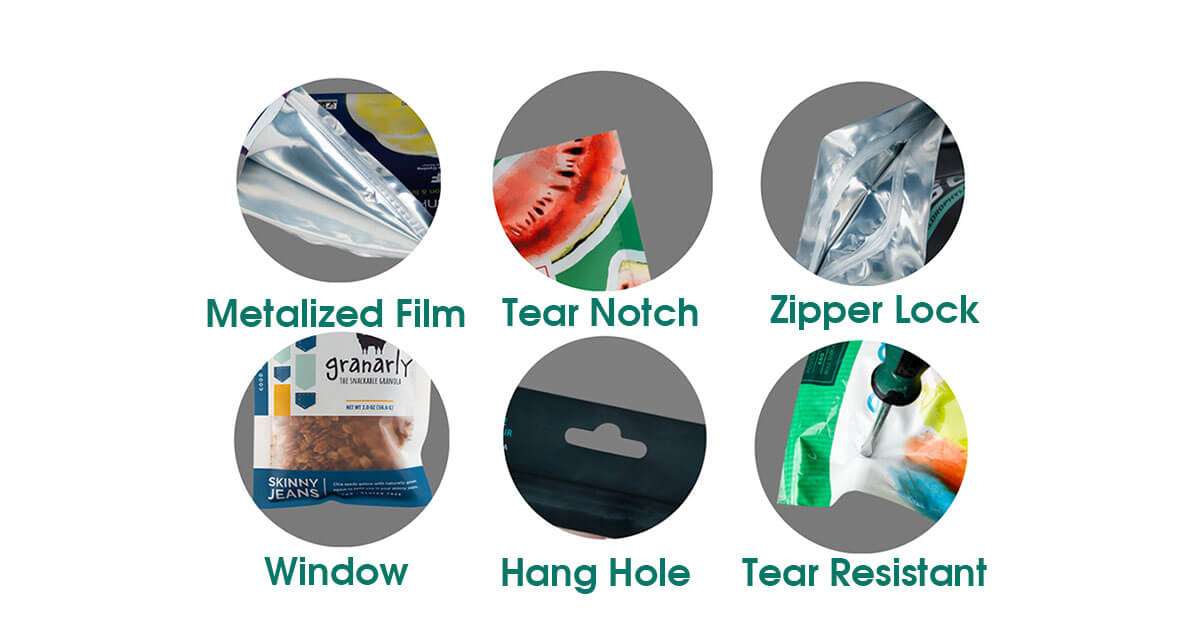 Closure: Press-to-close zippers, child-resistant zippers
Tear Notches: Consumers can open your packaging with ease
Metalized Film: To protect the product from light, moisture, and air
Transparent/ Clouded Window: Consumers could see what's inside your packaging
Hang Hole (Round holes/ Sombrero): Hang your packaging on retail shelving with our round or sombrero hang holes.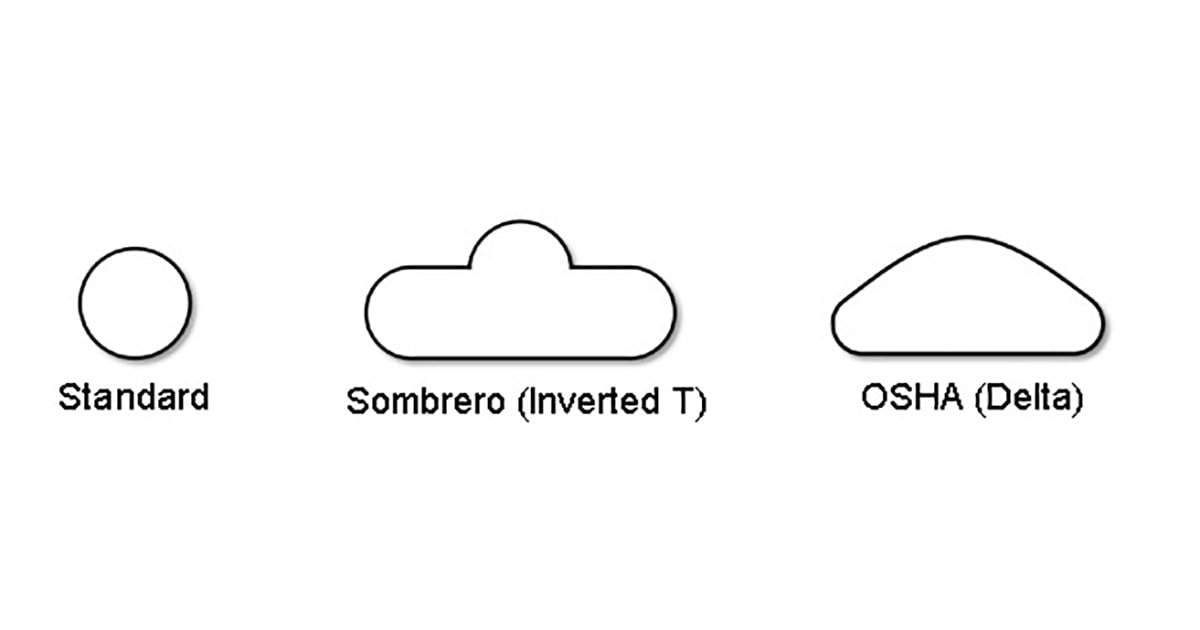 We do hope this guide will make the custom mylar bag procedures understandable for you. And help you build up a general concept about how to start your mylar bag customization process.
Feel free to reach out to our team if you get more questions: [email protected]
Contact For Details: