Among all paper packaging solutions in the marijuana world, paper boxes are undoubtedly the most classic ones.
It's a timeless packaging solution for almost all kinds of products.
This post will take you through a tour of custom paper boxes from a printing & packaging factory's perspective.
Though countless paper box variations and shapes in the market, we will focus on those in the cannabis packaging area.
Chapter 1: What Are Paper Boxes?
Paper boxes are also called folding cartons and folding boxes. They are made of light-weight coated paper, uncoated paper like kraft paper, black kraft paper, and fancy paper. It's well-accepted for its eco-friendly material and cost-effectiveness. They are widely used for secondary packaging for all kinds of retailing products.
Different from corrugated boxes, cardboard boxes, paper boxes are thinner and usually have a single layer. They are more flexible for customization into all colors, sizes, and shapes.
Chapter 2: Why Paper Boxes?
For most brands, when they are looking for secondary paper packaging for their retailing products. Custom printing paper boxes are usually their priority option.
There are many reasons for this:
Cost-effective, especially when you have multiple designs of the same size, packaging factory can run all the designs at one time on the same size paperboard mold, reducing waste and set-up fees
Foldable and easy to assemble
Staying flat, light-weight, cheaper to import from overseas packaging factories, and easy for storing inventory.
Full flexibilities in customization, you can custom in almost all sizes, shapes, printing, and finishing methods.
Relatively faster turnaround time: machines majorly make paper boxes. Stable quality.
It is easy to design and start packaging, especially for those starting a new packaging and is new to packaging projects.
Though, there are some shortages of such packaging:
Not proper for heavy products packaging
Not long-lasting as rigid boxes
At the risk of getting deformed: under particular pressure, paper boxes might get deformed.
Chapter 3: How Many Kinds Of Paper Boxes Can You Choose?
In this chapter, we will talk about different paper box types from different aspects.
Different paper boxes closure methods
Different paper boxes materials
Different paper boxes with various kinds of add-ons
1 Different Paper Boxes By Different Closure Methods
If we differ paper boxes by closure methods, we can see:
Reverse tuck end boxes
Straight tuck end boxes
Auto-lock bottom boxes
1 Reverse Tuck End Boxes
It refers to paper boxes that have tuck flaps on the opposite sides. It's cheaper since we could put more boxes die line in each paperboard sheet due to the box tuck end position. Some customers might think it's not as good looking as straight end boxes (People can see raw paper edges from the box front)
These tuck end boxes are widely used as cartridge packaging, disposable pen packaging, and CBD tincture packaging.
2 Straight Tuck End Boxes
It refers to tuck end boxes with tuck flaps on the same side. It's the most effortless tuck end style to assemble. In general, it has a more luxurious look compared to reversed tuck end boxes because there are no raw white edges on the box front.
The major disadvantage for such tuck end boxes is that it's more expensive than another box style due to its tuck end position. (We can put fewer boxes die line on each paperboard sheet since both tuck flaps are on the same side)
3 Auto-lock Bottom Boxes
It refers to boxes with a normal tuck end closure on the box top and a bottom closure that needs only three simple steps. It's also called a 1-2-3 bottom box, or more precisely, tuck top snap-lock bottom.
It's the best selling paper boxes style in the cannabis packaging industry. It works well for storing relatively heavier products compared to straight and reverse tuck end boxes. Moreover, the auto-lock bottom will ensure a safer packaging environment for fragile products, like concentrate glass jars, glass cartridges, syringes, etc.
2 Different Paper Boxes By Different Paper Materials
1 Coated Paper
Coated paper is also called art paper. It has a very smooth and flat surface.
There are single-side coated paper and double-sided paper. Single-side coated paper is only printable for one side, while double-sided coated paper could print on both sides.
Coated paper has a very high whiteness, smoothness, and ink-friendly. Therefore, it's the most used material in the printing and packaging industries.
They range from 128g to 400g in terms of thickness.
Coated paper is applicable for almost all kinds of printing methods, including CMYK (full-color offset printing), PMS (Pantone colors printing), and screen printing.
The colors printed on coated paper is bright and full.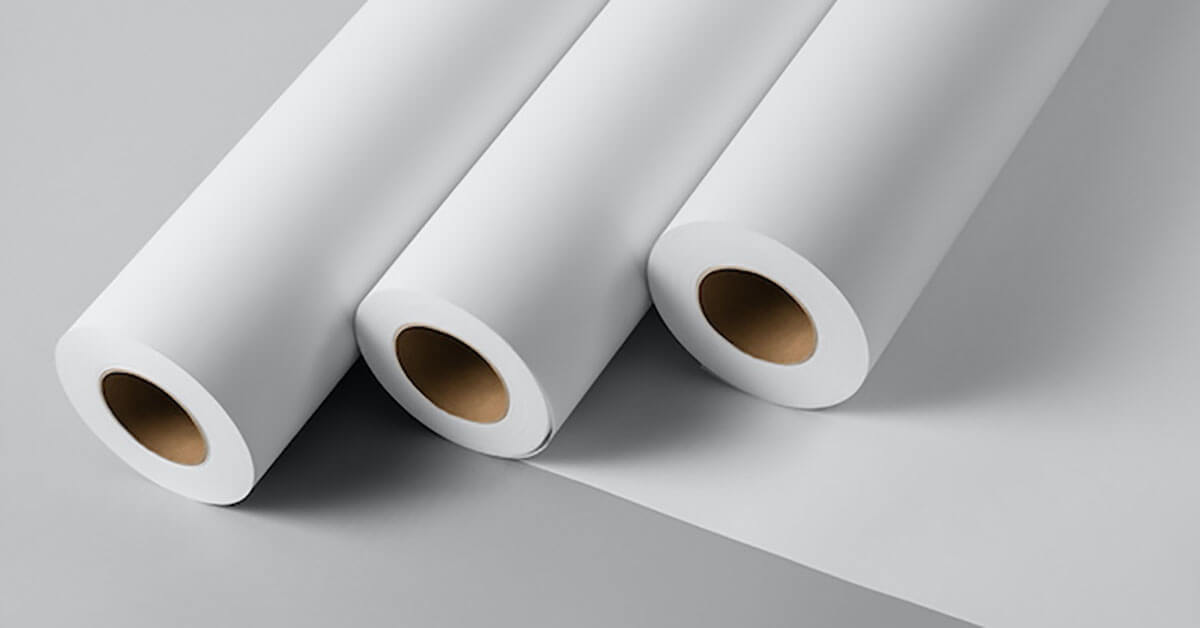 2 Kraft Paper 
Kraft paper is famous and well-known for its natural and brownish-yellow color. People like kraft paper since it also represents eco-friendliness, a natural feeling.
It has a strong paper material that has high strength, high tear-resistance. You can see kraft paper as all kinds of gift boxes, shopping bags, food wrapping paper, etc.
In terms of paper thickness, kraft paper ranges from 120gsm to 350gram.
When it comes to printing, kraft paper is not as versatile as coated paper due to its composition and not-so-smooth surface. It's suitable for single-color printing, two colors printing, or screen printing.
Kraft paper boxes are more expensive than coated paper boxes.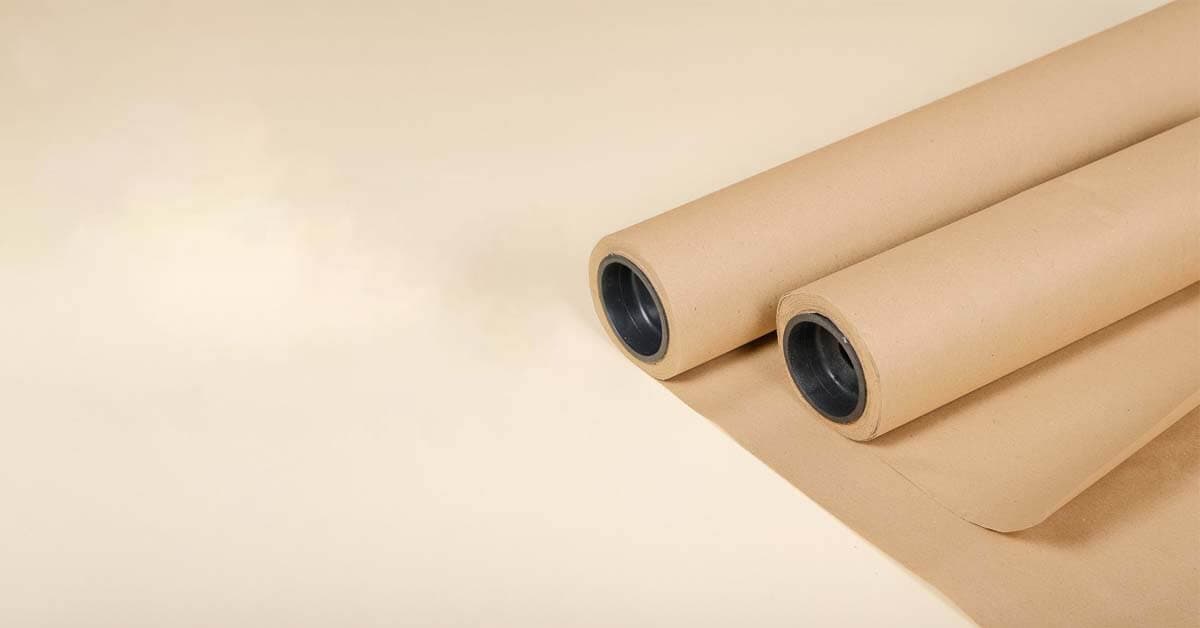 3 Black Art Paper 
Black art paper is also known as black kraft paper. It's a full-black kraft paper that has all paper texture in pure black.
It's famous for its fine texture, firmness, and thickness. It's generally more potent than regular coated paper. Most importantly, black art paper has a more luxurious look and feel, so it's widely used as cosmetic, jewelry packaging.
In terms of paper thickness, it usually comes in 250 to 350gsm.
The customization of black art paper is not as flexible as coated paper and kraft paper. It can only screen printing on it with light colors, like white and grey.
You can also use other surface finishing, like hot foil stamping, Spot UV..etc.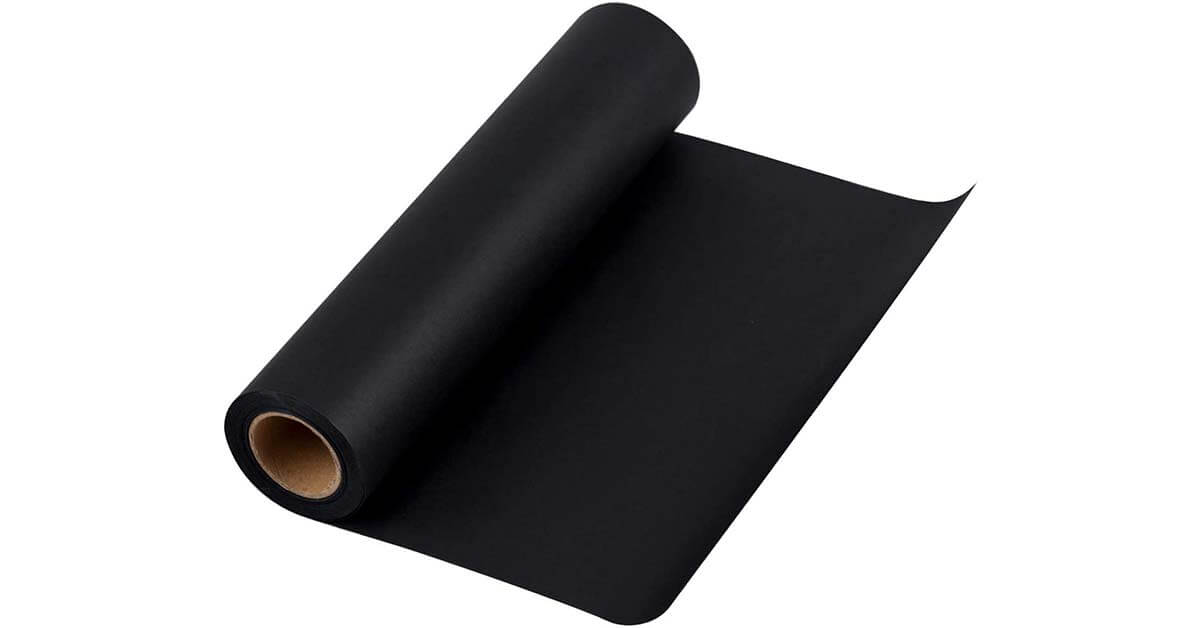 4 Fancy Paper 
Fancy paper, as shown in its name, the paper is known for its fancy texture. It usually comes with some specific texture—for instance, leather-like paper, crocodile paper, etc.
Such paper is flexible and has various texture patterns to choose from. There are multiple colors for options as well. In general, the fancy paper is abrasion resistant, moisture-resistant, folding-resistant, anti-mite, and moisture-proof.
You can see such papers in luxury gift boxes, jewelry boxes, and all kinds of high-end product packaging.
They are suitable for hot foil stamping, gold foiling, embossing, debossing, laser cutting, and any other surface finishing in the printing & packaging industry.
3 Different Paper Boxes By Different Add-ons
1 Paper Boxes With Hang Tab
For the cannabis retailing market, customers would tend to custom paper boxes with a hang tab or hang holes, as it's called. It will enable the boxes to be hanged on retailing shelves.
The primary concern for such boxes is that you can't pack heavier products in them. Or it might drop the products out while hanging them on the shelf.
It's better for light-weight products like disposable pens, pre-rolls, etc.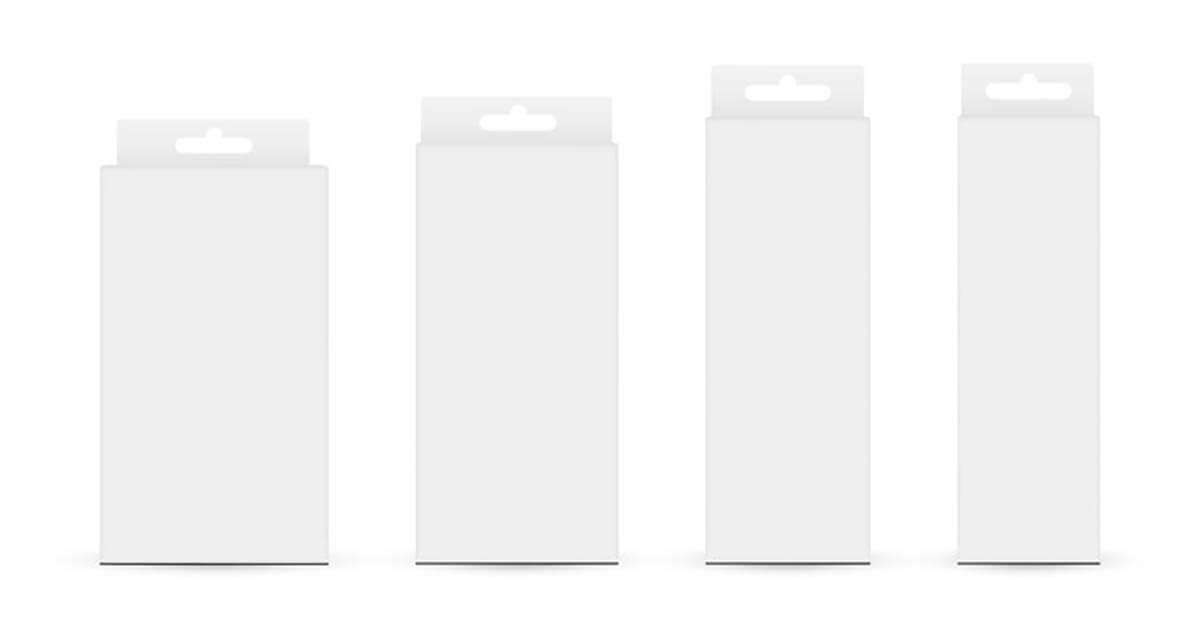 2 Paper Boxes With Viewing Window
What's interesting is that a clear display window is trendy in the cannabis packaging industry. Customers tend to show and demonstrate their well-made marijuana products by a transparent window.
A transparent PVC viewing window can be added to a paper box so that you can show the lovely color of your concentrates and abstracts.
It's suitable for cannabis concentrate packaging, cartridges, and disposable pens.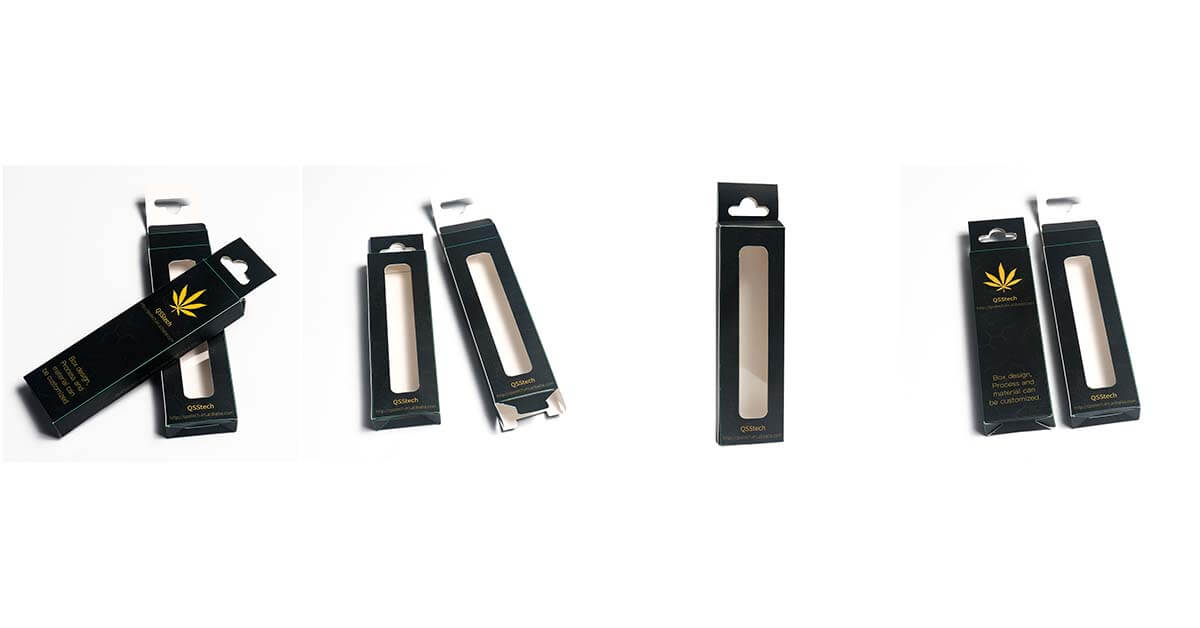 3 Paper Boxes With Paper Insert 
Most of the cannabis-related products are relatively small compared to most other products. When you require a larger box size for a larger designing area while your product-to-pack is too small, a paper insert can help.
Take a concentrate box as an example. If you are looking for a big paper box for your 5ml small glass jar, you can add a paper insert to the center and protect your glass jar inside the paper box.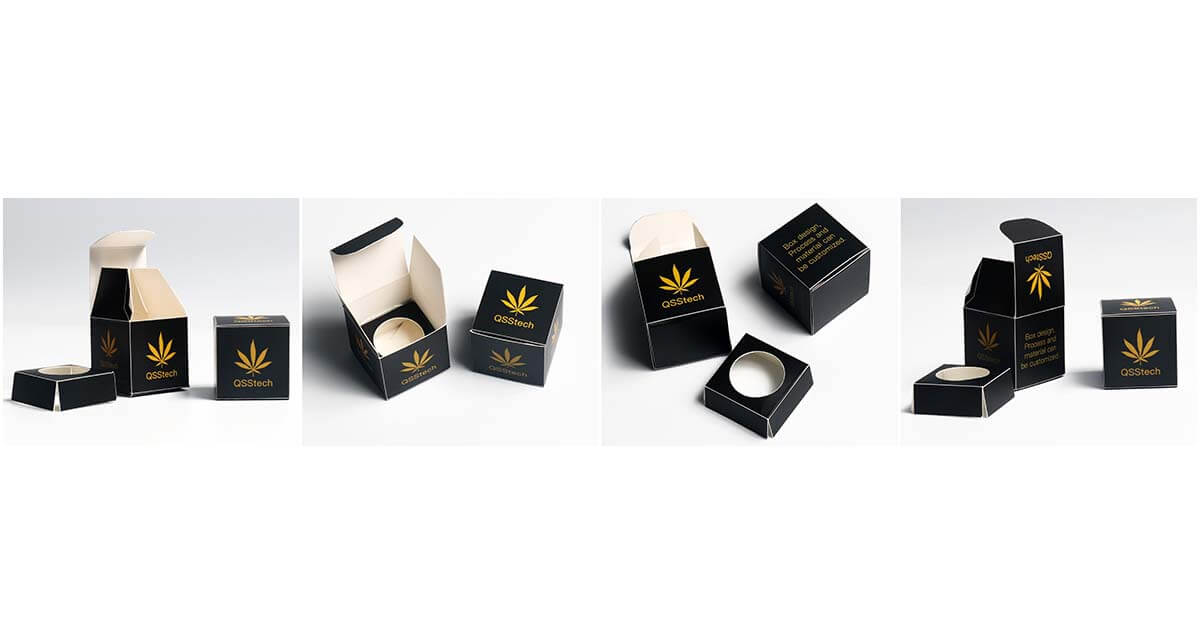 4 Paper Boxes With Foam Insert 
Foam insert is a popular accessory in the paper packaging industry. A well-made foam insert can be soft while strong and protective for the products it carries.
You can customize a foam insert with the required size and cut-out in any size and shape according to your products.
In general, paper boxes are not good at heavy packaging products. However, with a well-made foam, you can use the box to carry heavier products. The foam will offer extra protection for your products, especially fragile products, like glass jars, etc.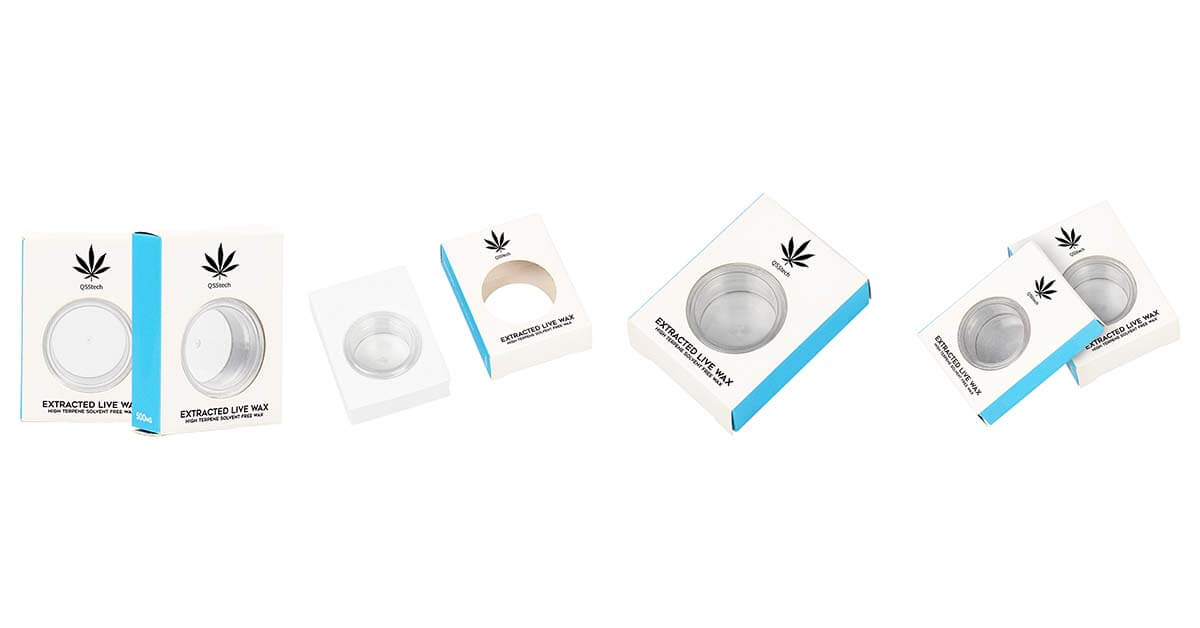 5 Paper Boxes With Blister Insert 
Blister pack is another exciting add-on for paper boxes. Compared to paper insert, blister insert is better for the center and positioning the products it packs. The size of a blister insert can be fully made according to your products, including any edges and corners.
In other words, with a blister insert, you can ensure your product always stays in its position in a paper box.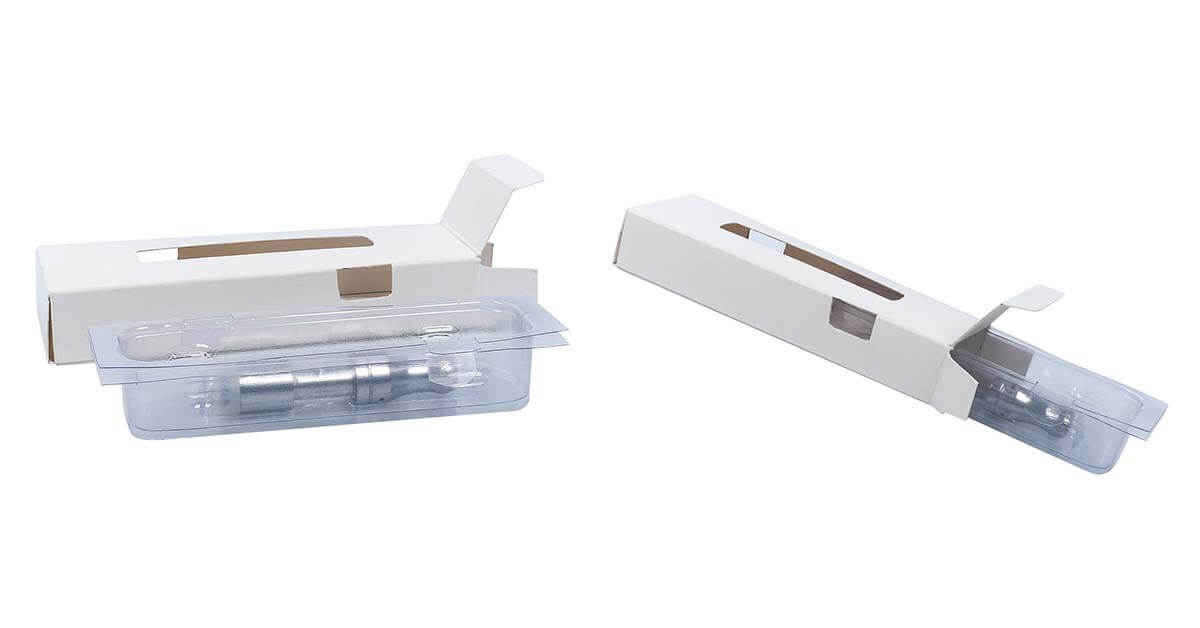 6 Paper Boxes With Ribbon, Pull Tab, Etc 
Suppose you want to add more uniqueness to your regular paper boxes. In that case, accessories like ribbons, ropes, band, and any other pull-tab could be exciting options.
Chapter 4: How To Use Paper Boxes For Your Marijuana Products Packaging?
Why not consider a well-designed paper box for your cannabis-related products? A paper box can be fascinating for the below reasons:
Cheapest packaging solution to start with, especially when you just started your cannabis business and only need a "starting" packaging for your products.
Full flexibilities for customization. You can choose among various boxes shapes, sizes, paper materials, printing methods, finishing methods, etc.
Eco-friendly: they are all-paper, fully biodegradable, compostable, and recyclable
Light-weight for both shipping and storing: you can always keep them flat before using them. No extra stocking room need for paper boxes. They are foldable, so you don't even need to worry about extra high shipping costs generated while buying abroad.
You can use paper boxes for almost all of your products now. Let's dive right in:
1 Paper Boxes For Vape Cartridge Packaging
If you are looking for the most cost-effective and all-paper packaging solution for a cartridge, this one is for you. It's an all-paper folding carton with a pre-assembled insert for holding your cartridge.
There is a spacious space in the box that you can print your designed artwork.
You can either add a viewing window on it or leave it for eco-friendly purposes.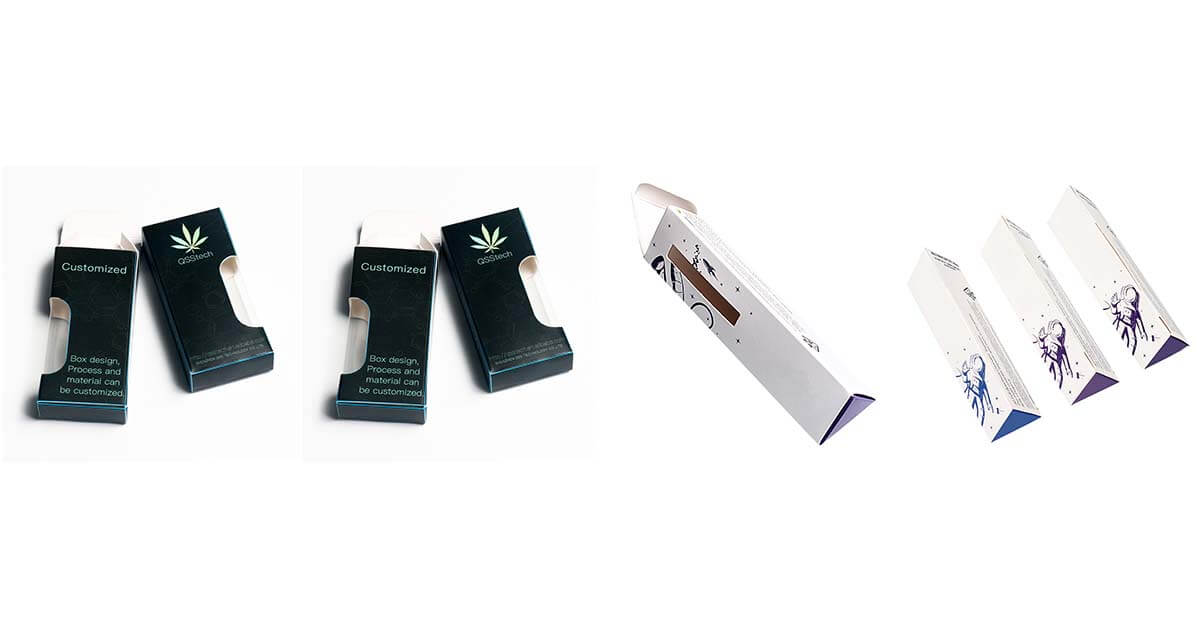 2 Paper Boxes For Concentrate Packaging
This is a typical auto-lock bottom paper box. It comes with a paper insert that can center and position your glass jar.
A viewing window can be added on both sides or the bottom.
Wax concentrate boxes are the best sellers among all for their price and flexible customization. With well-designed artwork, you can make a tiny and lovely box for your concentrate jars.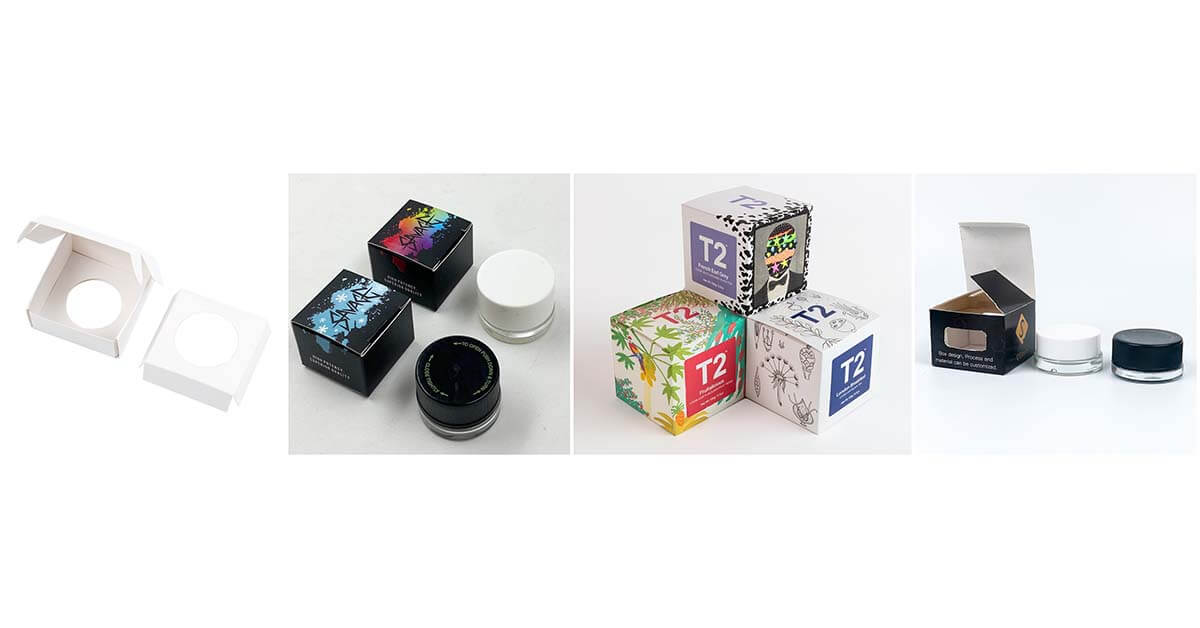 3 Paper Boxes For Pre-roll Packaging And Disposable Pen Packaging
You can use both straight tuck end boxes and reverse tuck end boxes for pre-roll packaging. Pre-rolls are usually light-weight and longer.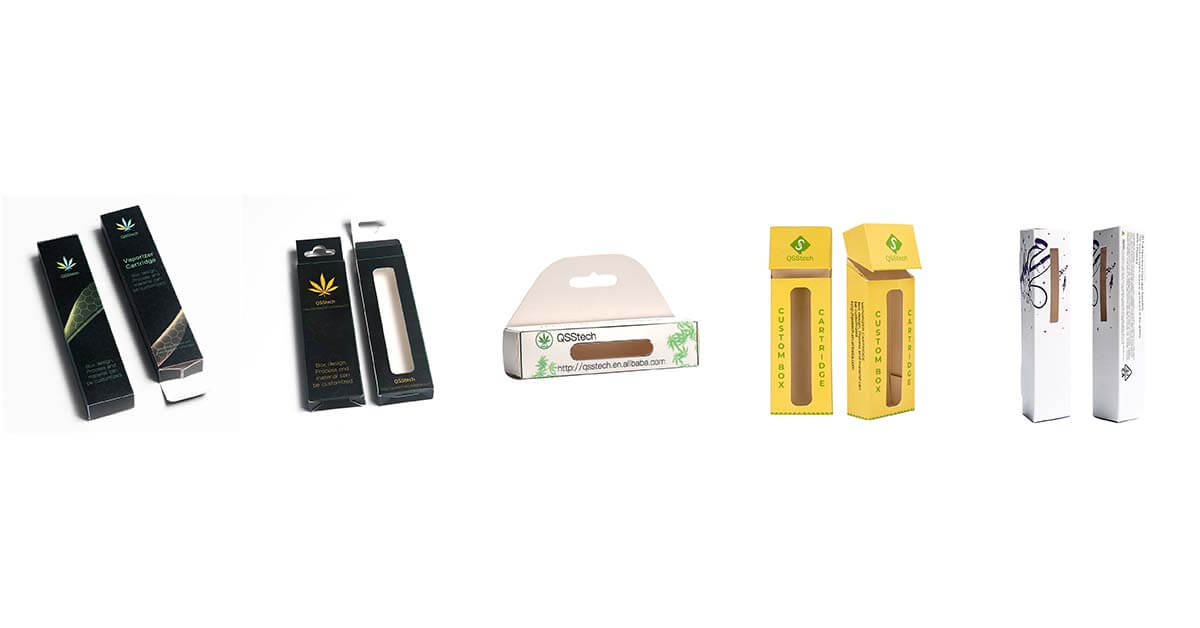 4 Paper Boxes For CBD Tincture Packaging
A well-made paper box is also suitable for CBD tincture packaging. You could use the relatively more substantial stock for the better store and packaging of your tincture bottles.
There is a spacious blank area on the box that you can use as branding and marketing, for example, logo, ingredients, and all information.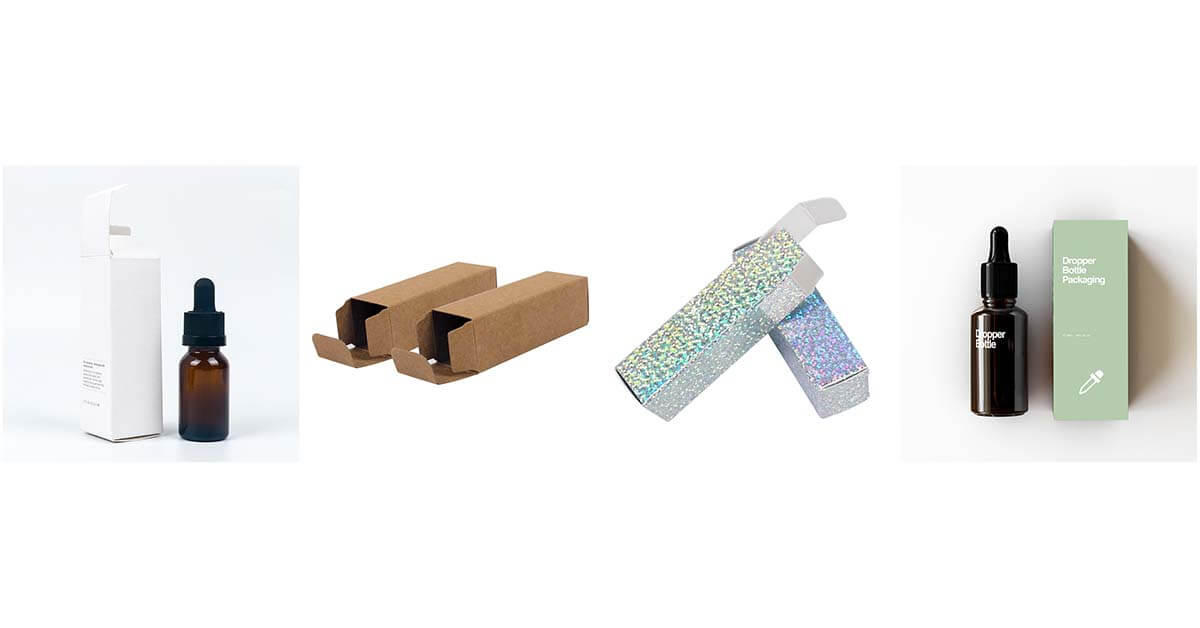 5 Paper Boxes For Topical Packaging
Similar to concentrate glass jars packaging, you can also use printed paper boxes for CBD topicals.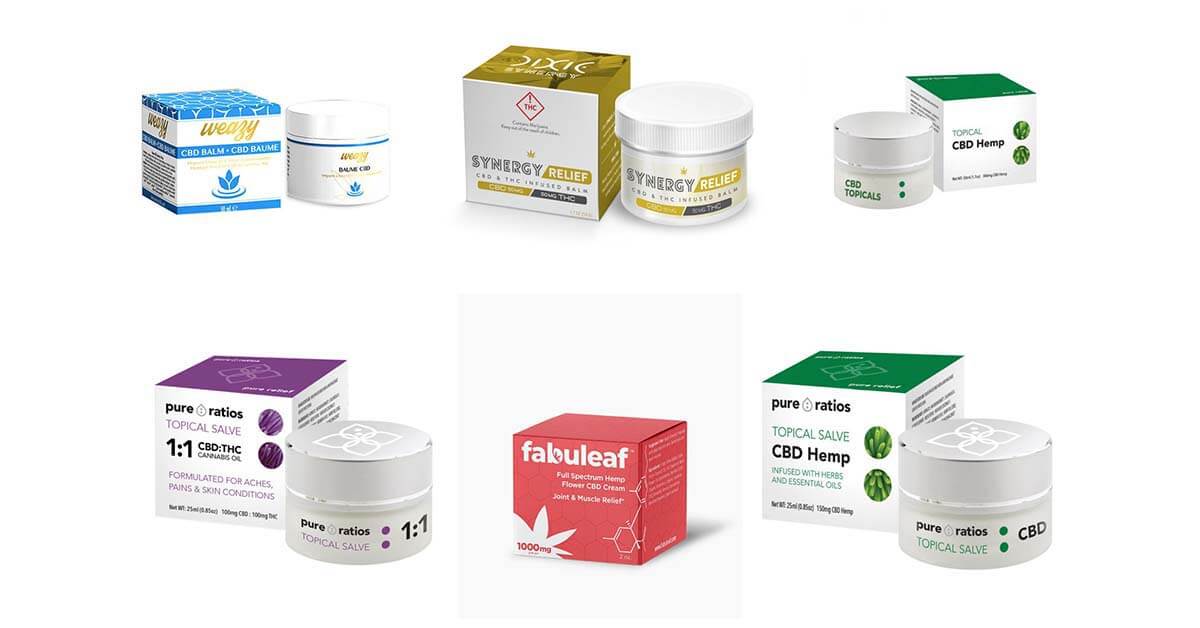 6 All-paper Child-resistant Boxes For Marijuana Packaging
If you need an all-paper child-resistant packaging solution for your cannabis products, this is a lovely solution. The box is designed with paper flaps that make the child-resistant mechanism possible.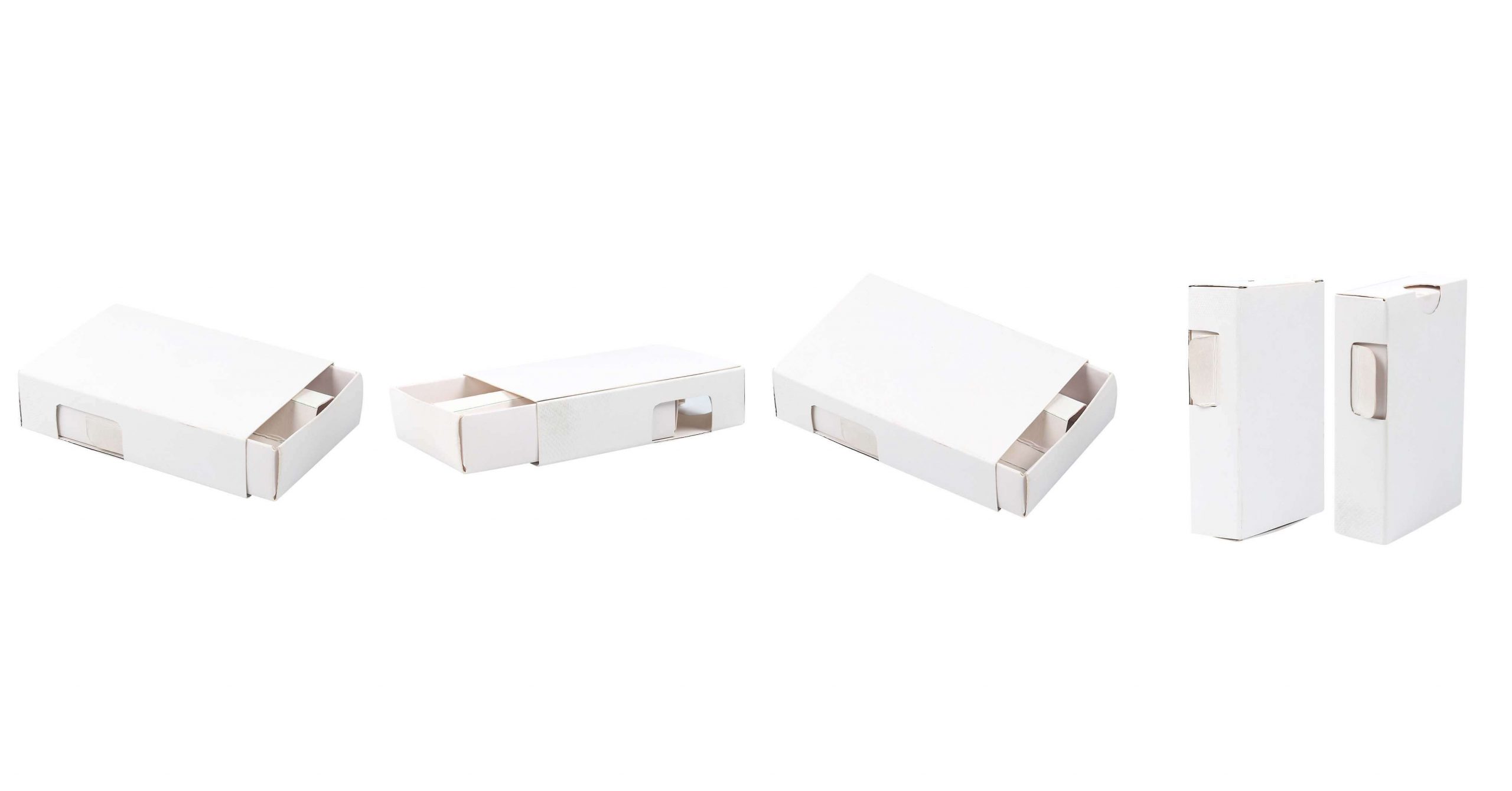 Chapter 5: How to Make Your Marijuana Packaging Paper Boxes
After reading all the information shared above, now I assume you are ready to start your packaging boxes.
Let's go for it step-by-step.
1 Measure Your Product's Size
Instead of searching "how to measure a folding carton," "How to measure a paper box," the best process to start your packaging project is to measure your product.
Don't forget that all paper has thickness itself. When making packaging paper boxes, we will generally need to consider the paper thickness when designing a design template for our customers.
So, how to measure your product?
In general, if your products come in a round shape. The two-parameter you need to measure is:
Diameter
Height (Total height including the cap/lid if there is any)
Suppose your product is not round. You need to measure three parameters:
Width
Depth
Height/ Length
What if you don't have any measuring tools on hand?
Get the size information from your packaging supplier could be easy.
2 Choose A Paper Material
Coated Paper/ art paper ("Best seller" among all) – Recommanded
Brown kraft paper
All-black art paper
Fancy art paper
3 Choose A Printing Method
CMYK (Suitable for coated paper, kraft paper) – Recommended
PMS/Pantone Colors Printing (Suitable for coated paper, kraft paper)
Screen Printing (Suitable for all paper materials )
4 Choose A Coating/Lamination
Glossy Lamination
Matte lamination
Soft-touch Coating
Uncoated
5 Choose A Finishing
Spot UV (Most used finishing method)
Hot oil foiling (Gold foil, silver foil, holographic foil, multi-color foiling)
Emboss/Deboss
Others.
6 Choose A Closure Method
Auto-lock bottom paper boxes ("Bestseller" among all boxes) – Recommended
Reverse tuck end boxes
Straight tuck end boxes
7 Choosing An Add-on When Needed
PVC window patching
Hang Tab
Ribbon, ropes, and band
Inserts: Paper, blister pack, foam EVA
Chapter 6: What If You Want The Simplest Way To Complete Your Custom Printing Boxes?
Let's say if you don't even bother to investigate all packaging options and want ready-to-go packaging.
Here are some tips:
Find a trustworthy packaging supplier.
Keep good and smooth communication with them.
Sampling and Proofing
To sum up, custom paper boxes, or let's say custom folding cartons, are ideal packaging solutions for all your marijuana-related products. Keep communicating with your packaging supplier and exploring all possibilities with your packaging needs.
And make your idea into reality.
Contact For Details: