If you seek to enhance your paper packaging boxes with a distinctive look while not being too complicated to start with.
Try Spot UV.
Spot UV, also known as Spot varnish, Spot gloss, is one of the paper packaging industry's most famous finishing and surface treatments.
It can endow an attractive look for your paper box packaging.
Due to its versatility, impact, and affordability, Spot UV is the first surface finishing we will recommend for your boxes.
This post will show you what spot UV is, how it can improve your paper packaging boxes, and how to use them in your box design.
1 What Is UV Coating?
Before we dive into the process of Spot UV, let's get to know "UV coating" firstly.
UV coating is not a printing technique but rather a finishing and paper surface treatment method.
The process is not complicated; an Ultra-Violet (UV) light machine will instantly bond and dry a transparent and liquid-form coat instantly on printed paper.
So it's called "UV coating."
2 How Does UV Coating Work?
The UV coating (in liquid form) is loaded into a clean ink fountain on an offset printing press.
The coating is then precisely laid.
Eventually, the entire sheet is moved directly under a high-intensity UV (Ultraviolet) light for instant drying.
3 What Is The Difference Of UV Coating And Glossy Coating
Since UV coating also has a varnished look, it is not easy to distinguish between UV and glossy coating.
The glossy coating is a process of lamination. It applies an additional layer (which is plastic material) onto a printed paper.
In contrast, the UV coating only "heats and dries" a transparent liquid onto the paper packaging.
4 What Is Spot UV?
Spot UV is a printing terminology that comes from UV coating.
Spot UV is a paper surface treatment that applies UV coating onto a specific place of a printed paper instead of the whole surface.
It applies a thin layer of varnish to a printed or blank substrate, then passes beneath a UV curing light to harden and dry.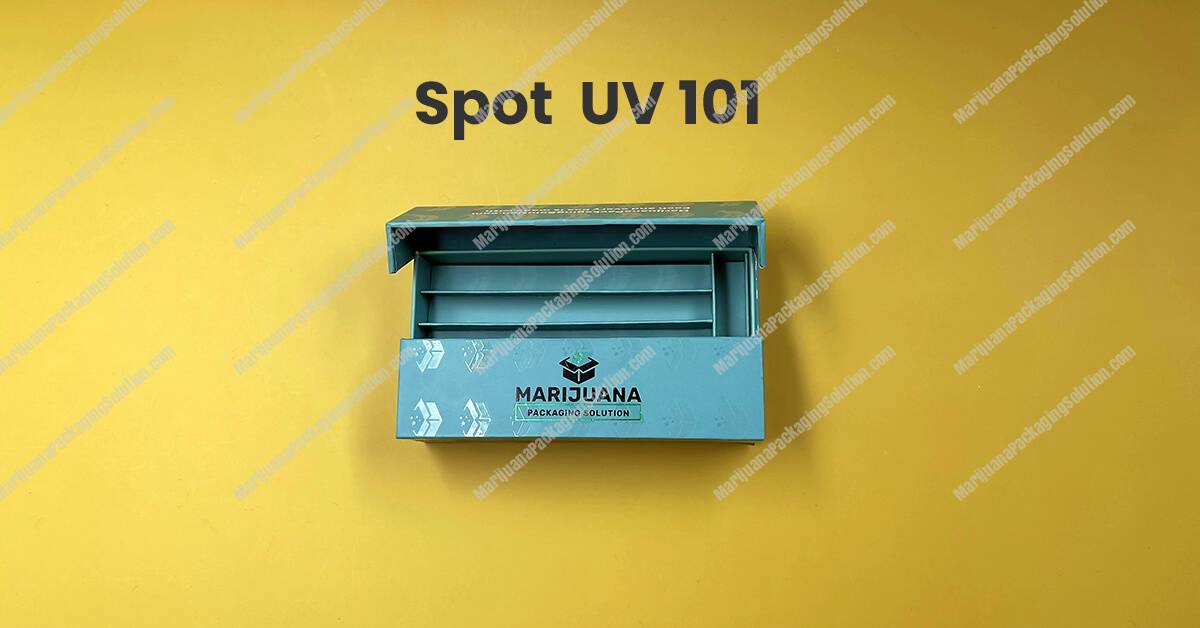 Now that we've got to know what Spot UV is let's dive deeper into why Spot UV is an intelligent choice to apply to your paper box design.
5 Why Is Spot UV Popular In Paper Packaging?
– Diverse Use
Spot UV endows a varnish effect to a particular area of the design. It creates depth and contrast by differentiating levels of texture and sheen.
You can apply Spot UV over inked designed elements (images) to highlight a printed design.
Moreover, you can apply it directly onto the paper substrate to create the design by itself.
– Ultimate Shine
Spot UV has the best contrast when it's applied on a dark substrate.
The best method for Spot UV is to apply a high-gloss Spot UV over a dark and matte paper stock.
It works the best on colored artworks, especially on dark, rich colors.
– Smudging-resistant
The Spot UV will coat an extra varnish liquid onto the paper. It provides extra protection for the paper surface for smudging and scratching.
6 What Kinds Of Spot UV Effect You Can Use?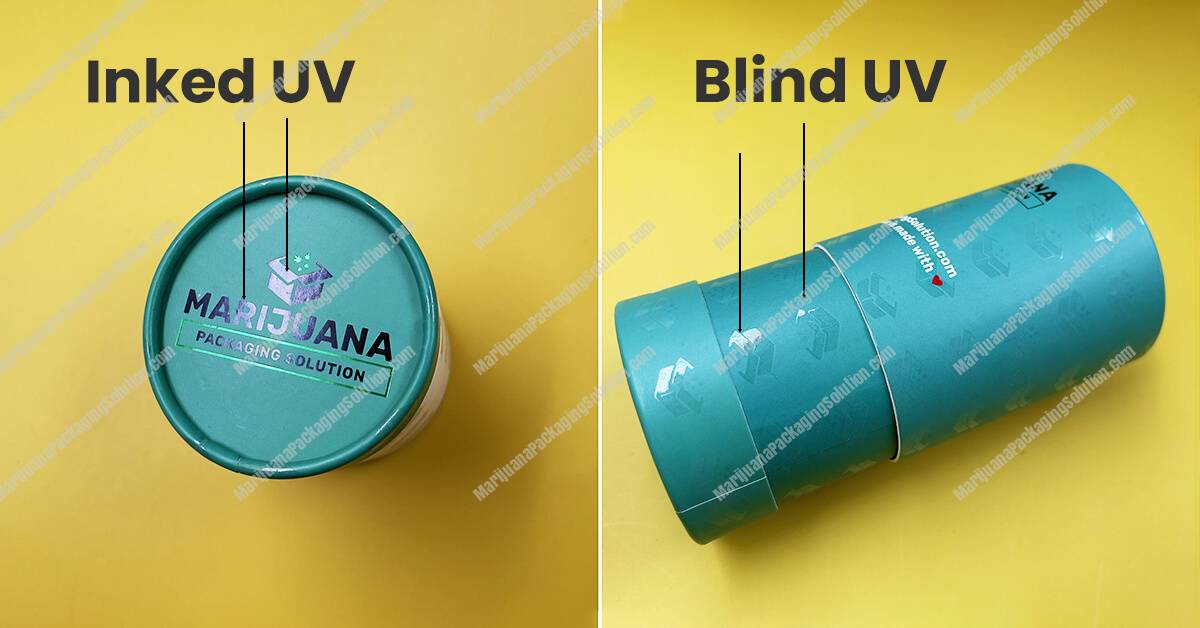 – Inked UV
Inked UV doesn't mean the coating itself contained inked color.
The varnish itself is transparent as well. But it will be applied over inked images to enhance a printed design.
You can easily highlight a specific design area such as images, logo patterns, texts, and more.
Inked UV will deepen the color of the images or pattern it's applied to; this property should be weighed during the box design.
– Blind UV (Transparent UV)
The Spot UV can be applied directly to the paper substrate to create the design by itself, without any ink or images. We call it "Blink UV."
Blind UV, also known as transparent UV, refers to the UV effect that the UV coating on an area that is not aligning with any other artwork elements.
The UV-coated pattern will be visible when the high gloss varnish reflects light.
Since the varnish is transparent, applying a blind spot UV will not affect readability. Still, it will provide an ideal way to make your packaging stand out.
Here is a video showing the significant difference between inked UV and blind UV.
7 Other Variations Of Spot UV
– Spot UV vs. Raised Spot UV
Except for Spot UV, there is another similar surface treatment called "Raised Spot UV."
Compared to standard Spot UV, raised UV will add extra texture and depth to your UV parts.
They use the same production method, but raised UV applies a thicker varnish during the process, generating a thicker texture.
8 Combination Of Spot UV & Other Surface Treatment Methods
– Spot UV + Emboss: "Thickest" UV effect
We call it embossed UV. You can apply Spot UV and Embossing to the same artwork areas to create an extra thick UV effect.
The combination of Spot UV and emboss will be the thickest texture, followed by Raised Spot UV and standard spot UV.
– Spot UV + Hot Foil stamping: Not recommended
Since foil stamping is already shiny, extra glossy UV will not do much to highlight your design.
9 How To Prepare Your Designed File For Spot UV?
When preparing designed artwork with Spot UV, we will suggest two versions:
Your normal artwork
The elements that you would like to add Spot UV. To mark them clearly in a clashing color such as 100% magenta.
Most importantly, make sure all these elements requiring Spot UV should be vectorized, not a whole image.
This will allow us to apply Spot UV treatment precisely to your required areas.
In your design software like Adobe Photoshop or Illustrator, you can make a copy of your artwork file.
Please remove everything from the image in the copied artwork file that does not need a spot UV effect.
The last step is to change the rest images or texts (those need Spot UV effect) to 100% black (C:0%, M:0%, Y:0%, K:100%) or 100% magenta(C:0%, M:100%, Y:0%, K:0%).
Save as PDF.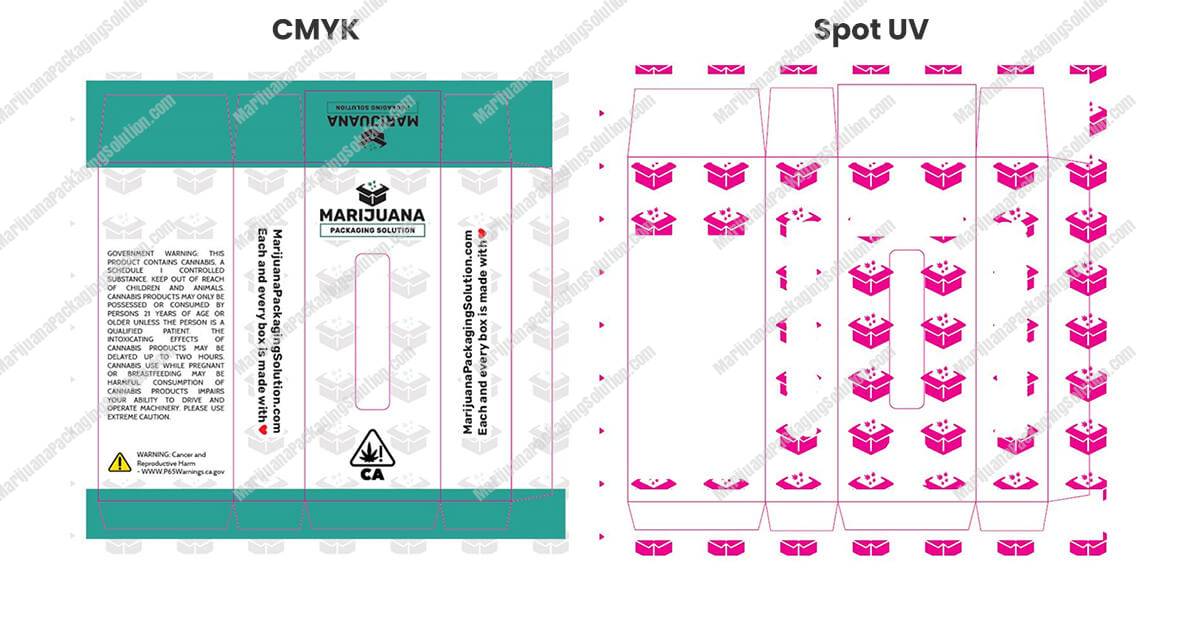 Our design team can also set up the Spot UV file for you. All you need to do is advise us of the UV areas.
We will send you a snapshot proof by email so you can confirm the UV parts.
Spot UV adds a significant visual effect to your paper packaging boxes. Though, please be sure that you won't overdo it.
A wisely placed spot UV can be more impactful than covering too many areas of the paper packaging.
Be sure and consider where it has the best effect.
Sometimes, less is better.