Enter a cannabis dispensary (medical and recreational alike) and look around, you will find that the cannabis products seem countless. They are packed in various packages including Mylar bags, plastic pop-tops, glass jars, tin containers, and paper boxes. If you take a closer look, you will notice that those packages can be divided into four categories by material: plastic, glass, metal, and paper. It is true for almost all consumer products including cannabis products. Isn't it? Maybe someone was looking around, just to check if there is eco-friendly cannabis paper packaging that makes this planet better.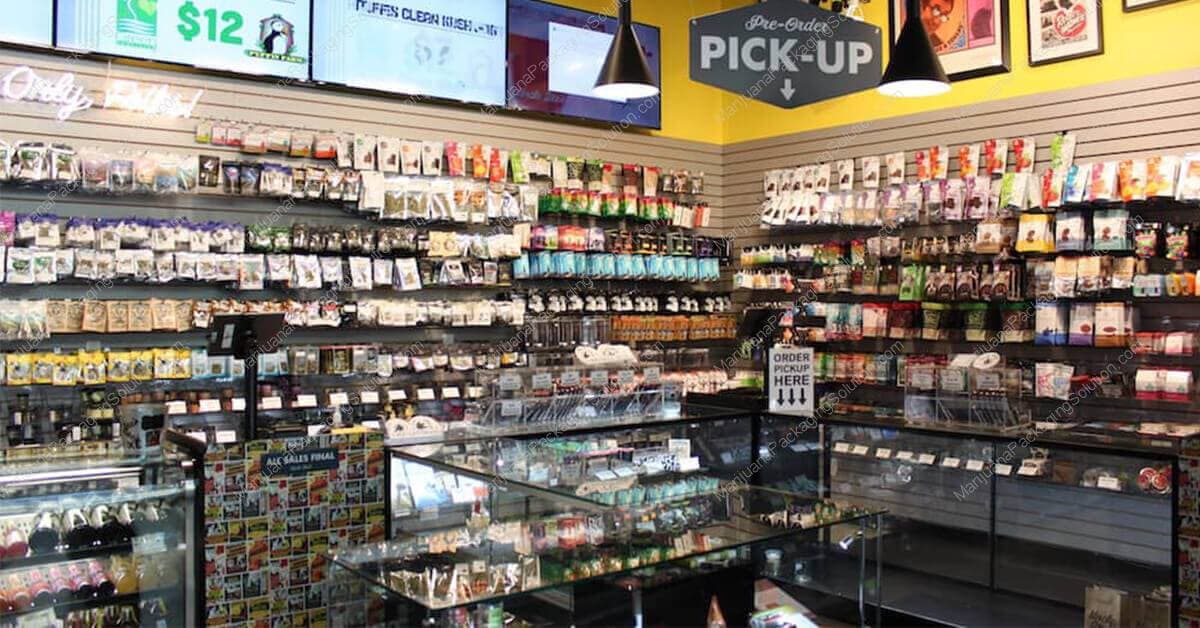 Taking part in the cannabis industry as a cannabis-specific paper packaging manufacturer, we think it necessary to go through the development history of these four packaging materials in the cannabis industry and put forward our proposals.
Getting the proper packaging has been a challenge for licensed producers and retailers in the cannabis industry. As more and more states begin to legalize cannabis, cannabis markets have entered a period of prosperity and development. Local governments make their regulations stricter and more detailed. In response to those conventions, advanced packaging manufacturers work hard to adapt to market changes and create high-quality packaging products that meet current requirements.
For now, plastic, metal, glass, and paper are the four dominant packaging materials in the packaging world. Each material has its characteristics with different attributes suitable for various marijuana products.
In this article, to help you better understand these four packaging materials, we will introduce them one by one. In the fifth part, we also mentioned some issues about packaging waste/pollution and proposed countermeasures and solutions to protect our planet.
Let us get to know these packaging materials now and see whether we could forge new pathways in brains.
1. Metal Packaging
1.1 Developing History of Metal Packaging
Marijuana packaging made its official historical records in the mid-late 1800s when marijuana was indispensable to medical treatment.
Pharmaceutical companies choose airtight tin pots as containers to protect cannabis flowers from moisture and light for their freshness. Metal packaging was an excellent choice because the era had mature food-grade tinplate techniques compared with other potential materials.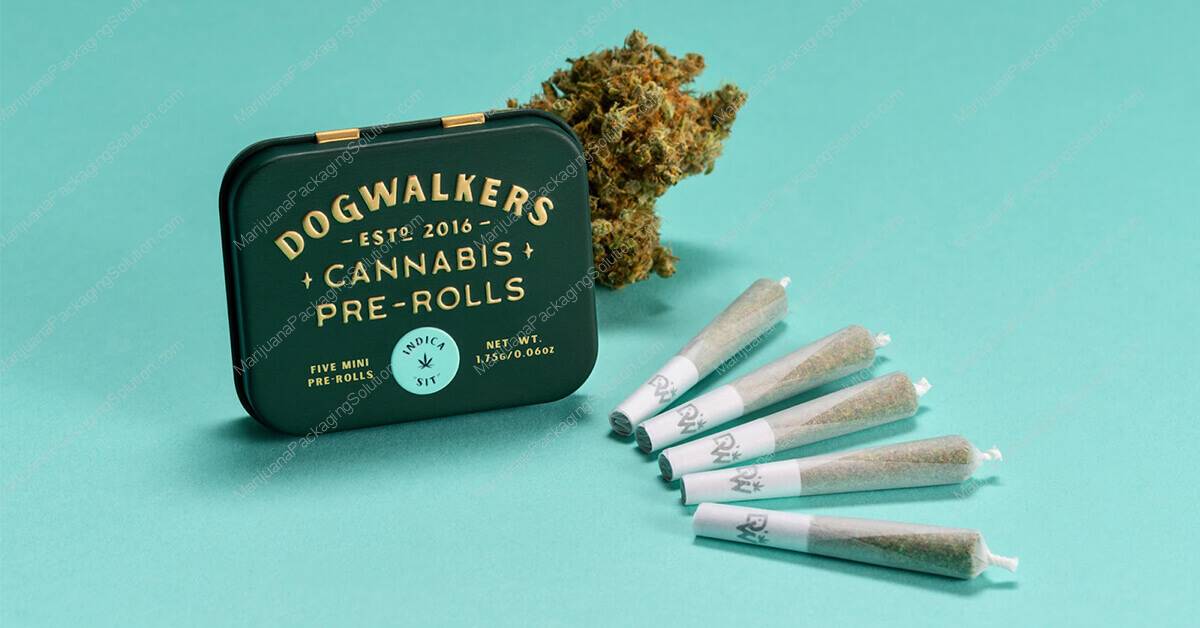 1.2 Pros and Cons of Metal Packaging
In the late 1800s, tin packaging was the most popular solution for food and beverage such as cookies and sodas, and this went for cannabis, too.
Pros
Tin pots, known for having good mechanical properties, have a better crack resistance than glasses, plastics, or paper materials. They can adapt to mini-size retail handling and large-scale transport bumpiness, providing good protection against the crushing of cannabis flowers or edibles or edibles.
Besides, the high barrier property allows a confined space for the humidity balance, leaves a light avoided refuge, and does well in reducing oxidation reactions.
Cons
Despite the strong-mechanical features of metals, their chemical properties are not equally stable. Metals have poor resistance to acids and alkalis and may contribute to heavy-metal-leachability. The precipitations can affect the scents and tastes of the products and even endanger human health.
Using quality materials means higher cost spending. Another potential risk would be the quality control of the metal container's inner coating materials. For retailers and cannabis users, this is a severe and unstable safety factor. Well, this may lead to a negative impact on purchasing decisions.
1.3 Metal Packaging Types and Applications
The first generation of metal packaging was mainly tinplate boxes, a relatively simple packaging form. They are ideal containers to hold cannabis flowers and pre-rolls.
With the development of the times, the metal box experienced the process of being replaced and re-emerged. Factors such as antirust, better sealing, and non-heavy metal precipitation have made those metal packaging solutions regain the favor of some people. Up to now, an increasing number of packaging solutions, including metal cans, metal boxes, and metal tubes, have been introduced to more types of cannabis products. Vape cartridges/pods, CBD vape pens, pre-rolled joints, and edibles are all potential followers of metal packaging with few restrictions except for cost consideration.
2. Glass Packaging
2.1 Developing History of Glass Packaging
In 1903, the first bottle-making machine was introduced to the packaging world in the United States. Since then, glass container manufacturing grew up rapidly in the 20th century. Glass packaging was thus becoming a powerful existence in the packaging field. Because of their wide applications, the cannabis packaging industry turned towards glass packaging and became a loyal follower. This booming trend lasted until 1930.
2.2 Pros and Cons of Glass Packaging
Pros
Why have glass containers gained a foothold in the cannabis packaging market? An important reason is the chemical inertness of glass. In other words, it is difficult for glass products to react with the contents. Other merits include high barrier properties, stability, strong resistance to internal pressure, heat-resistant, reusable, easy to clean, low price, and extensive sources of raw materials.
Also, it is worth mentioning that the high transparency of glass devotes to better displaying the inner contents, which seems like a favorable factor to promote purchase. At the same time, the glass can be made into colored glass (such as amber) to resist UV damage to cannabis products.
Cons
Everything in the world has two sides, and glass packaging has not only advantages. For example, glass brittleness is always a fatal problem to resist inevitable impacts. The glass containers are particularly fragile when the surface is damaged or when the composition is uneven by the limitation of the manufacturing process. And even worse, breaking glass can hurt people deadly if they accidentally intake those glass slag invaded products.
Another score deduction item would be the heavyweight, which was a nerve-wracking problem in the old days. It was hard to ensure the consistency of glass thickness or the well-proportioned distribution of glass composition. To reduce glass bottles' broken racial, each glass packaging used excessive raw materials to enhance its mechanical strength. However, this approach also enormously increased the container weight, which led to an increase in raw material costs and transportation costs.
The last thing we need to know about glass packaging is that single glass-used packaging is not facile to achieve airtight effects. Plastic lids, silicone gaskets, and wooden plugs are all possible ways to help to seal. And that means more complicated packaging steps if you choose glass packaging.
2.3 Glass Packaging Types and Applications
In theory, glass containers can pack any cannabis product. However, unfavorable factors such as transportation weight and impact resistance have to be considered. Thus, glass packaging usually serves as the primary packaging for concentrated extracts, for example, small glass cans for cannabis cigarette cream and glass dropper bottles for THC oil. Besides, glass tubes are usually for packing cannabis flowers or single pre-rolled joints.
3. Plastic Packaging
3.1 Developing History of Plastic Packaging
Things began to change in the early 1930s when anti-cannabis movements went across the United States.
The United States government launched the "Marijuana Tax Act" in 1937 and criminalized either cannabis or hemp. Even worse, the "War on Drugs" in the 1970s put cannabis and hemp at the tip of the iceberg. And then, the marijuana businesses had been driven underground. In this case, heavy metal and glass packaging become a burden. Mylar bags were thus introduced to the masses because they are portable, inexpensive, and easy to obtain.
Years later, on a global scale, lifestyle changes promoted the development of the plastic packaging industry. People seek for lighter and more convenient packaging solutions to simplify their life. And with that comes the increasing demand for plastic packaging made of LDPE, PP, HDPE, and PET.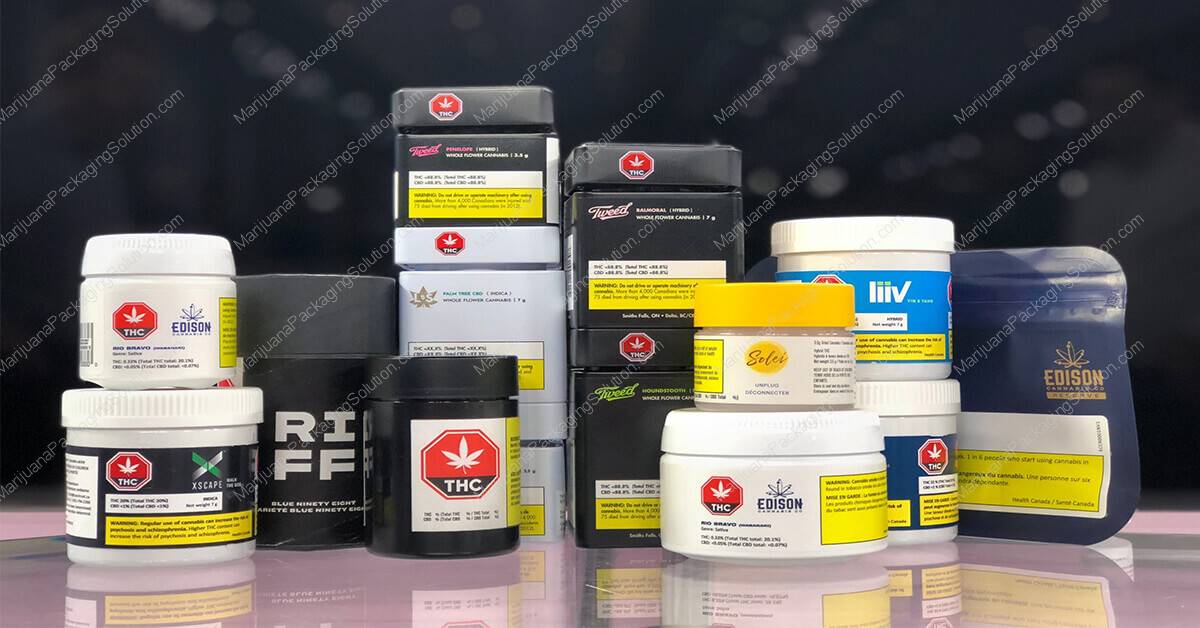 3.2 Pros and Cons of Plastic Packaging
Pros
Plastic packaging has been the preferred packaging option for multiple reasons. Being lightweight is the first driving factor for cannabis containers. And being impact-resistant to extend perishable cannabis product shelf-life is another factor to consider. Every cannabis market needs cost-effective and practical packaging solutions, whether primary or secondary packaging.
Plastic bottles, vials, cans, tubes, and Mylar bags are widely accepted packaging options within the cannabis industry. These wrapping types are chemically stable towards general acid, alkali, salt, and oil, not to mention outside water, oxygen, and carbon dioxide. Cannabis flowers, hemp blunts, cannabis-infused chocolate bars, and CBD gummies are safe from chemical intrusion.
Another good news for cannabis packaging, is the high polymer materials possess better fabricability and decoration. On the one hand, thanks to the multiple operating methods, plastic materials are easier to fabricate into various shapes. On the other hand, plastics are more compatible with pigments, making plastic containers easier to meet the complex color requirements.
Moreover, flexible pouches like Mylar bags capture the cannabis packaging market due to the following points: low-cost offerings, being portable in compact sizes, easy-to-apply labels, and customization (e.g., windows, hang holes, tamper-evident zippers, etc.). They are easy to display and store, and also convenient to accommodate multiple closure options (e.g., zippered, pulled).
Cons
The culprit that makes plastics non-degradable and even toxic is the wide variety of plasticizers. The beneficial aspects of plasticizers are to improve the transparency and flexibility of the packaging. Some kinds are listed as bad-bad pollutants by the World Environmental Organization. However, there are still a lot of manufacturers, to make more profits, who add illegal plasticizers furtively without considering the environment. Because of these additives, plastic packaging is unfriendly to our planet, non-recyclable, difficult to degrade, peculiar smell, and even dangerous to human health.
Aside from the interference of plasticizers, plastic packaging still has the following disadvantages.
With low heat-resisting properties, plastics can deteriorate under long-time exposure to the sunlight, resulting in unidentified chemical substances separating and penetrating your products. Besides, short-term use will cause the accumulation of unfriendly non-decomposable garbage.
Plastic packaging (especially Mylar bags) is easy to produce static charge—another inescapable problem. These charges will pull the active ingredient—trichomes from the cannabis plant onto the plastic, creating an ultrafine, sticky powdery mess that will never be able to get out of the bag into your bong. Speaking from experience, for keeping cannabis products complete and active, they should be carefully stored in proper packaging, and obviously, plastic bags are not the correct answer for cannabis flowers.
3.3 Plastic Packaging Types and Applications
We could say that plastics have the most extensive coverage in the packaging field. Because it's highly malleable, many common plastic packaging forms are available, including Mylar pouches, blister packaging, plastic boxes, plastic pop-top, plastic bottles, plastic jars, plastic tubes, plastic lids, and so on. So many packaging types correspond to numerous cannabis/vaping hardware such as plastic oral concentrate syringes, vaporizers, vape cartridges, vape cartridge mouthpieces, water pipes, and a lot more.
4. Paper Packaging
4.1 Developing History of Paper Packaging
Since the 1980s, paper packaging has begun to take the place of metal packaging such as tinplate to contain hemp flowers. With people's continuous pursuit of packaging safety and improved environmental protection awareness, paper packaging has become increasingly popular.
Nowadays, paper material, one of the most rapidly developing packaging trends, keeps updating and creating to brace the booming cannabis market.
From an overall point of view, rigid cardboard boxes and folding cartons occupy a dominant position in the paper packaging industry. Most of them serve as secondary packaging based on protecting, decorating, and branding needs. Other forms of paper packaging like composite paperboard and specially processed paper materials have also widely appeared in the cannabis wrapping sector.
The widespread use of paper packaging has partly eased the "white pollution" caused by plastic packaging.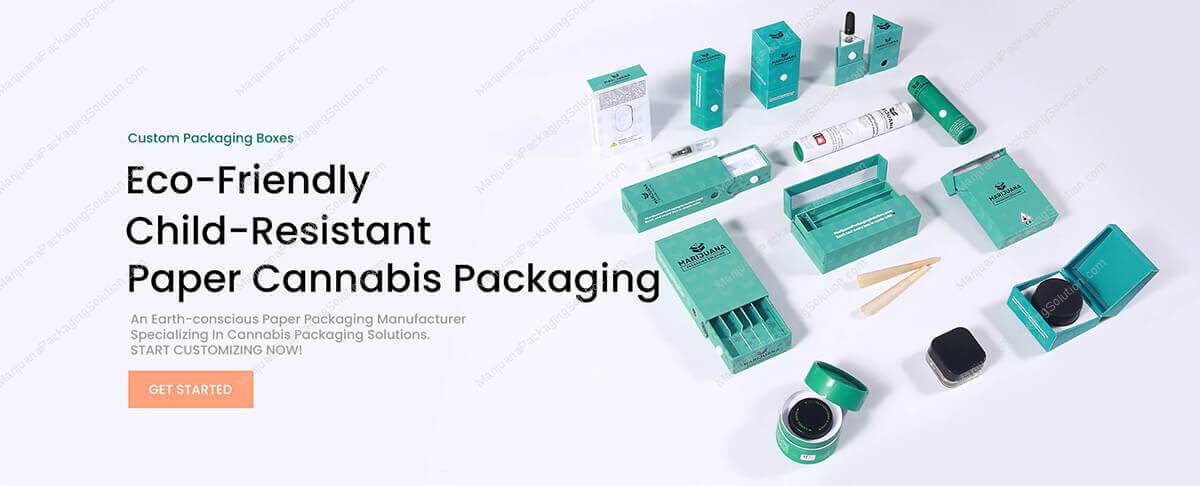 4.2 Pros and Cons of Paper Packaging
Pros
Compostable and Biodegradable
It's safe to say that paper packaging's biggest advantage over other packaging is its compostability and biodegradability. Many earth-conscious brands are packing their products with paper packaging that is both home compostable and commercially compostable.
Highly Customizable Options
Highly customizable options ensure the paper packaging industry a broad prospect and great value in marijuana containers.
Paper packaging with a wide range of raw material resources is as cost-efficient as plastic, lower fragility than glass, and lighter than metal.
Paper and cardboard have good processing properties that can be folded and are ideal for custom. Having mature advanced processing technologies makes paper packaging good performance in satisfying different packaging needs, including but not limited to viewing windows, added handles, separate compartments, etc.
In addition, paper packaging can expand its applied range through proper surface treatment to provide necessary moisture resistance, insect resistance, barrier properties, heat sealability, strength, physical properties, etc.
Compared with other types of packaging, paper packaging is special in preventing cannabis items from the damage of chemical pollution. The reason is that only paper materials have the experience of realizing 100% natural and pollution-free packaging. This piece of safety comes from planet-friendly printing and no dyes or bleaches manufacturing process. From another point of view, paper materials are strong performers that can efficiently use post-consumer resources.
Good Printing Performance
Another thing that makes paper packaging products stand out is the perfect printing performance. Paper or cardboard better absorbs and bonds ink than metal and glass do. It means that you can make a big fuss about the packaging, attract cannabis users at first sight, then promote their purchase at the second step.
This feature drives paper packaging as the preferred secondary packaging for the cannabis industry. Generally, packages of cannabis-infused extracts and tinctures are sold in 15 to 30 ml sizes, too small to add regulatory information on the labels and too difficult to print directly on the containers. The manufacturers usually choose carton-based secondary packaging with the printed information on the packaging surface as required. Or, they pack up the inner container together with a pamphlet that contains the required info.
Cons
Mechanical properties are greatly affected by moisture
Changes in air temperature and humidity will cause changes in the moisture balance in paper and cardboard. Eventually, changes to varying degrees will happen to their mechanical strengths. When the humidity increases, the tensile strength will decrease due to the water absorption feature of paper packaging. Although the current technology allows for building waterproof layers, paper wrappers can only cope with products with low water content. Quite the contrary, in a quiet dry condition, the surface printing and creases of the paper packaging will be more likely to peel and crack due to the increase of brittleness.
Not suitable for sharp-edged products
Paper packaging seems always easily pierced by sharp objects because of its fiber brittleness. By contrast, rigid cardboard is more adaptable but still cannot equal the strength of metal and glass.
Not suitable for heavy items
The load-bearing capacity of paper packaging is another limiting factor. Although there are ways to enhance it—for example, to increase cardboard thickness—doing so will cause other problems such as over-packing. Therefore, the load-bearing limit of conventional cartons is generally less than tens of kilograms. Luckily, this is not a big issue for the cannabis industry since the cannabis products are sold in grams, in most cases.
4.3 Paper Packaging Types and Applications
Conventionally, paper packaging includes three types: the corrugated box, rigid box, and folding carton.
Corrugated Box
Corrugated boxes are made from containerboard and are composed of medium layer and liner board. Strong protection is thus benefiting from such a stable structure, but not limited to being used as long-distance transport containers. They are also ideal display tools to promote retail.
Rigid Box
Rigid boxes are set-up boxes and stay in those forms once they are erected. They tend to be used to pack expensive items such as concentrates, pre-rolls, or vape cartridges. You can check these rigid boxes that are favored by many cannabis brands.
Folding Carton
Folding cartons are single-layer paperboard boxes with seemingly endless amounts of different box styles. Arguably, folding cartons are the most common paper packaging solutions for retailing and displaying. We custom print a lot of folding cartons for various cannabis products.
4.4 Fully recyclable, compostable, and biodegradable packaging, we are working on it.
We take great pride in providing the cannabis industry with various packaging that is mostly paper-based. However, we are still using foam inserts and plastic buttons for our popular child-resistant boxes and tubes. We know foam inserts and plastic buttons are recyclable, but not compostable and biodegradable. We are on a mission to develop 100% paper-made CR packaging by getting rid of foam inserts and plastic buttons.
Just take this CR paper pre-roll tube as an example, we successfully replace the foam insert with a piece of rolled paper.
4.5 Other things we have insisted on doing.
In addition to developing new products, we have carefully controlled the source and quality of raw material supply. Making stable and high-quality packaging is what we do all the time.
In the aspect of packaging customization, we carefully check up on any color variance and printing details of each product so that each of your customized works can achieve the ideal appearance.
As for cargo transportation, we never stop looking for more secure transportation methods to reduce the rate of goods damage, thus achieving a win-win situation with our customers.
Moreover, we also strive to improve our language level to avoid unnecessary troubles caused by language misunderstandings.
5. Packaging waste
Packaging waste is now a dominant contributor to almost half of the waste worldwide. Part of it is sent to incineration to generate usable energy of power and heat. However, the other part, landfilled ones have seriously polluted our ecological environment with a total amount of over three times than incinerated wastes.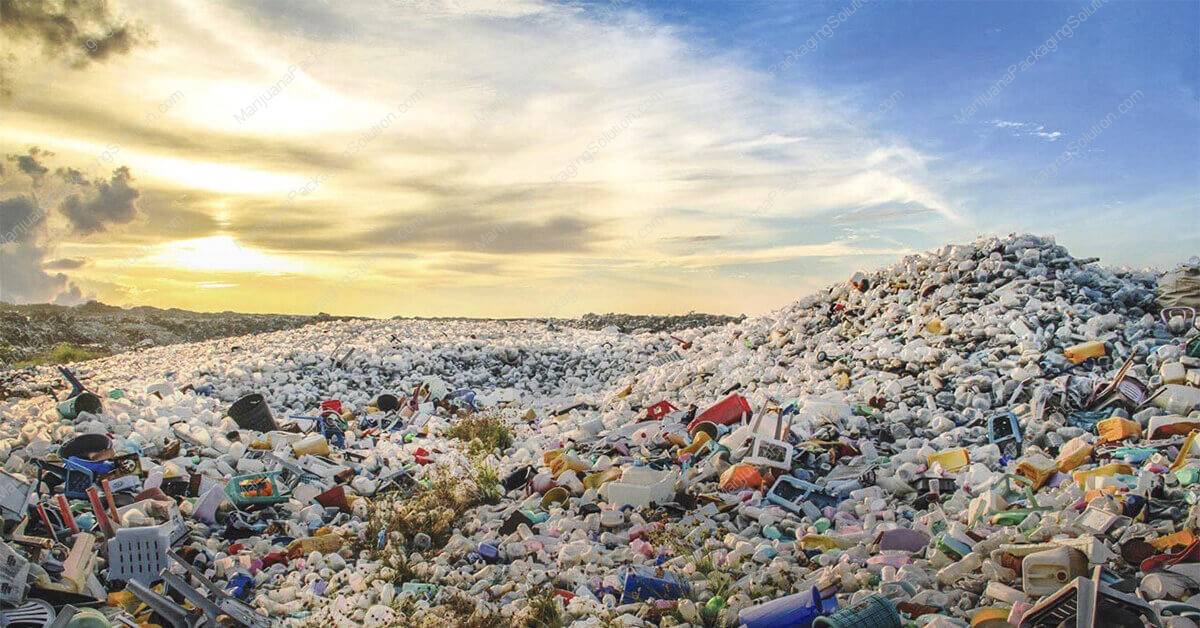 From land to the ocean, packaging waste is everywhere. In Marijuana Packaging Solution, we contribute our efforts to reduce the adverse effects of packaging wastes, trying to repay this planet.
Firstly, we are working hard to achieve packaging solutions that are completely recyclable, compostable, and biodegradable. We also speed up the creation of new-type feasible packaging to fundamentally solve the problem of packaging waste. We keep trying and have found several workable methods, such as weight reduction, material reduction, elimination or replacement of unfriendly components, etc.
Secondly, we help raise public awareness, highlight the impact that irresponsibly disposed of packaging waste has on our planet, and encourage individuals to act in helping reduce packaging pollution.
Thirdly, to help customers establish the most suitable packaging to avoid packaging waste caused by excessive packaging and damage to goods caused by insufficient packaging.
We believe these efforts are beneficial to our earth, and we also wish all packaging industries could reach a stage where all packaging forms are fully recyclable without any pollution.
6. Conclusion
Theoretically, we can recycle almost all glass, plastic, and metal packaging. The problem is that the speed and efficiency of recycling are far behind that of waste generation. It's sad but true that only 9% of plastic is recycled each year. The process of recycling and reusing packaging waste also consumes a lot of energy. More urgently, let's help reduce the white pollution by going less plastic.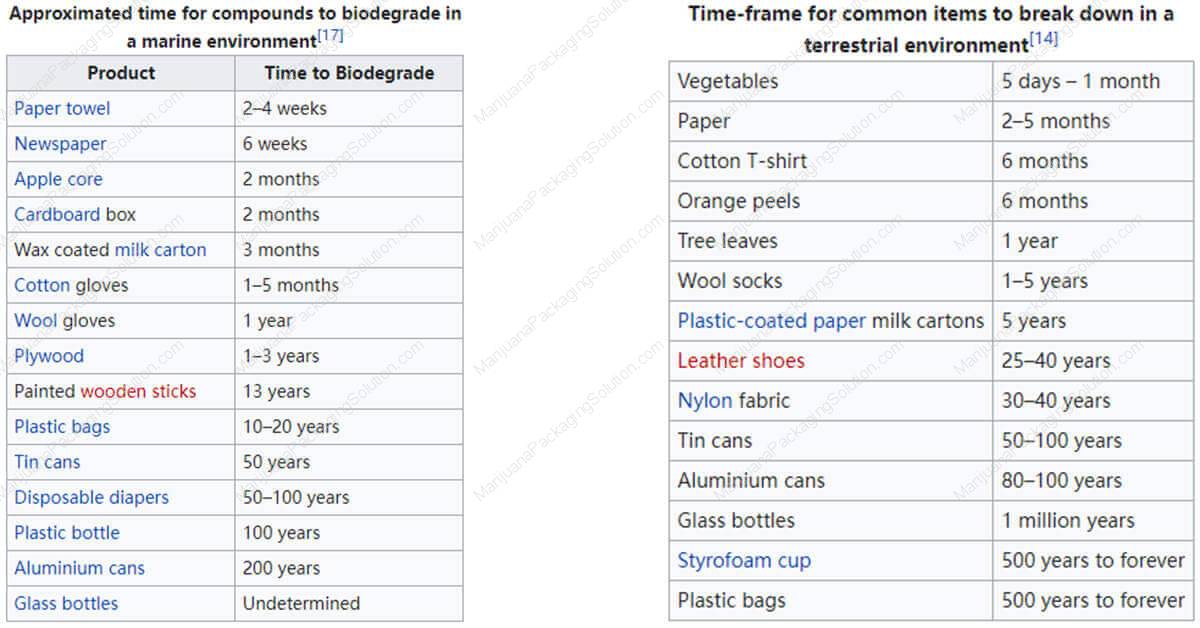 Being green does not have to be complicated. With patience and an experienced packaging cooperator, building your brand identity and making your products eco-friendly is not that burdensome.
Feel free to talk to our packaging experts for more compostable paper packaging ideas for your cannabis brands.
Email: [email protected]